Former president Jair Bolsonaro has arrived back in Brazil after a three-month stay in Florida, seeking a new role on the political scene as authorities in the capital brace for the far-right populist's return.
He left Brazil just before the end of his presidential term, breaking with tradition by declining to hand the presidential sash to his successor, Luiz Inacio Lula da Silva, who won the October election in the narrowest finish since Brazil's return to democracy more than three decades earlier.
While in the US, Mr Bolsonaro mostly kept a low profile, although he delivered several speeches to Brazilian expatriates and conservatives, including at the Conservative Political Action Conference in Maryland.
For the first time in 30 years, the legislator-turned-president does not hold elected office.
"I'm without a mandate, but I'm not retired," he told television network Jovem Pan on Monday.
The Federal District's security secretariat mobilised hundreds of police officers and the Esplanade of Ministries was closed to prevent gatherings of Bolsonaro supporters.
A horde of his supporters stormed and ransacked the capital's most important government buildings on January 8, a week after Mr Lula took office, seeking to oust the new president from power.
Mr Bolsonaro's aim to reassume political prominence may be hampered by a series of investigations, including whether he incited the January 8 uprising.
Recent revelations by newspaper Estado de S.Paulo regarding three boxes of expensive jewellery allegedly brought to Mr Bolsonaro from Saudi Arabia have exposed the former president to greater legal jeopardy.
His return to Brazil has been repeatedly delayed, and some had speculated he could postpone indefinitely in light of his legal troubles.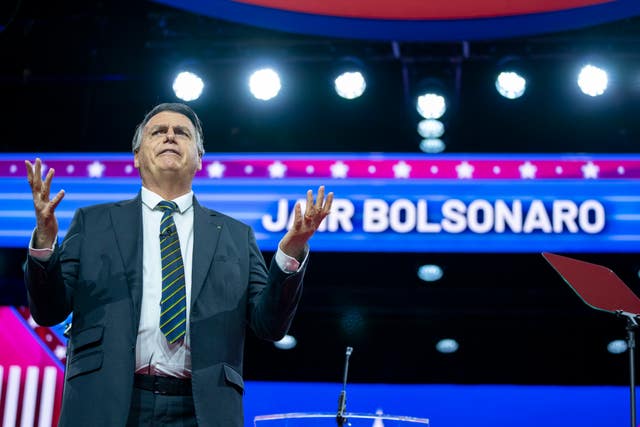 Jair Bolsonaro speaks at the Conservative Political Action Conference in Maryland (Alex Brandon/AP)
Steve Bannon, a long-time ally of Donald Trump and considered a strategist of the global far right, told Brazilian newspaper Folha de S.Paulo this week that Mr Bolsonaro should never have left the country, and dismissed the importance of the investigations.
Mr Bolsonaro's first objective will be to rally opposition to Mr Lula's government, said Mayra Goulart da Silva, a political scientist from the Federal University of Rio de Janeiro. "Bolsonaro decided to return to Brazil because no clear opposition leader to the government has emerged."
Next year's municipal elections are an important step toward gaining political momentum for a possible 2026 presidential run. Mr Bolsonaro is expected to throw his support behind his Liberal Party's mayoral candidates.
In addition to investigations into the diamonds, Mr Bolsonaro is the subject of about a dozen investigations by Brazil's electoral courts into his actions during last year's campaign, particularly related to his unsubstantiated claims that the electronic voting system was susceptible to fraud.
If he is found guilty in any of those cases, he would lose his political rights and be unable to run for office in the next election