Buying a new dishwasher? Here's what you should to clean up on your selection of efficient and new features, says Kya deLongchamps.
Dishwashers are a time-saving hero of family life. Having arrived late to dishwasher ownership, I bow down every morning and thank my dishwasher, as I poke its EcoStart cycle awake.
With Easter almost upon us, appliance sales offer superb bargains in even new-season machines. Whether you have €300 or €1,400 to spend, here's what you should know to clean up on an efficient, easy-to-use, effective dishwasher that has as many as eight programmes.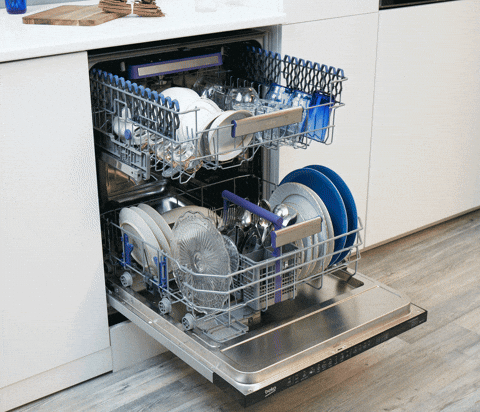 A+ to A+++ efficiency ratings are now commonplace. The EU energy label on every machine is an estimate of how much a model will cost to run and the amount of water it's likely to use in litres per 280 washes a year. 2500l pa/9l per cycle is typical, though 1680l pa/6l is possible with a high A rating.
There's a separate efficiency reading for the drying performance. A is standard. The noise level in decibels will also be on the label. 41-45dB is a peaceful throb, even in an open-plan setting.
Let's reach inside the small print of the EU cycle rating:
Now, this is important. The energy rating depends on the use of the most economical cycles. If you drag home a €1,200 machine, run it twice a day with half-loads, and keep dialling up an intensely hot programme, at a blistering 58 minutes, the energy efficiency will fall.
Variable running times and temperatures are not new, but the latest versions of these cycles are not as power-hungry. Look for load-recognition technology and half-load programmes that will do their best. You'll probably find you use three cycles most of the time — the eco setting, with longer running times, less energy use, and lower temperatures; the moderate-hot 65°C/149°F setting; and a gentle 40°C/104F run for more delicate dishes. Other programmes are small variants on these three.
Running costs? Compare the .9kWh per cycle for an A++ fully loaded dishwasher (16c-18c) with an impressive B-rated electric, condenser tumble dryer, at 5.3kWh (About 96c-€1 per 9kg cotton cycle). The added detergent costs more than the running of any modern A++ rated dishwasher.
If you have excess hot water on tap, a hot-water connection, provided with something like the Miele G 4990 SCVi Jubilee (€999 Harvey Norman), could bring your energy use per load down to.
45kWh. Some machines, utilising solar, natural gas and heat-pump technology, can do even better. Miele boldly suggests .045kWh per load is possible.
What marks out the wash performance of top machines from those of, say, eight to ten years back, is a highly strategic, additional muscle to obliterate every scrap of welded-on food debris from dishes and pans. Matched to sensors that detect the weight of crockery in every load, and altering the water, power and degree of rinsing as needed, this ensures you should never have to run a cycle twice.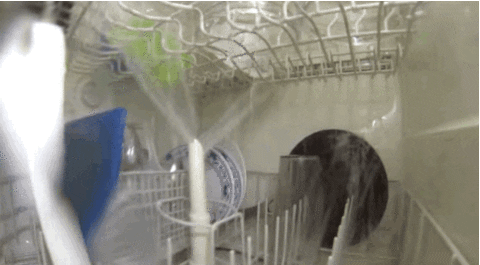 Top of the class is the addition, to standard spinning spray bar, of new pressure jets of water or steam. These hit the surfaces of the dishes and pans from new angles, melting off those atrophied cornflakes and baked-on grime.
You won't need these power programmes for every load. Whirlpool PowerClean would be an affordable example (6th Sense collection from €599, often slashed at sale time). In less-expensive machines, the intense cycle can be set to kick up the temperature to tackle dirtier dishes.
Bosch is feted for its zoning technologies, which allows you to put more delicate items in the top of the machine and the cruddy pans in the bottom rack. Sprays from the spin bar are optimised to hit heavily soiled pieces harder and hotter.
Their Zeolith drying system uses a bed of minerals to turn humidity into heat, drying dishes quickly and with minimal energy. Look into Series 6 machines, from just €579.
In sizing, there are slim-line machines of just 45cm available (8-10 place settings; five pieces of each setting is cutlery). Standard units are 60cm in width to match base cabinet sizes in kitchens. Some sleek, integrated machines feature controls on the inside top edge of the door, for utter discretion. On show or hidden, the easy visibility of the icons, their ease of understanding, and depression under the fingers are practical.
Styling? Stainless steel or any colour (black is currently popular) will add to price. Vouch for determined character in the rockabilly-inspired Smeg DF6FABRD, and you can expect to pay in the area of €1,149, around €230 more than for a similar spec', A+++ Smeg, 13-place, 60cm dishwasher in stainless steel. Remember, if you integrate the dishwasher, you can wave it bye-bye if you move.
Layout? Loads vary throughout the weeks, and a machine that allows you effortlessly to lift and lower shelving to accommodate larger pans and dishes is a bonus. Examine how far the shelves advance out to you and how steady and sleek the action.
Collapsible plate racks? Again, tailor the space to the load and allow the water to travel around the interior to best effect.
The uncontested winner for loading and unloading ergonomics is AEG, for its ComfortLift. Its hydraulic pistons lift the lower shelf to waist level with the pull of a handle, saving that muscle-tweaking stoop when you are collecting up stacks of dishes. Exhausted teenagers love them. This machine also features yielding SoftSpikes and SoftGrips to protect dish edges. Awarded the 2017 iF Design Award and RedDot for engineering excellence, prices have fallen: AEG FSS62800P, €999, Currys.
With performance having pretty much-reached high-tide, examine the usefulness of detailing, programmes, and storage tricks between one machine and another. We love the additional, ambient light on the base of some machines. The Bosch Series 6 actually projects the remaining time on the floor. Silly, but chic. From €710; did.ie.
The more expensive German dishwashers (Siemens, for example) feature a pull-out shelf dedicated to cutlery, loaded piece by piece, with the cutlery positioned on-edge. Unloading then entails picking out each item and bundling them in the hand. Miele has tweaked its tray with a 3D version, which can zone the power of the wash within its cutlery trays.
A top-shelf cutlery system removes the vertical obstruction of a traditional basket. It can also often be lifted almost flat to the cabinet roof. That said, a removable caddy offers a far easier tootle to the kitchen for re-stocking the cutlery drawer. An in-cabinet light? With a polished steel interior and a decently lit kitchen, I've never understood the need for one.
Budget brand Beko offers worthy, A+ machines from as little as €290, which can wash lightly dirty dishes in 30 minutes when the pressure is on.
Up the spend to €430 and the Beko Evergreen, self-cleaning filters are rare birds, not seen in more pricey brands.
Use your smart-phone on the showroom floor to check model numbers.
There can be discreet performance and spec' differences between the design of, say, a three-year-old model and the new line with the same name. Real customer reviews online for any machine are an enormous help, but read up to 10, not just three, to make a judgement call. Some people retain bad habits that get in the way of the performance and efficiency of the most worthy lean, green appliance.