Update 10.25pm: The Justice Minister says its difficult to stand with the Magdalene Laundries survivors at an event at the Mansion House as he is representing the State which let them down.
Charlie Flanagan says the truth is the woman who suffered had to wait far too long for acknowledgement, recognition and an official apology.
Speaking at the event, the Minister said: "To say that I am privileged and humbled to be standing here tonight is an understatement.
"To be frank, it is also a difficult and daunting place for me to stand. It's difficult, because I am only too aware that as a Government minister I represent the State which let each and every one of you down. This State allowed you be incarcerated, and made to work in Magdalene Laundries.
"We had a duty of care, we had a job of inspection, and we failed. Indeed we even took on the role, in some cases, of referring agent. And in so doing… we let you down."
Update 7.32pm: The President of Ireland has apologised to women who were forced to work in Magdalene laundries after they were "failed" by the state and religious orders in a "very dark" period of the country's history.
In a speech to hundreds of women who arrived at his official residence Aras an Uachtarain in Dublin on Tuesday afternoon, Michael D Higgins said stories of "forced labour and injustice" had left a "deep stain" on society.
Accompanied by his wife Sabina, he hosted a drinks reception for crowds of women who travelled from around the world to speak out about their treatment when they were incarcerated in the institutions when young.
Unmarried mothers, girls considered troublesome or wayward and those with learning difficulties were kept in the laundries run by nuns and made to carry out unpaid manual labour.
More than 10,000 women are thought to have passed through the laundries in the Republic of Ireland between 1922 and 1996.
Describing them as "inspiring", President Higgins said: "I apologise to you, survivors of the Magdalene regime," and said he hoped the visit was a chance to "heal" and "come into the light from the darkness".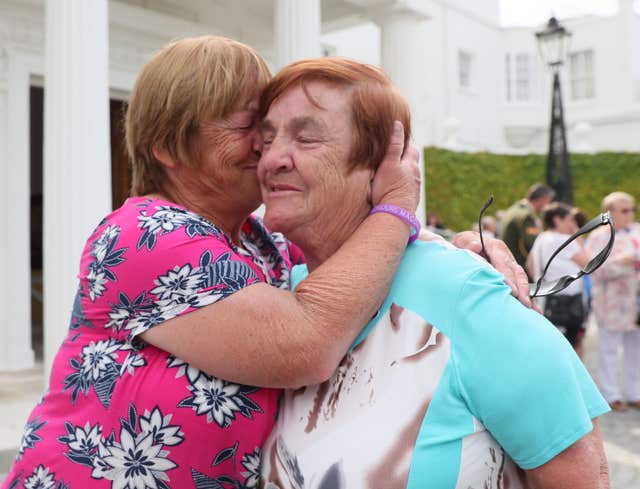 There were cheers, tears and applause as coach after coach of women arrived in front of the residency – many waving excitedly to the large numbers of press in attendance.
There were cheers of "freedom" as they walked into the property.
Mary Smith was in tears as she told reporters she and her mother Eileen were both "locked up" in the laundries adding: "This has left me shattered for the rest of my life. I've come here for justice for the people who suffered."
Mary Merritt, 87, who travelled from Tunbridge Wells, Kent, in the UK, said: "The Church has never apologised to us. Without the press, the stories would never have been told.
"We also have to remember the women who cannot be with us today and were buried in mass graves."
Campaigner Norah Casey said: "This event is not about celebration, it's about dignity and respect."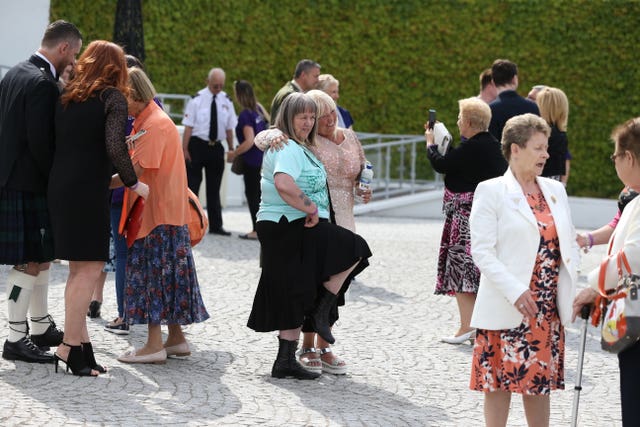 In his speech President Higgins said: "A combination of stigma, shame and an unreceptive society condemned so many women to concealing their experiences, their trauma, their hurt.
"In recent years the silence has been broken and you all have helped to let the light into some very dark corners of Ireland's shared past.
"You have presented us with what makes a very harrowing and deeply uncomfortable reflection of an Ireland some would prefer not to be able to recognise, but which has to be acknowledged, transacted and to which a response must be made.
"All of you and of all the other women who cannot be with us today were failed by these institutions and the religious orders who ran them.
"You were profoundly failed by the State which, in its relationship to these institutions, should have had your welfare at its core.
"You were failed by Governments that knowingly relied on the existence and practices of these institutions rather than addressing your particular needs in other, more sympathetic ways.
"You were also failed by a society that actively colluded by their silence in your incarceration and treatment or chose to look the other way, averted their gaze, as vulnerable girls and women were subjected, in so many cases, to further abuse and degradation.
"Ireland failed you. When you were vulnerable and in need of the support of Irish society and its institutions, its authorities did not cherish you, protect you, respect your dignity or meet your needs and so many in the wider society colluded with all that through their silence."
After the speech the women were taken to Mansion House, the residence of the Lord Mayor of Dublin. Gardai closed off the street as crowds lined the pavements and there were moving scenes as they applauded and cheered the group upon their arrival.
On Wednesday the women will discuss how they would like to be memorialised by the state in private meetings in the culmination of the two-day event organised by voluntary group Dublin Honours Magdalenes (DHM).
The Department of Justice and Equality is understood to have paid for flights and hotels for the women who travelled from the UK, Switzerland, Australia and the United States.
Many were returning to Ireland for the first time since leaving the laundries, DHM said.
The events come as the Government's redress scheme was widened to reach women originally excluded because they worked in the laundries but lived elsewhere.
On Monday, academics in Northern Ireland said their year-long Government-commissioned probe into records of mother and baby homes and Magdalene laundries north of the border could help determine whether a public inquiry into the treatment of residents there will take place.
- Press Association
Update 6.41pm: President Michael D Higgins has apologised to the survivors of the Magdalene Laundries at an event to honour the women at Áras an Uachtaráin.
In a speech, the President described the mother and baby homes as a "stain on Ireland's past" and said that the women were failed by their country.
Over 200 survivors have come together for the first time ever for the two-day event in Dublin, with some women travelling from as far as Australia.
Josie Keane, from Cork, says that she's grateful their suffering is being recognised and that she has no shame in coming forward.
"I just felt like I wanted to talk because I didn't put myself in there, so why should I worry about something I didn't do," she said.
- Digital desk
Update 5.16pm: Church and state 'ahead of their time in people trafficking', says Magdalene Laundries survivor
A survivor of the Magdalene Laundries says the church and state were ahead of their time when it came to people trafficking.
Elizabeth Coppin is one of more than 220 survivors here to attend a two-day event to honour the women.
They gathered a special reception at Áras an Uachtaráin today and will attend a dinner at the Mansion House tonight.
Ms Coppin ended up in three laundries and says it was the equivalent of trafficking.
"I believe the Irish government and the church were in collusion with each other," she said.
"We're talking about Eastern European trafficking but her in the western free-world of Ireland, they were way ahead of that.
"They still won't admit they trafficked us, they still won't admit they violated our human rights."
Margaret O'Meara, from Killarney, Co Kerry, spoke to Joyce Fagan at the CityWest Hotel for the Dublin Honours Magdalenes event:
Original story: Michael D Higgins hosting Magdalene survivors' gathering; Government vows to tackle gaps in redress
Justice Minister Charlie Flanagan has apologised to Magdalene laundry survivors and pledged that the Government will address in full gaps, delays or disputes over their struggle for justice.
Former residents and their families of the religious-run institutions have given an initial welcome to the minister's words and said this was a significant development.
The minister's offer of remorse comes ahead of a gathering in Dublin today of hundreds of Magdalene women, who will have their first opportunity to speak freely to others incarcerated in laundries.
Writing in today's Irish Examiner, Mr Flanagan says there is a need to heed the lessons of the past and to listen to the women who were victimised, degraded, and cast aside.
Women from around the world have gathered in Dublin today to join hundreds of fellow Magdalene survivors for events to honour former residents.
Survivors and their companions will attend a garden party at Áras an Uachtaráin hosted by President Michael D Higgins, and later attend the Mansion House for a gala dinner.
However, the occasion is also being used as an opportunity for women from the laundries to meet each other.
Some who were invited only told their families of what happened to them and their treatment and forced labour since invitations were issued for the event.
Survivors have travelled from Britain, the US, and Australia.
Over the weekend, it was announced that the Magdalene redress scheme would be extended to 14 additional institutions, for women who worked in laundries while living in a co-located institution.
The decision came more than half a year after Ombudsman Peter Tyndall published a scathing report into the scheme, which said the Department of Justice wrongly refused some Magdalene laundry survivors access to redress payments.
Mr Flanagan says the Government is trying to listen to concerns and would hear this week from a group of women in society who were "victims of that dreadful tendency we had to victimise, degrade and cast aside".
He says there were "gaps, disputes, and delays" in the restorative justice scheme, originally recommended by Justice John Quirke.
He added:
Efforts are also being made to work through other issues, including disputes over length of stay and matters of decision-making capacity.
Responding to his comments and apology in the Irish Examiner, campaigners for survivors said they welcomed the development.
Justice for Magdalenes Research co-founder Claire McGettrick said: "We thank the minister for his generous support of the Dublin Honours Magdalenes event, and we are encouraged by his willingness to listen to Magdalene survivors about the problems with the ex gratia scheme.
"These include not only denial of access to the scheme but also the absence of a comprehensive healthcare package, women's testimony about their duration of stay being ignored, and inadequate assistance to women deemed to lack financial decision-making capacity.
"We hope that the Dublin Honours Magdalenes event will demonstrate how survivors of historic abuse deserve to be treated by the State in making amends for past failings.
"The minister's commitment to listen to the women is important. For too long the State has silenced survivors of institutional abuse — in the case of the Magdalene laundries by failing to investigate the issue of abuse in the laundries and by keeping its own records secret and allowing the religious orders to do the same."
This story first appeared in the Irish Examiner.