Calls were mounting for the Taliban to free a girls' education activist arrested earlier this week in Kabul, as a government minister defended the detention.
Matiullah Wesa, founder and president of Pen Path — a local nongovernmental group that travels across Afghanistan with a mobile school and library — was arrested in the Afghan capital on Monday.
Since their takeover of Afghanistan, the Taliban have imposed restrictions on women's and minority rights. Girls are barred from school beyond year seven and last year, the Taliban banned women from going to universities.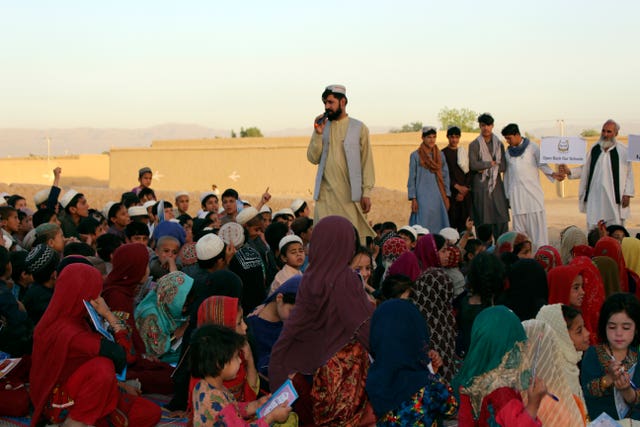 Matiullah Wesa, centre, is founder and president of Pen Path (Siddiqullah Khan/AP)
Mr Wesa has been outspoken in his demands for girls to have the right to go to school and learn, and has repeatedly called on the Taliban-led government to reverse its bans. His most recent tweets coincided with the start of the new academic year in Afghanistan, with girls remaining shut out of classrooms and campuses.
Late on Tuesday, the US charge d'affaires for Afghanistan, Karen Decker, said she was disturbed by "multiple, disturbing reports" of Afghans being detained while peacefully protesting in support of their aspirations.
Former Afghan president Hamid Karzai said he was saddened to hear of Mr Wesa's arrest.
Local reports said Taliban security forces detained Mr Wesa after his return from a trip to Europe. Taliban authorities have not confirmed his detention, whereabouts or reasons for the arrest.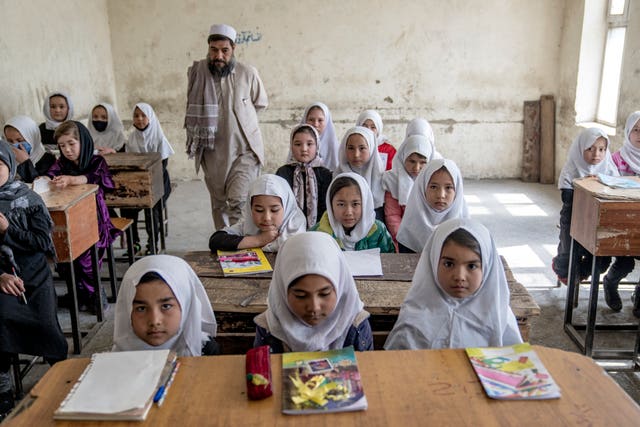 Young girls in a classroom in Kabul on the first day of the new school year (Ebrahim Noroozi/AP)
Abdul Haq Humad, the director of publications at the Ministry of Information and Culture, defended the detention.
"His actions were suspicious and the system has the right to ask such people for an explanation," he said in a tweet.
"It is known that the arrest of an individual caused such widespread reaction that a conspiracy was prevented."
Mr Wesa's brother said Taliban forces surrounded the family home on Tuesday, saying they beat family members and confiscated the arrested activist's mobile phone.
Social media activists have created a hashtag to campaign for Mr Wesa's release. Many posts condemned his detention and demanded immediate freedom for the activist.
Mr Wesa and others from Pen Path launched a door-to-door campaign to promote girls' education.
"We have been volunteering for 14 years to reach people and convey the message for girls' education," Mr Wesa said in recent social media posts.
"During the past 18 months, we campaigned house-to-house in order to eliminate illiteracy and to end all our miseries."