Lebanon will construct a 122 million dollar (£100 million) terminal at Beirut's Rafik Hariri International Airport, to be operated by a leading Irish airport company, when it is completed in four years, officials said on Monday.
Lebanon's only international airport had a major facelift after the country's 1975-90 civil war and has been working at full capacity for years.
The airport has not undergone an expansion since 1998.
Caretaker minister of public works and transport Ali Hamie said Terminal 2 will bring in private sector investments worth 122 million dollars and will handle 3.5 million passengers annually when operations begin in 2027.
It will add six docking stands as well as remote ones, he said in a ceremony at government headquarters to announce the launch of the new terminal.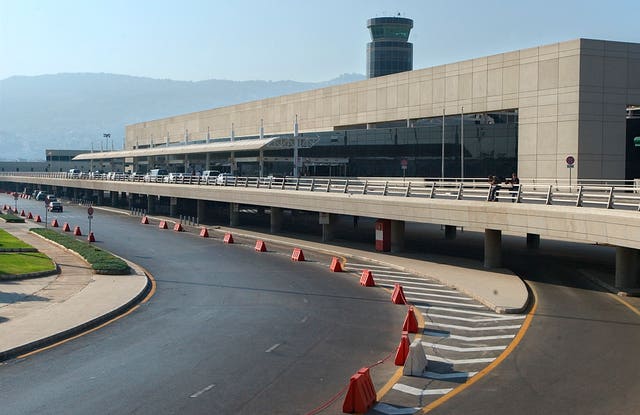 Rafik Hariri International Airport in Beirut (AP)
Terminal 2 will be built where the airport's old cargo building used to stand, Mr Hamie said.
The project comes as Lebanon is in the throes of its worst economic and financial crisis in its modern history, rooted in decades of corruption and mismanagement by the country's political class.
"The project opens more horizons for air aviation between Lebanon and the world," caretaker prime minister Najib Mikati said.
He added that it will help in solving several problems, including crowding at the current terminal.
The project will create 500 direct jobs and 2,000 related jobs, Mr Hamie said, adding that Terminal 2 will be for chartered and low-cost flights.
Mr Hamie said once Terminal 2 is ready it will be operated by leading European company daa International, an airport company in Ireland.
Ireland's Minister of State James Browne attended Monday's ceremony in Beirut and was quoted in a statement from the Lebanese prime minister's office as saying the contract signed will deepen business relations between the two countries.
The airport currently handles eight million passengers a year, and the plans are to reach 20 million in 2030, according to the website of national carrier Middle East Airlines.
Lebanon's economic crisis, which began in October 2019, has left three quarters of the country's six million people, including one million Syrian refugees, in poverty.
The Lebanese pound has lost more than 95% of its value.