Ken Buchanan, who has died aged 77, is among a handful of British names to adorn the International Boxing Hall of Fame but always felt robbed of his true destiny.
Buchanan lost his status as undisputed world lightweight champion in 1972 when Roberto Duran was controversially awarded victory after flooring the Scotsman with a low blow after the 13th bell.
Duran avoided a rematch on his way to becoming four-weight world champion and one of the sport's all-time greats, while Buchanan was left with sporadic pain in his testicles throughout his life and a sense of injustice which contributed to some troubled times.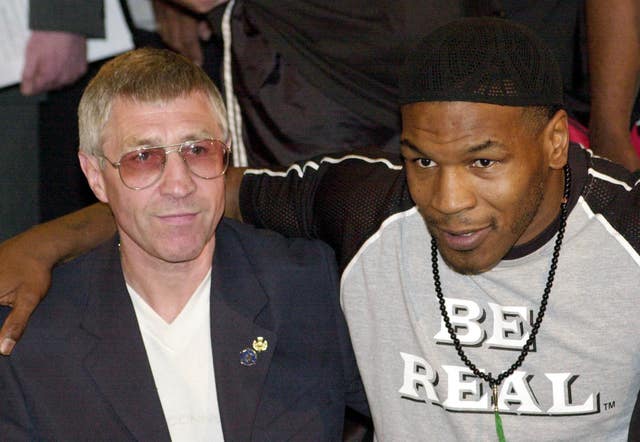 Mike Tyson with Ken Buchanan at the Glasgow Hilton Hotel in 2000 (PA).
Buchanan was born in June 1945 and grew up in a council house in Portobello, Edinburgh. He vowed to become world champion at the age of eight after watching a film about Joe Louis and received support from father Tommy, who would be in his corner as trainer during every fight, and mother Cathy.
Weeks after his inspirational cinema trip, Buchanan was training at the Sparta Club and had major amateur success before turning professional in 1965, winning the British title with his 24th straight win.
The Scot's fast jabs, constant movement and courage helped him rack up more wins and the death of his mother at the age of 51 strengthened his resolve to become world champion.
He made even more sacrifices after his first defeat, in a European title fight in Madrid in 1970, and took the World Boxing Association title from Ismael Laguna after 15 gruelling rounds in 50C heat in Puerto Rico.
Ken Buchanan hits out with a right in a fight (PA)
The triumph was largely overlooked in Britain and Buchanan was hurt at the underwhelming welcome home, although wife Carol introduced him to their newborn son, Mark.
Before his first defence, Buchanan topped the bill above Muhammad Ali at boxing's most exalted venue, Madison Square Garden in New York, although he allowed his colleague to share his dressing room.
"We had a great laugh," he said. "I drew an imaginary line in the middle of the room and said: 'Don't cross that or there will be trouble'."
Buchanan was recognised as undisputed champion when he beat Ruben Navarro comfortably on points in Los Angeles to add the World Boxing Council belt. This time thousands lined the streets as he travelled from Edinburgh Airport to a civic reception on an open-top bus.
But Buchanan never fought in his home city – partly because Murrayfield ice rink did not want to cancel curling or ice skating.
A riled Buchanan settled for topping the bill again at Madison Square Garden, where he defended his title with another win over Laguna despite heavy swelling, which was relieved with the help of a razor. He was later told the incident inspired a similar scene in film Rocky.
Buchanan returned to New York to fight the undefeated Duran. The Scot felt he was getting the better of his opponent when controversy struck, although reports from the time claimed the Panamanian was well ahead with the judges.
Duran's manager promised a rematch and Buchanan pressed his case by producing two more impressive wins at Madison Square Garden, beating Jim Watt in a classic British title fight, claiming the European belt and racking up wins around the world.
But calls to Duran's team were ignored and he waited until 1975 before getting another shot at the WBC title.
Buchanan again felt he was the victim of skulduggery when a sparring partner poked him in the eye on the eve of his challenge against Guts Ishimatsu in Tokyo, and he lost on points after suffering triple vision.
He retired on medical advice because of vision problems later that year, after he and his father suffered cuts in a riot after he had knocked out his Italian opponent in Sardinia in a European title defence.
Buchanan concentrated on running his Edinburgh hotel but returned to the ring after a four-year absence – selling his business to fund a costly divorce settlement.
He lost a European title fight against Irishman Charlie Nash in his third comeback bout and lost his last four professional fights before resorting to unlicensed fights in London nightclubs in a bid to clear debts.
Buchanan began working as a joiner but could not shake his anger with Duran and flew to New York on a whim in 1995, spending two weeks in Harlem in an unsuccessful attempt to confront his nemesis, who was still fighting at world-title level. But he buried the hatchet following a reunion in 2002 and the pair became friends.
Alcohol problems intermittently dogged Buchanan and contributed to the breakdown of his second marriage but Buchanan remained a regular in Edinburgh's boxing gyms, passing on wisdom to young fighters.
Last year his son Mark revealed Buchanan had been diagnosed with dementia and said it was "likely come as a result of his sport". Because of the condition he was moved to a care home in Edinburgh.
As well as two children – Mark and Karen – from his first marriage,  Buchanan had an older son, Raymond, who was born in 1966.