If you took a trip to The Vodafone Comedy festival last month, you may have come across this amazing mosaic of legendary comedian Dermot Morgan.
Fans used #VCF15 to tag their festival photos; each one was then placed one by one to create the giant piece.
Maybe one of your insta photos even made it to the wall?
The festival also launched #celebratingdermot, given this year was the 20th anniversary of Father Ted series on Channel Four.
Dermot's son, Don Morgan, along with comedians from the festival, Tommy Tiernan, Joe Rooney and Patrick McDonnell, shared their thoughts and memories of Dermot.
After Dublin trio Foil, Arms and Hog reminded us of this epic moment: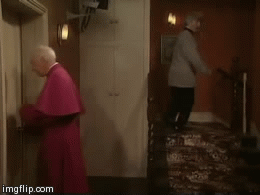 Tommy Teirnan goes on to say: "I think he'd be disappointed with the fact that he passed away, but delighted that he's finally getting recognition for the work he had done".
Consider yourselves one of Dermot's biggest fans? Let's see how well you remember your Father Ted priests: