A monster storm system has torn through the US South and Mid West, spawning deadly tornadoes that shredded homes and shopping centres and collapsed a theatre roof during a concert.
The storm caused three deaths in Sullivan County, Indiana, emergency management director Jim Pirtle told the Associated Press.
The storm damaged homes and some residents were missing in the county seat of Sullivan, near the Illinois state border about 95 miles south west of Indianapolis.
At least one person was killed and more than two dozen hurt in the Little Rock area or Arkansas, authorities said.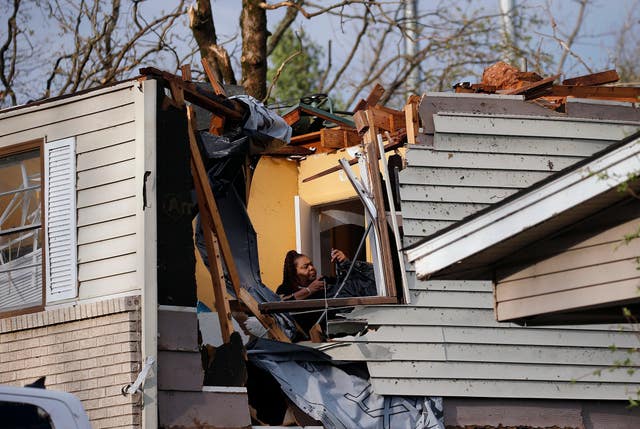 A woman collects belongings from a home in North Little Rock (Thomas Metthe/Arkansas Democrat-Gazette/AP)
The town of Wynne in north-eastern Arkansas was also devastated, and officials reported two dead there, along with destroyed homes and people trapped in the debris.
Authorities said a theatre roof collapsed during a tornado in Belvidere, Illinois, killing one person and injuring 28.
Belvidere Police Department said the collapse occurred as a heavy storm rolled through the area, and an initial assessment was that a tornado had caused the damage.
The collapse occurred during a heavy metal concert at the Apollo Theatre in the town about 70 miles north west of Chicago.
Belvidere Fire Department Chief Shawn Schadle said 260 people were in the venue. He said first responders also rescued someone from a lift and had to grapple with downed power lines outside the theatre.
Belvidere Police Chief Shane Woody described the scene after the collapse as "chaos, absolute chaos".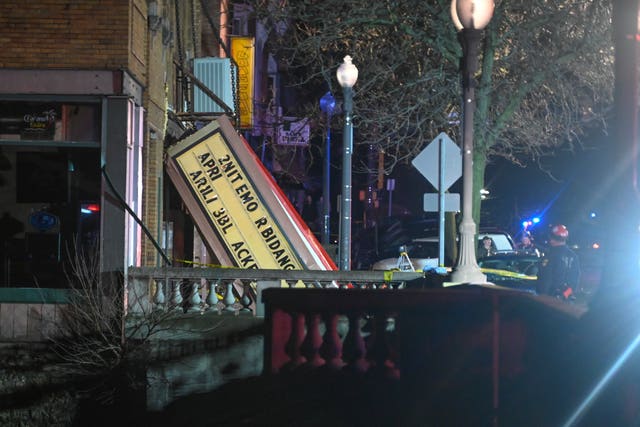 Damage to the Apollo Theatre (Matt Marton/AP)
Gabrielle Lewellyn had just entered the theatre when a portion of the ceiling collapsed.
"I was there within a minute before it came down," she told WTVO-TV. "The winds, when I was walking up to the building, it went like from zero to a thousand within five seconds."
Some people rushed to lift the collapsed portion of the ceiling and pull people out of the rubble, said Ms Lewellyn, who was not hurt.
"They dragged someone out from the rubble and I sat with him and I held his hand and I was (telling him) 'It's going to be OK'. I didn't really know much else what to do."
There were more confirmed twisters in Iowa and wind-whipped grass fires blazed in Oklahoma, as the storm system threatened a broad area of the country home to 85 million people.
The destructive weather came as President Joe Biden toured the aftermath of a deadly tornado that struck in Mississippi a week ago, and promised the government would help the area recover.
Joe Biden addresses the media in Mississippi (Carolyn Kaster/AP)
The Little Rock tornado tore first through neighbourhoods in the western part of the city and shredded a small shopping centre. It then crossed the Arkansas River into North Little Rock and surrounding cities, where widespread damage was reported to homes, businesses and vehicles.
In the evening, officials in Pulaski County announced a confirmed fatality in North Little Rock but did not give details.
Baptist Health Medical Centre-Little Rock officials said 21 people had checked in there with tornado-caused injuries.
Mayor Frank Scott Jr, who announced he was requesting assistance from the National Guard, tweeted in the evening that property damage was extensive and "we are still responding".
Governor Sarah Huckabee Sanders activated 100 members of the Arkansas National Guard to help local authorities respond to the damage throughout the state.
About 50 miles west of Memphis, Tennessee, the small city of Wynne, Arkansas, saw widespread tornado damage, Ms Sanders confirmed.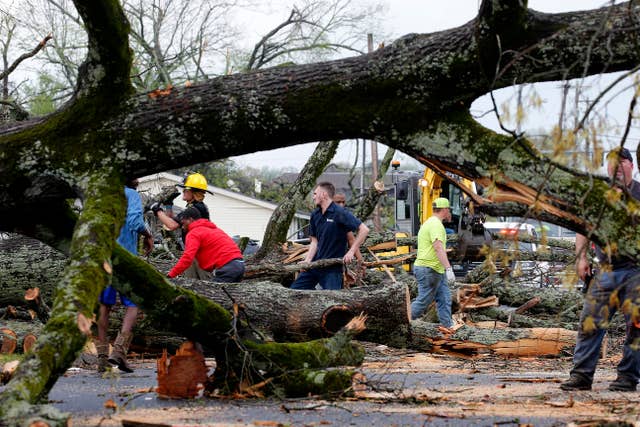 Police and firefighters get help from volunteers in Sherwood, Arkansas (Thomas Metthe/Arkansas Democrat-Gazette/AP)
St Francis County Coroner Miles J Kimble said he was assisting the Cross County coroner in Wynne and that two people had died there in the tornado.
The governor told a briefing with Little Rock officials on Friday night that the number of deaths could rise.
City councillor Lisa Powell Carter told AP that the town of Wynne was without power and roads were full of debris.
The tornadoes continued spawning and touching down in the area into the night.
The police department in Covington, Tennessee, said on Facebook that the west Tennessee city was impassable after power lines and trees fell on roads when the storm passed through on Friday evening.
Authorities in Tipton County, north of Memphis, said a tornado appeared to have touched down near the middle school in Covington and in other locations in the rural county.
Tipton County Sheriff Shannon Beasley said on Facebook that homes and structures were severely damaged.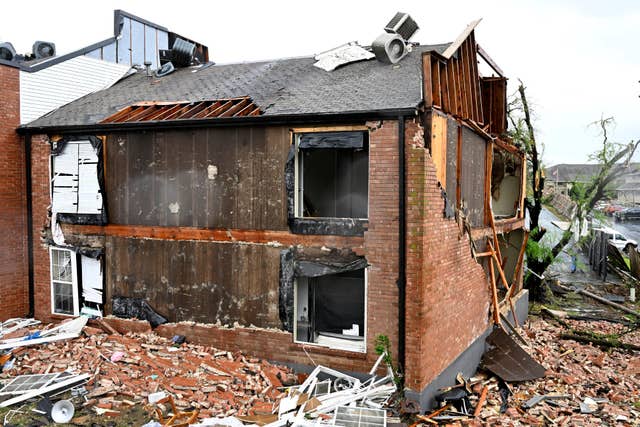 An apartment complex in Little Rock (Stephen Swofford/Arkansas Democrat-Gazette/AP)
Tornadoes moved through parts of eastern Iowa, with sporadic damage.
One veered just west of Iowa City. Video from KCRG-TV showed toppled power poles and roofs ripped off an apartment building in the suburb of Coralville and significantly damaged homes in the city of Hills.
Nearly 90,000 customers in Arkansas lost power, according to poweroutage.us, which tracks outages.
In neighbouring Oklahoma, wind gusts of up to 60mph fuelled fast-moving grass fires. People were urged to evacuate homes in far north-east Oklahoma City, and troopers shut down portions of Interstate 35.
In Illinois, the Woodford County Emergency Management Agency said hail broke windows on cars and buildings in the area of Roanoke, north east of Peoria. More than 109,000 customers had lost power in the state as of Friday night.
More outages were reported in Iowa, Missouri, Tennessee, Wisconsin, Indiana and Texas.
Fire crews battled several blazes near El Dorado, Kansas, and some residents were asked to evacuate, including about 250 primary school children who were moved to a high school.