The death toll from a landslide in central Ecuador which buried dozens of homes has been cut to seven.
Officials had reported at least 16 deaths, but president Guillermo Lasso put the confirmed number at seven as he visited the scene of the landslip in Alausi, about 137 miles south of the capital Quito.
The president promised people in the Andean community "we will continue working" on the search effort.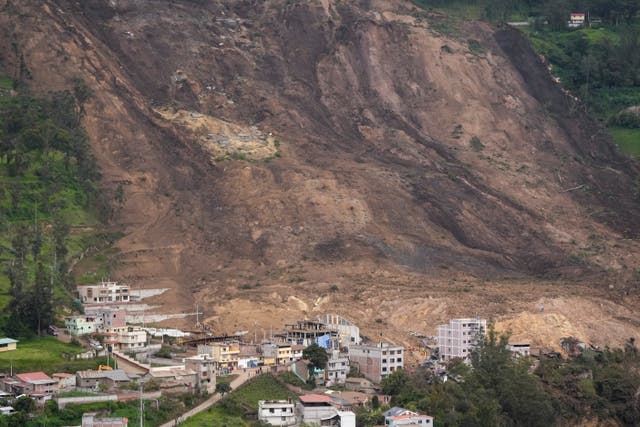 The aftermath of the deadly landslide that buried dozens of homes in Alausi, Ecuador (Dolores Ochoa/AP)
The number of people reported missing has been raised to 62 with Risk Management Secretariat confirming more than 30 people were rescued after the mountainside collapsed around 10pm on Sunday with 23 people injured.
The landslide, which buried more than 50 houses under tonnes of mud, destroyed a portion of the Pan-American Highway.
Firefighters from a half-dozen cities were sent to the scene with rescuers focused on the flanks of the landslide where they found traces and debris of houses.
Rescuer and paramedic Alberto Escobar said it was unlikely more survivors would be found because of the time that had elapsed.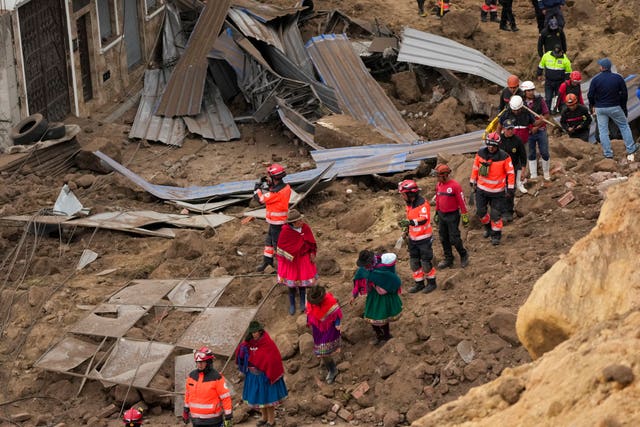 Rescue workers and residents walk amid the debris (Dolores Ochoa/AP)
He said the search would continue as long as it did not rain.
Survivors were housed in temporary shelters, among them Sonia Guadalupe Zuna.
"We went to the shelter, but my mother didn't want to," she said. "My daughter went to convince her. They arrived covered in dirt and crying.
"I don't know where, but we're all leaving."