Ukraine continues to use Soviet-era attack helicopters older than some of its pilots to defend against Russian invaders.
They might fly three or four sorties a day, said one commander, whose two-crew Mi-24 helicopter, built about 40 years ago, is older than him.
"We are carrying out combat tasks to destroy enemy vehicles, enemy personnel.
"We are working with pitch-up attacks from a distance from where the enemy can't get us with their air defence system," said the commander, who spoke anonymously for security reasons.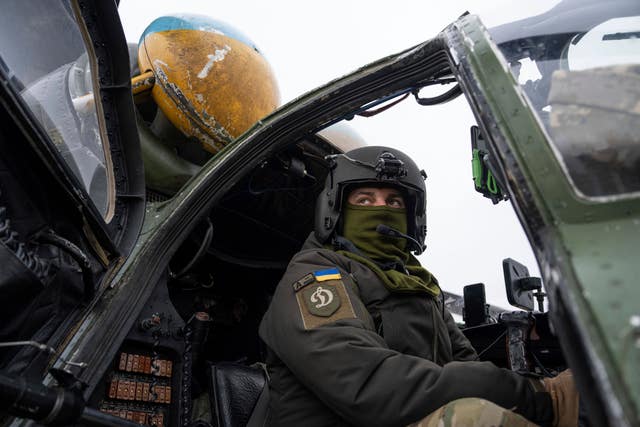 A Ukrainian pilot prepares for a flight on his Mi-24 attack helicopter during during a combat mission in Donetsk region, Ukraine (Evgeniy Maloletka/AP)
The war in Ukraine, launched by the Kremlin in February 2022, is largely an artillery war and territory is being fought for inch by inch under a barrage of shells and missiles.
But Ukraine's aviation capabilities play a significant role in the fight, the pilot said.
"The importance of the helicopters is huge," said the commander, part of the country's 12th army aviation brigade.
Footage from a camera attached to the helicopter during a recent combat mission shows it flying over fields pockmarked with craters from artillery bombing, and firing missiles at Russian trenches which cut through the landscape.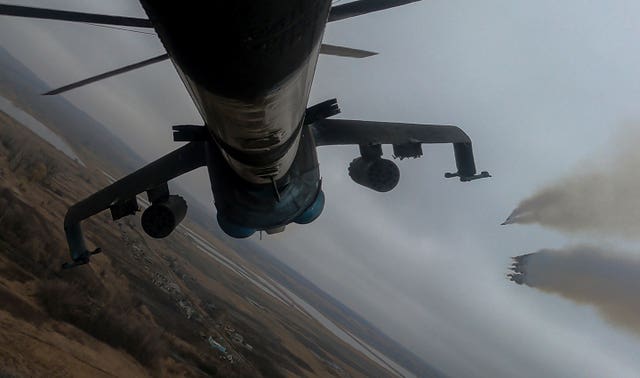 A Ukrainian Mi-24 attack helicopter fires missiles towards Russian positions during a combat mission in Donetsk region, Ukraine (Evgeniy Maloletka/AP)
"We are shooting from the big distance and hit the target clearly, like there's a cross on the target and (the missiles) go by themselves where they should go," the commander said.
He would, however, like to fly a newer model.
"We need to master something new, something from abroad," the commander said.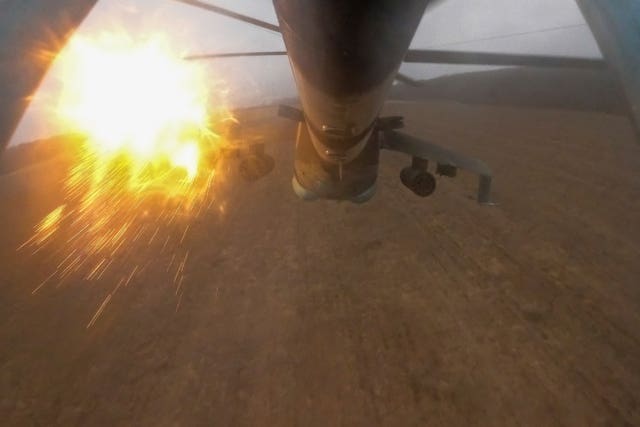 The Mi-24 releases flares after an attack on Russian positions (Evgeniy Maloletka/AP)
"It has better characteristics. You can manoeuvre more on it, there are more rockets on it and the weapons are more powerful.
"We can do more tasks with better quality and with less risk for us."
Several countries, including the United States and Britain, have pledged to send, or have already sent, helicopters to Ukraine as part of military aid since the start of the war.