Russian President Vladimir Putin has visited the port city of Mariupol in his first trip to Ukrainian territory that Moscow illegally annexed in September.
Russian state news agencies reported on Sunday that he was in Mariupol, which became a worldwide symbol of defiance after outgunned and outmanned Ukrainian forces held out in a steel mill there for nearly three months before Moscow finally took control of it in May.
On Saturday, Mr Putin travelled to Crimea, a short distance south-west of Mariupol, to mark the ninth anniversary of the Black Sea peninsula's annexation from Ukraine.
The visits came days after the International Criminal Court issued an arrest warrant for the Russian leader accusing him of war crimes.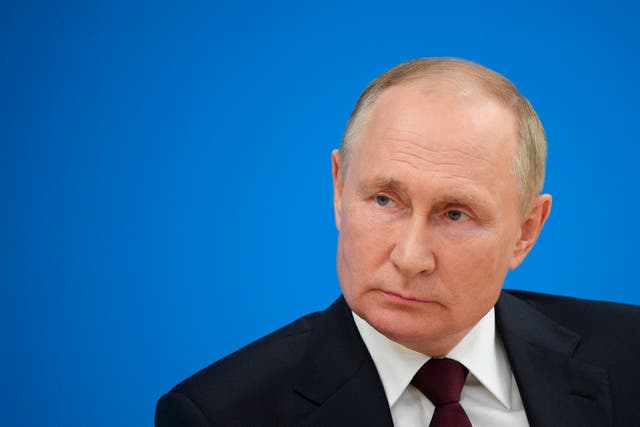 The International Criminal Court has issued an arrest warrant for Mr Putin (Alexey Maishev, Sputnik, Kremlin Pool Photo/AP/PA)
Mr Putin arrived in Mariupol by helicopter and then drove himself around the city's "memorial sites", concert hall and coastline, the Russian reports said, without specifying exactly when the visit took place. They said Mr Putin also met with residents in the city's Nevskyi district.
Speaking to the state RIA agency on Sunday, Russian Deputy Prime Minister Marat Khusnulin made clear that Russia is in Mariupol to stay.
He said the government hopes to finish the reconstruction of its damaged city centre by the end of the year.
"People have started to return," he said. "When they saw that reconstruction is under way, people started actively returning."
When Moscow fully captured the city in May, an estimated 100,000 people remained out of a pre-war population of 450,000. Many were trapped without food, water, heat or electricity. Relentless bombardment left rows upon rows of shattered or hollowed-out buildings.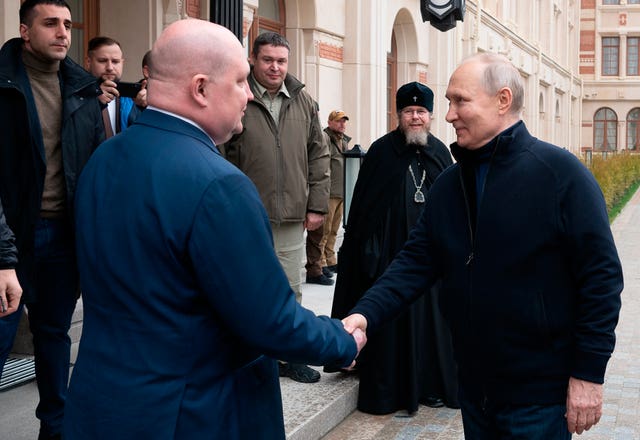 Vladimir Putin with the governor of Sevastopol Mikhail Razvozhayev during a visit on Saturday (Sputnik, Kremlin Press Service Pool/AP/PA)
Mariupol's plight first came into focus with a Russian air strike on a maternity hospital on March 9 last year, less than two weeks after Russian troops moved into Ukraine.
A week later, about 300 people were reported killed in the bombing of a theatre that was serving as the city's largest bomb shelter. Evidence obtained by the AP last spring suggested that the real death toll could be closer to 600.
A small group of Ukrainian fighters held out for 83 days in the sprawling Azovstal steelworks in eastern Mariupol before surrendering, their dogged defence tying down Russian forces and coming to symbolise Ukrainian tenacity in the face of Moscow's aggression.
Russia annexed Crimea from Ukraine in 2014, a move that most of the world denounced as illegal, and moved on last September to officially claim four regions in Ukraine's south and east as Russian territory, following referendums that Kyiv and the West described as a sham.