Two small monkeys found in an empty house the day after being stolen from Dallas Zoo lost a bit of weight during their ordeal but show no signs of injury, keepers said on Wednesday.
Monday's disappearance of the emperor tamarin monkey pair – Bella and Finn – after their enclosure was cut open is the latest in a string of unusual events at the attraction over the last few weeks.
Other fences have been cut, a small leopard has escaped and an endangered vulture has died in suspicious circumstances.
The monkey, which have long whiskers that look like a moustache, were found late on Tuesday in a cupboard at a home south of the zoo after a tip-off, Dallas police said.
No arrests have been made.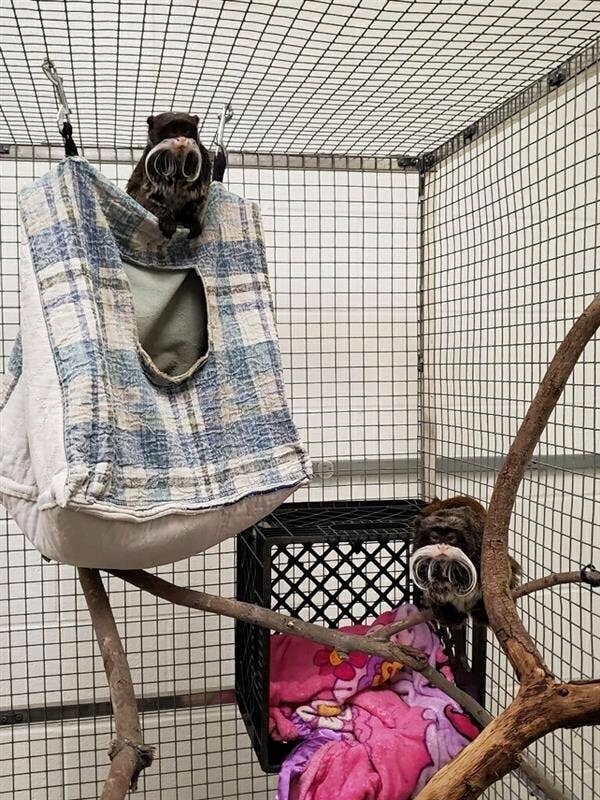 Bella and Finn back at the zoo (Dallas Zoo/AP)
Bella and Finn "started eating and drinking almost immediately" after being examined, the zoo said on Twitter on Wednesday.
They were "so happy to snuggle in their nest sack" on Tuesday night.
"We will continue to monitor them closely, but for now, we're so glad they are safe and back with us," the zoo said in a statement.
Police have released a photograph and video of a man they want to talk to about the monkeys.
They are also trying to determine if the string of incidents over the last few weeks are related.
On January 13, arriving workers discovered clouded leopard Nova missing from her cage, with police saying a cutting tool was intentionally used to make an opening in her enclosure.
The zoo closed as a search for her got underway and she was found later that day near her habitat.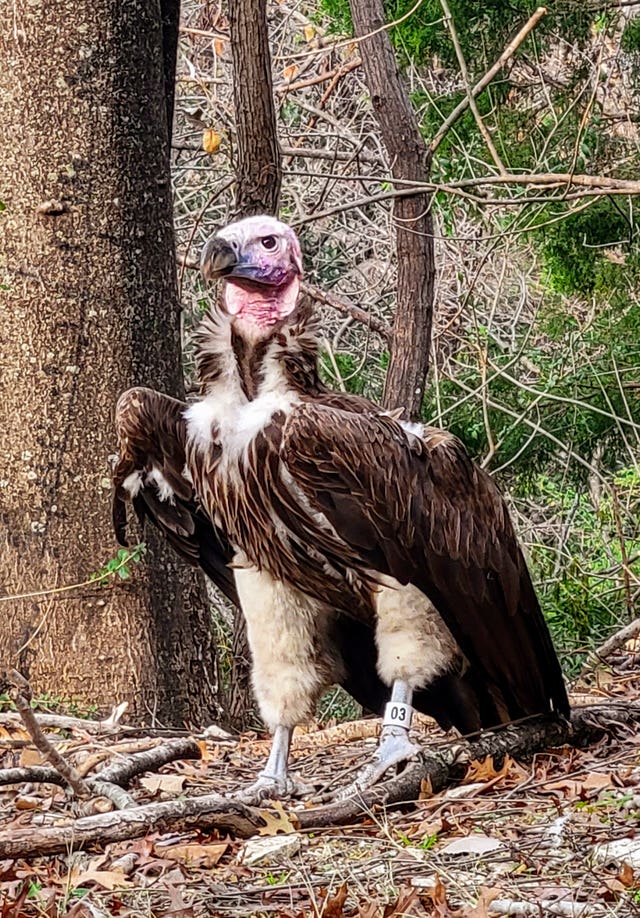 Pin was found dead by arriving workers (Dallas Zoo/AP)
Zoo workers also found a similar gash in an enclosure for langur monkeys, though none got out or appeared harmed, police said.
On January 21, workers arriving at the zoo found an endangered lappet-faced vulture named Pin dead.
Gregg Hudson, the zoo's president and chief executive officer, called the death "very suspicious" and said the vulture had "a wound" but declined to give more details.
The zoo said in its statement the incidents over the last few weeks have led officials there to "take a a hard look" at security measures, saying "it has become obvious that we need to make significant changes".
The zoo said it has already implemented additional security measures, including adding more cameras, additional fencing and more patrols, and will make other changes as well.
Since Bella and Finn were taken from the zoo, they will need to undergo a quarantine period before they can return to their habitat there, the attraction added.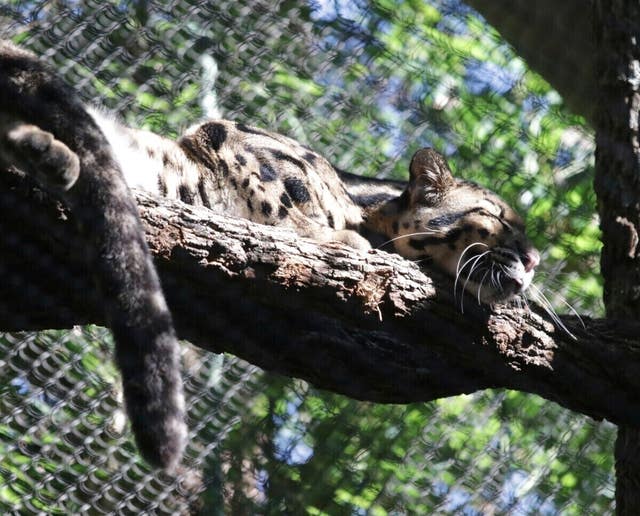 Clouded leopard Nova rests on a tree limb in an enclosure at Dallas Zoo (Dallas Zoo/AP)
Meanwhile, in Louisiana, officials said they have launched an investigation after 12 squirrel monkeys were discovered missing on Sunday from a zoo in the state's south-west.
Their habitat at Zoosiana in Broussard, about 60 miles west of Baton Rouge, was "compromised" and some damage was done to get in, city Police Chief Vance Olivier said on Tuesday.