The Pakistani Taliban, also known as Tehreek-e-Taliban Pakistan (TTP), claimed responsibility for Monday's suicide bombing at a mosque inside a police compound in the north-western city of Peshawar, in one of the deadliest attacks on security forces in recent months.
The bombing is likely to strain relations further between Pakistan and neighbouring Afghanistan's Taliban rulers, who are sheltering the TTP leadership and fighters.
– Why is the TTP fighting an insurgency?
Angered by Pakistan's co-operation with Washington in the war on terrorism, the TTP was officially set up by Pakistani militants in 2007 when different outlawed groups agreed to work together against Pakistan and support the Afghan Taliban, who were fighting US and Nato forces.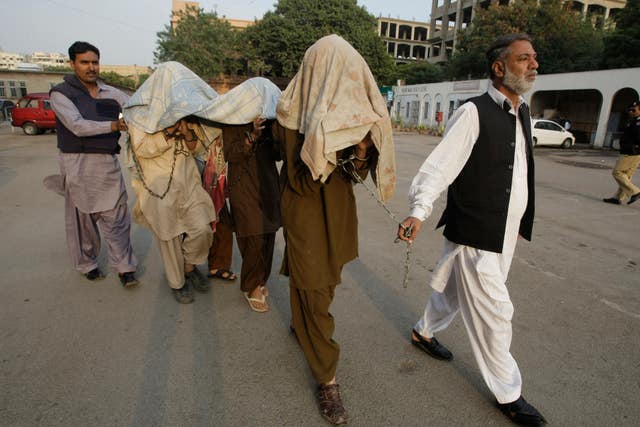 Pakistani security officials escort alleged militants of Tehreek-e-Taliban Pakistan to an anti-terrorist court in Karachi, Pakistan, in 2012 (Fareed Khan/AP)
The TTP seeks stricter enforcement of Islamic laws, the release of its members in government custody, and a reduction in Pakistani military presence in parts of Khyber Pakhtunkhwa, the province bordering Afghanistan that it has long used as a base.
The TTP has stepped up attacks on Pakistani soldiers and police since November, when it unilaterally ended a ceasefire with the government after the failure of months of talks, hosted by Afghanistan's Taliban rulers in Kabul.
Before Monday's bombing, the TTP had repeatedly warned police not to take part in operations against its fighters in Peshawar, the capital of Khyber Pakhtunkhwa province bordering Afghanistan.
– What is the relationship between the TTP and the Afghan Taliban?
The TTP is separate from but a close ally of the Afghan Taliban, and that group's takeover of Afghanistan in August 2021 emboldened the TTP, which shares the group's ideology.
TTP fighters used to hide in Pakistan's tribal north-west and also had sanctuary in Afghanistan, but they mostly lived a fugitive existence.
However, the Afghan Taliban started openly sheltering the TTP when they came to power. The Afghan Taliban also released TTP leaders and fighters who had been arrested by previous administrations in Kabul.
The Taliban have repeatedly said they will not allow anyone, including the TTP, to use Afghan soil for attacks against any country, including Pakistan. But Pakistani officials say there is a disconnection between the words and actions of the Afghan Taliban, who could stop the TTP from launching attacks inside the country but are failing to do so.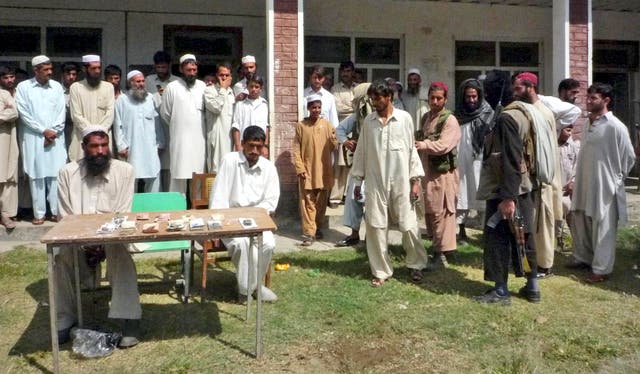 Armed supporters of an outlawed militant group, Tehreek-e-Taliban Pakistan, right, escort one of three suspected thieves for their trial by the Taliban on the outskirts of Matta, an area of Pakistan's Swat district, in 2008 (Sherin Zada/AP)
The Pakistani Taliban have expressed their allegiance to the head of the Afghan Taliban, said Abdullah Khan, a senior defence analyst and managing director of the Islamabad-based Pakistan Institute for Conflict and Security Studies.
He added, however, that they have their own agenda and strategy.
TTP's operations have largely been aimed at targeting Pakistani forces, similar to the Afghan Taliban's agenda of ousting foreign forces from the country.
Mr Khan fears that Pakistan will see a surge in militant violence in the coming weeks and months.
– Has violence increased recently?
Pakistan has seen a large number of militant attacks in the past two decades, but there has been an increase since November, when the TTP ended a ceasefire with the government that had lasted for months.
The Pakistani Taliban regularly carry out shootings or bombings, especially in the rugged and remote north-western Pakistan, a former TTP stronghold.
In the first week of January, militants on a motorcycle shot and killed two policemen in Lakki Marwat, a town in Khyber Pakhtunkhwa province. Monday's mosque bombing at the police compound in Peshawar was aimed at security officers, who were among the dozens of victims.
The violence has raised fears among residents of a possible military operation in the former tribal regions of north and south Waziristan, now two districts in Khyber Pakhtunkhwa.
Hours after Monday's mosque bombing, interior minister Rana Sanaullah Khan told the independent Geo news channel that Afghan Taliban rulers must honour their commitment to the international community to not allow anyone to use their soil for attacks against another country.
"They should honour their promises," he said.