The classic winter-time veg, utterly ubiquitous over Christmas, netted bags of sprouts fill the vegetable aisles of supermarkets and greengrocers.
There is always so much chatter about how much derision they cause, so many people seemingly hating them more than any other vegetable.
They are the ultimate underdog, but then again, enough people must beating them and not just for Christmas dinner to warrant such a bounty over the festive season. The economics of supply and demand surely suggest they aren't quite as loathed as they are made out to be.
We are self-professed, proud sprout lovers. To us, they are probably the most used of the many seasonal products associated with Christmas. More than turkey, cranberries, ham, chestnuts, parsnips, chocolate or gingerbread, the humble Brussels sprout is our festive food hero.
It has to be said, however that the Brussels sprout is definitely a cold-weather vegetable, being wholly comfortable served alongside hearty roasts, gravies, potatoes, cheeses and sweet sauces. There is a time and a place for this tight little cabbage leaf in bud and that time is now when the ground is hard and frosts cover the grasses and leaves of vegetable patches. It also should never be cooked for too long, being horrid when boiled to flaccid mush, dulling its bright green flavour and taking on that old cabbage smell.
A sprout is not just for Christmas, so these recipes, although definitely season-appropriate are for everyday eating, lunchtime snacking and easy suppertime munching.
It is devastating for sprout enthusiasts to think about all those little netted bundles of sprouts being tossed away once Christmas dinner is over and people have turned theirattention back to other less misunderstood vegetables.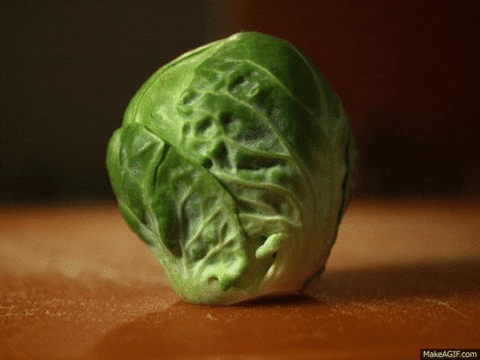 Like with all our weekly vegetable profiles, the three recipes we have included hopefully show the versatility of sprouts and how they can be used in different ways, for different kinds of eating.
We, of course, had to add our own spin on the classic sprout and lardon dish, sweetening and deepening the wonderful flavours with a little special ingredients. Two of the recipes include sprout in its raw form, which might sound absolutely ghastly to the uninitiated sprout eater but actually makes a lot of sense when you see and taste the finished product.
Shaved Sprouts with Apple and Pomegranate
This is another way to enjoy Brussels sprouts that doesn't involve any cooking at all. You simply slice or shave the sprouts into very thin strips and toss it together with the other ingredients to give you a relatively quick and substantial salad. The flavours here are all about lifting and complimenting the sprouts with peppery onion, salty cheese, honey, chilli, and of course a good squeeze of lemon juice. All these contrasting elements come together nicely to create a really interesting and impressive salad with very simple ingredients.
Ingredients:
450g brussels sprouts, sliced or shaved thinly
seeds of one pomegranate
1 small red onion, sliced thinly
2 small Irish eating apples, cored and chopped roughly
25g pecorino, grated
80g walnuts, chopped
salad dressing:
juice of one lemon
2 tablespoons of honey
1 small red chilli, seeds removed and slice thinly
60ml of olive oil
good pinch of salt
Method:
In a large bowl mix the shaved sprouts, apple pieces, walnuts, red onion, pomegranate seeds and grated pecorino.
Whisk together the lemon, honey, olive oil and sliced chilli in a small bowl. Season with salt and drizzle very generously over the salad, tossing the whole thing so everything is well combined. Serve and enjoy.
Sprouts, Chestnuts & Bacon
This is, of course, the classic Brussel sprouts Christmas side dish, where the salty smokey bacon and nutty woody chestnuts form the ultimate union with the sprouts making a simple trio of good things brought together on a sizzling hot pan.
We, being sprout fanatics of course, love this dish and often have it on our table, not just on Christmas Day, but all throughout sprout season or early winter as some people call it.
Ingredients:
1kg of Brussel Sprouts, trimmed and cut in half
200g cooked chestnuts
400g of good-quality smoked bacon rashers or pancetta cut into lardons
Sea salt and black pepper
2 tablespoons of pomegranate molasses
Pomegranate seeds (from half a pomegranate)
Olive oil
50g butter
Method:
Parboil the sprouts in a large pan of salted boiling water for around six minutes. Drain into a colander and leave aside. The sprouts should be a little over half- way cooked.
In a large frying pan, heat a little olive oil and add the bacon, cooking it untilstarting to crisp up. Add the sprouts and chestnuts along with the butter and move around the pan for around 10 to 15 minutes, giving the sprouts enough time to soften a little and crisp up on the cut sides.
You want everythinglooking browned a little and crisp. Add a splash of water if you need to avoid too much of the chestnuts sticking or if the sprouts need a little steam to cook through further.
Add the molasses at the end, stirring it aroundthe pan, coating all of the sprouts well. Tip onto a warm serving dish and sprinkle with thepomegranate seeds.
Sprout Slaw with Kale and Walnuts
This isn't a classic 'slaw' for you traditionalists out there but we use this shaved sprout salad in the same way. It isn't covered in mayonnaise or yoghurt or salad dressing. This sprout version is all about texture and bright tangy flavours without the heaviness of traditional slaws. The dressing is very simple, just a little mustard, vinegar, and lemon juice, seasoned lightly, no oil needed. We like to enjoy this crammed inside a soft white roll with some leftover Christmas ham and a lick of cranberry sauce.
Ingredients:
300g of Brussels sprouts.
One large handful of kale, shredded finely
One clove of garlic, crushed
1 small shallot, chopped very finely or minced
Small handful of walnuts
Juice of 1/2 lemon
1 tablespoon of dijon mustard
2 tablespoons of cider vinegar
Sea salt and black pepper
Method:
Preheat the oven to 160ºC and line a baking tray with parchment. Scatter with walnuts and place in the oven for around 7 or 8 minutes until slightly browned and smelling fragrant and nutty.
Take out of the oven and leave to cool.
Trim the sprouts of any tough outer layers and its base.
Slice very thinly into shreds or alternatively use a mandolin. You could also use a box grater, although this will give you a more rice like result.
In a large mixing bowl, combine the shredded sprouts, garlic, kale, and shallot, season with salt and pepper.
Whisk together the lemon juice, mustard, vinegar, and a pinch of sea salt in a small bowl.
Pour over the dressing into the shredded vegetables and mix through with your hands making sure everything is well coated.
Add the nuts last and serve as a side dish or even as a filling with some meat in a sandwich.
If you are not going to use the slaw straight away, storing it in the fridge perhaps, then don't add the nuts as they will soften too much in the mixture.
Add them just before serving.