We are at the border in Finland. The year is 1985 and KGB Station chief Oleg Gordievsky is curled up in the boot of a British diplomat's car. Two sniffer dogs are approaching, an intricate rescue operation, years in the making, is about to be rumbled with dire consequences. The scene builds and builds with unbearable tension. Then, a car horn blares behind me. The light had gone green and once again I had incurred the wrath of a Cork City motorist thanks to an audiobook.
Once contained within unwieldy cassettes or CD's, the rapid pace of technological innovation has led to a surge in popularity in Audiobooks. The Publisher Association Yearbook put the medium's growth in 2018 at 43% compared to the year previous with Amazon predictably gobbling up most of the pie with Audible.
For yours truly, it was two dramatic changes that led me to gorging on them. A sizeable increase in my commute to work gave me two hours a day to fill in a car and having two children under three meant a lot of my reading at home was devoted to the 'That's not my books', a series where a mouse deduces what he is looking for by commenting on random parts of a particular animal or person. I particularly recommend the pirate one which takes an unexpected turn with a cutlass.
Audio then, became a primary book source and this can cause consternation with some readers who may make the not entirely unreasonable point that it's not really reading. I may have agreed once upon a time, but audio can also focus the mind. Particularly when driving or walking and there is no distraction form a phone lighting up with notification after notification about nothing. Audio is a return to the roots of storytelling - the written word spoken aloud.
Publishers are keen to dismiss the notion that audio and print are in competition, rather that audio is an accompaniment to print. One could look at 43 percent growth for audio in 2018 and compare it to a 5 percent drop for print and deduce that one is the future and is in inexorable growth but then that audio increase accounted for £69 million in sales and that print decrease led to £2.9 billion in revenue in the U.K.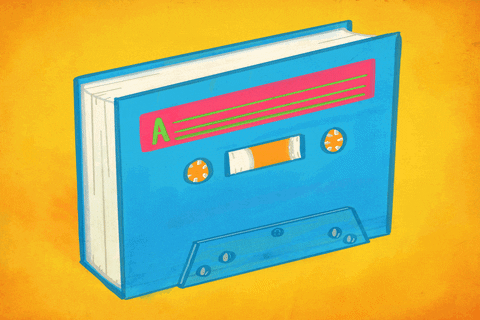 But despite this vast chasm in revenue, audio is increasingly important to publishers. While there is still often an annoying wait for the audio version of a newly released print title, more publishers are aiming to have the audio title out in sync with the physical book. As audio's growth continues, this is a trend that will only develop further.
But what is the process like for the narrator? Producers will tell you that even the slickest of media performers have to be reined in during the process and reminded that they are not addressing a vast crowd but instead they are talking to a single reader. That intimacy is key.
Sinead Gleeson is author of Constellations, a profound and personal collection of essays about the body, grief and motherhood amongst many other things. The audiobook of Constellations is an interesting test case on how it can accompany a wonderfully written work. This a deeply personal voyage and hearing Gleeson adds another layer to the work. So, what was it like to record something you have worked tirelessly on for years?
"Audiobooks are very intimate, it's a conversation with the reader and you have to think of it that way, the pauses, the silence, these are all very important to the experience and their timing is important," she explained.
The 'we' in this case was Sinead and her husband Stephen Shannon – who produced the audiobook. Given how intense the process was, she couldn't have imagined recording it in front of anyone else.
"There are two pieces in the book that I don't do at readings; Our Mutual Friend and Second Mother, emotionally they are too difficult, so to have Stephen there was very important to me. You know these pieces so well but when you read them aloud it catches you off guard, I couldn't have imagined having to stop and cry in front of a stranger, having that support was important and Stephen was upset himself because the people in those chapters mean a lot to him too".
That intimacy is a profound experience and speaks to the importance of the narrator. For a Constellations type of personal journey, the narrator must be the writer. For a novel, the choice of narrator can be tricky with some authors giving way to actors.
But lines are increasingly being blurred. Take Malcolm Gladwell – the superstar author of the likes of Blink, his latest release – Talking To Strangers feels like a book written for audible. He uses music and instead of narrating interviews himself, we hear the raw recording of the person. The result is what feels effectively like a podcast but not a book. As those lines continue to cross, this may become a bigger trend.
Audible continues to create its own exclusive content to add to the billions of downloads it now commands but for the likes of Gleeson, the starting point is the book: 'The book is the source matter for me, everything else needs to come from it. Personally, I'll never get to the stage where I write for audio, I think a great book should work on both formats' Therein lies the rub, this column will attempt to find those books that meet that criteria and try to point you towards those that are worthy of a blast of a car horn.
Paul Ring starts a new column in our books pages this month