Mike Bedigan, PA Los Angeles Correspondent
Gwyenth Paltrow's version of events in her 2016 ski crash is "consistent with the laws of physics", a US court has heard.
Biochemical engineer Dr Irving Scher disputed evidence from previous witnesses, claiming their analysis had been miscalculated and he could not get other scenarios "to work".
Ms Paltrow has claimed that retired optometrist Terry Sanderson collided with her during the incident at the Deer Valley resort in Utah, and resulted in her losing "half a day of skiing" with her family.
Mr Sanderson has accused the actress of crashing into him, and says he sustained several broken ribs and severe head injuries.
Jurors were given a short physics lesson in court on Tuesday by Dr Scher, in which he wrote out several calculations and diagrams on a large board with a marker.
He said calculations by Dr Richard Boehne, heard in court last week, had been "thrown off" by an incorrect velocity, and that corrected measurements meant Mr Sanderson's injuries should have been "much worse".
"Ms Paltrow's version of events is consistent with the laws of physics in how people turn and rotate," he said.
Asked about evidence from another skier, Craig Ramon, who was present at the time of the incident and claimed Ms Paltrow caused the collision, Dr Scher added: "I couldn't get it to work".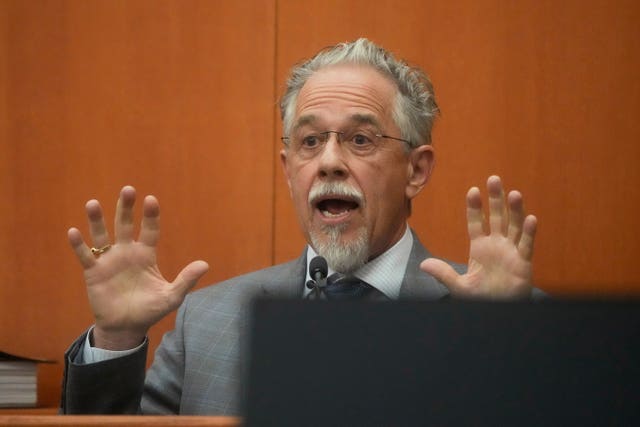 He also noted that it would have taken very little force for Ms Paltrow's skis to come off in the collision, but they stayed on.
"I know how bindings work, it's just physics," he said.
"If her skis stayed on I can't see how she continued to move 10ft… if she was trapped underneath him."
The court has already heard evidence from Ms Paltrow and Mr Sanderson.
Mr Sanderson said he had become a "self-imposed recluse" after the incident and had been advised never to ski again in case of further injury.
Ms Paltrow previously said she felt "very sorry" for Mr Sanderson but reiterated that she was not "at fault" for the crash.
The trial in Park City, Utah, continues.