Winter really is coming, so what better time to start planning a Game Of Thrones-themed wedding? Well, GoT stars Kit Harington and Rose Leslie may be about to do just that, after announcing their engagement today in The Times newspaper.
The couple met on the set of the hit show in 2012 – Rose playing Jon Snow's lover Ygritte before she was shot in the back with an arrow and died in season 4.
They only made their relationship public last year, appearing together at the Olivier Awards, and Kit told L'Uomo Vogue that filming for three weeks in Iceland in 2012 was his best memory of the show, because that's where they fell in love. Aww!
"If you're already attracted to someone, and then they play your love interest in the show, it becomes very easy to fall in love," he said.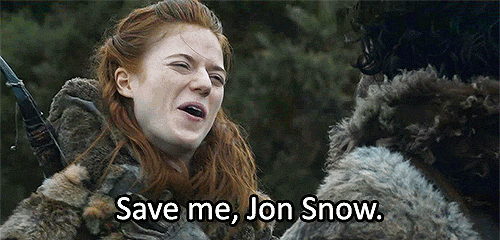 If you're Game of Thrones mad, you'll probably already be planning how to work the show into your big day, but here are some ideas… Just don't let your guests kill each other!
The invites
Dragon eggs, obviously, with a parchment map for directions.
The venue
Scot Rose is already quite familiar with castles, having grown up at Lickleyhead Castle in Aberdeenshire, where her dad is the chieftain of clan Leslie. The seven-bedroom castle, with fairytale turrets, can be hired on AirBnB for £600 a night and has hosted small weddings.
The dress
White of course. Sansa Stark wore an ivory samite gown and Margaery Tyrell wore ivory silk, after all. Then swap the veil for a Daenerys-style cape…
The hair
Braids are a must, complete with antler or vine tiara for the bride. There are numerous YouTube tutorials on how to get the GoT hair look, but we like this one…
The bouquet
There's tonnes of inspo out there, but we think spiky sea holly with delicate white carnations makes for a perfect GoT bouquet.
The bride's arrival
Accompanied by huskies (wolves), she'd be greeted by a guard of honour, with guests holding swords across the aisle, then walk down it to Ramin Djawadi's epic, string-laden theme music.
The vows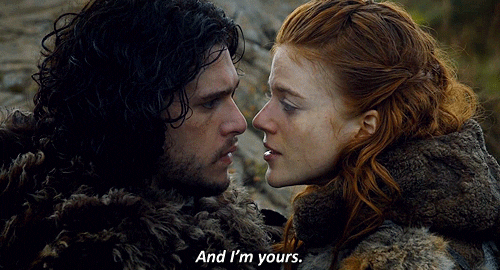 Presumably Rose will not be saying the words: "You know nothing Kit Harington."
The table plan
We're thinking tables named after different houses (Baratheon, Stark, Lannister, Targaryen, Tyrell, Greyjoy) or locations (Winterfell, Dragonstone, King's Landing, Dorne, The Wall) – and an Iron Throne 'for two' at the top table for the bride and groom.
Table decorations
Candles, candles and more candles; bundles of logs and moss as centrepieces for a forest feel, and goblets for all the wine you and your guests will be sloshing back. Just rename the white 'The Finest in the Arbor' and the red wine 'Dornish Red' – and make sure there's no poison anywhere…
The banquet
Strictly no veggies allowed at this wedding, unless they're happy eating pigeon pie?
The favours
Simple – just drape an Ikea Skold rug over everyone's chair for them to snuggle up in during dinner.
The cake
Sweet Lake cakes in The Netherlands make a GoT tiered cake – which will definitely need to be cut with a sword.
The entertainment
You could hire Icelandic band Sigur Rós, who provided the music at Joffrey and Margaery's wedding reception, or get Snow Patrol's Gary Lightbody to serenade the guests with a rousing rendition of The Bear And The Maiden Fair, or you could just stream Ed Sheeran singing Hands Of Gold. If you do want your guests doing battle, maybe let it happen over a Game Of Thrones quiz?
The wedding night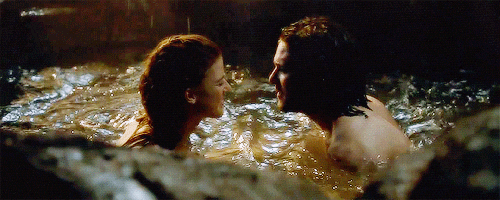 The 'bedding' tradition in GoT involves the male guests carrying the bride to bed, and the women taking the groom, while undressing them along the way. We'll leave the rest up to your imaginations, but if you wanted to go all Kit and Rose, Jon and Ygritte's first night of passion ended with them jumping into hot springs…