YouTube channel The Slow Mo Guys sees stars Gav and Dan put a variety of intriguing subject matter in front of their slow motion cameras to create some stunning visuals.
This month the pair are creating a series using giant six-foot balloons, and the latest edition sees Dan popping one from the inside. Definitely don't try this at home – for reasons of both safety and dignity.
It's difficult to decide whether to feel more sorry for Dan or Gav in this situation. Though Dan's dignity may feel a little sore, it sounds like cameraman Gav's job of having to edit out the mishap was a little troubling.
"It took me about 20 minutes to keyframe the blur over his business," Gav told the Press Association. "It was extra traumatising after I zoomed the footage in."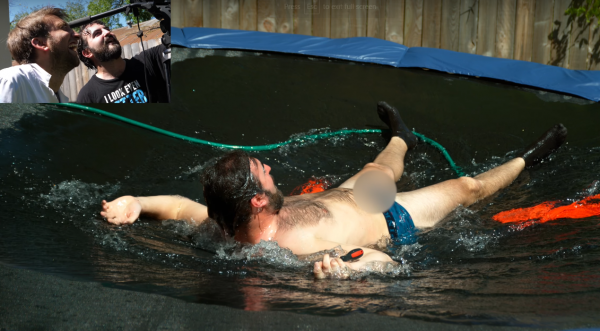 So what will the pair be doing with those giant balloons next? Well, Gav isn't really letting on.
"In the next giant balloon June Dan has the best shower of his life," said Gav.
Quite what this shower will entail isn't quite clear, but it will have to be quite something to beat the bath Dan had earlier this month…
Whatever he's taking home at the minute, Dan definitely needs a pay rise.