Going on holiday is the highlight of the year for most of us, but getting there doesn't always feel like a first-class experience.
From having to find teeny tiny toiletries, to attempting to sleep in a narrow, upright chair with strangers either side of you, it's not always comfortable or stress-free.
So we've searched high and low for the best travel hacks to make your journey (almost) as good as the destination.
1. If you hate turbulence, book a morning flight and a seat in the middle of the plane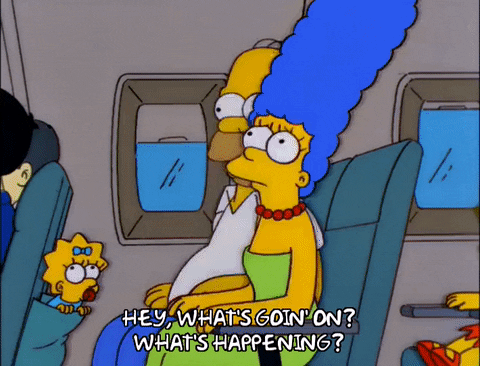 You're less likely to experience turbulence in the mornings or overnight, so if you're a nervous flyer or just want a smoother ride, don't book an afternoon flight. Thunderstorms tend to dissipate overnight, while heat of the ground causes bumpier air in the afternoon. Experts say that sitting over the plane wings (nearest to the aircraft's centre of gravity) can also minimise how much turbulence you feel.
2. Or if you want a quiet flight, book a seat in the front half of the plane
Former pilot Jonny Clark, who's now business development director at travel media business Ink, says: "If you want to get the best out of your flight, try to pick a seat ahead of the wings. You'll notice as you walk towards the front of the plane, the're's less engine noise."
3. Freeze liquids over 100ml and you can take them in hand luggage (in the US anyway)
We're not suggesting you attempt to freeze your perfume just to get it on board, but if you needed an ice pack for an injury, or really want a big bottle of water for the flight, this could come in handy.
The Transport Security Administration (TSA) website says: "Frozen liquid items are allowed through the checkpoint as long as they are frozen solid when presented for screening. If frozen liquid items are partially melted, slushy, or have any liquid at the bottom of the container, they must meet the 3-1-1 liquids [three ounces or less, stored in one zip-lock bag, one bag per person] requirement."
It's said to be because liquid explosives don't freeze. The final decision on whether or not an item is allowed on board rests with the TSA though.
4. Wrap cling film around the tops of bottles
A low point in everyone's life is experiencing the dreaded shampoo leakage disaster – the last thing you need when you've packed a suitcase of all your favourite clothes meticulously for a mini-break. A little bit of cling film will do the trick.
5. If travelling with children, make friends with other parents on the flight
"When travelling with kids, respectfully befriend other parents on the flight and offer to sit all of the children together, giving the adults an opportunity to chat to new friends and the kids a way of avoiding boredom by playing together," says Carly Swaine, cabin service supervisor at Virgin Atlantic. "Everyone's a winner!"
6. Buy a Trakdot so you never lose your luggage
There's nothing more stressful or holiday-ruining than getting to your destination and your luggage not showing up at baggage reclaim. Trakdot is a handy gadget you place inside your hold luggage so you always know where it is via an app. It may not magically transport your bag to the right airport, but it will at least speed the process up of getting it back.
7. Invest in an REM eye mask
Have trouble sleeping on overnight flights? Don't we all. There are some things you can do to help though. Bring your own blanket or oversized scarf (because planes are always freezing) as well as earplugs and an eye mask. But not just any old eye mask – one that promotes deep REM sleep like the Travelon REM Domed Sleep Eye Mask (£7.99 from Amazon). The domed design means your eyes don't touch the material, so your eyes can flutter during deep REM sleep. It will also shut all light out, so it won't matter if the person next to you insists on keeping the window blinds open. Exercising the day of your flight will help you get more Zs too.
8. Get in the security queue closest to the left
Security queues are soul destroying places. You've realised you have to buy five things you've forgotten in departures and only have 20 minutes to do that and get to your gate, and then you're faced with a long queue of equally anxious people. Well, there's a theory that 70% of people will enter the queue to the right, because they're right handed, so make sure you turn to the left instead.
9. Put a 'fragile' label on your bag
This is a bit cheeky but the chances of getting your hold luggage back without it being squashed, wet or frozen (this really happened) are dramatically better. Your bag is more likely to be treated with extra care and arrive first on the luggage belt. What? Your Zara dresses are fragile.
While we're on the subject of labels, add a bright one or a ribbon to your luggage handle, so you can easily spot it, and stop other people accidentally taking it, as the vast majority of people travel with a black suitcase.