A van drove into pedestrians near a north London mosque on Monday morning, killing one man and injuring eight in a "potential terrorist attack" believed to be motivated by Islamophobia.
What happened?
The incident occurred in Seven Sisters road, north London at around 12:20am, outside the Muslim Welfare House.
Worshippers attending Ramadan prayers had been emerging from the Finsbury Park mosque when the vehicle struck.
Who was driving the van?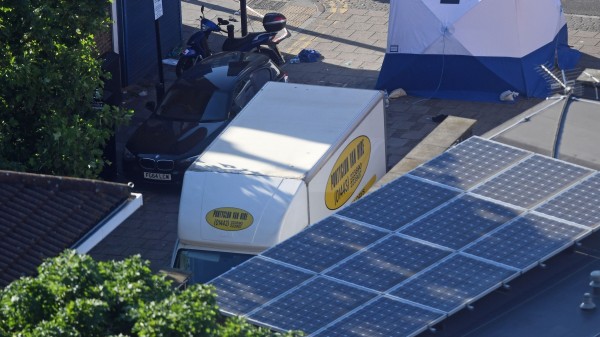 The 48-year old van driver, described by witnesses as a large white man, was held by members of the public before being arrested by police.
The injured have been taken to three different hospitals, and two were treated at the scene for minor injuries, Metropolitan Police officers said.
Police said the driver has been taken to hospital "as a precaution" and will undergo a mental health assessment.
A witness, who wanted to be identified as Abdulrahman, which is not his real name, told the Press Association the driver said "I want to kill Muslims" before being held down by members of the public.
Another shocked witness told the Press Association he jumped out of the van's path as it ploughed into conversing bystanders.
The vehicle was hired from Pontyclun van Hire near Cardiff, images show.
What happens now?
Prime Minister Theresa May is due to chair an emergency meeting on Monday morning, after police confirmed the incident was being treated as a "potential terrorist attack", she said.
No other suspects have been identified and police are investigating the incident under the Counter Terrorism Command.
The Met said: "At this early stage of this investigation, no other suspects at the scene have been identified or reported to police, however the investigation continues.
"Due to the nature of this incident extra policing resources have been deployed in order to reassure communities, especially those observing Ramadan."
How have people responded?
Harum Khan, secretary general of the Muslim Council of Britain, said: "My prayers are with the victims and their families. It appears from eyewitness accounts that the perpetrator was motivated by Islamophobia.
"Over the past weeks and months, Muslims have endured many incidents of Islamophobia, and this is the most violent manifestation to date."