Counter-terrorism police and security services have made "significant progress" since launching the third major investigation in weeks, after seven were killed and 48 injured in a terror attack at London Bridge.
Three men, wearing fake suicide bomb vests, were shot dead by eight officers in the capital after they ploughed into pedestrians and launched a knife attack on bystanders on Saturday night.
Here's what we know about the incident on Sunday night.
Have any of the victims been named?
The first victim has been named as Canadian national Christine Archibald, who worked in a homeless shelter until she moved to Europe to be with her fiance.
Her family said in a statement: "We grieve the loss of our beautiful, loving daughter and sister. She had room in her heart for everyone and believed strongly that every person was to be valued and respected.
"She would have had no understanding of the callous cruelty that caused her death."
French officials also said a French person had died, another was missing and four are seriously injured in hospital.
A British Transport Police officer and an off-duty Metropolitan Police are among the injured in hospital. Sunday Express business editor Geoff Ho was also left in intensive care after being stabbed in the throat when he tried to help a wounded bouncer.
Of the 48 being treated in central London hospitals, 21 are said to be critically injured.
What do we know about the attackers?
The Islamic State terror group claimed responsibility for the attacks on Sunday night.
The identities of the three attackers have not yet been revealed but it's thought one of them was living in Barking, east London, and had recently hired the van used in the attack.
A friend told the BBC Asian Network he had reported him to the anti-terror hotline after he began expressing increasingly radical views and justifying terror attacks, but the friend said he was never arrested.
Residents at the Barking flat said they recognised the attacker from a photograph and said he was of middle-eastern or Pakistani origin, had children, and had lived in the area for a number of years.
There have been 12 arrests – of both men and women – made.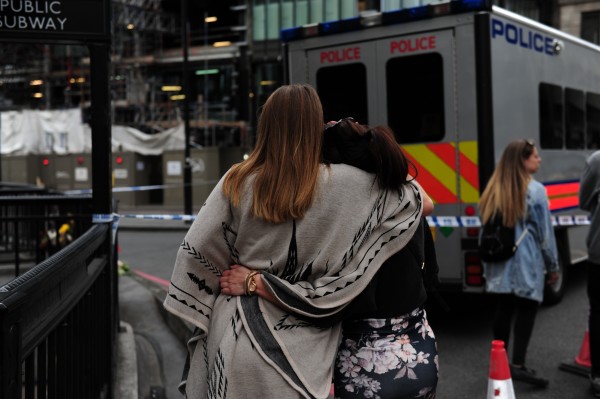 Police have arrested 12 people – five men and seven women ranging in age from 19 to 60 – after raids on two flats in Barking and East Ham.
Officers also searched two homes in Newham, although no arrests were made.
Metropolitan Police assistant commissioner Mark Rowley said "significant progress" had been made in identifying the attackers.
He said: "The investigation is progressing at pace, and officers from the Met's Counter Terrorism Command, the National Counter Terrorism Policing network are working relentlessly with UK intelligence partners to piece together exactly what occurred."
The attacks have been heavily condemned by Muslims.
The Muslim Council of Britain (MCB) has condemned the attacks and backed comments made by Theresa May saying "enough is enough".
It said it will be stepping up efforts to curb Islamic extremism – which it referred to as a "death cult" with a new campaign that will urge mosques and worshippers to report any suspicious activity to authorities.
The Ramadhan Foundation echoed the MCB's sentiments and said it was "no longer good enough for us to offer condemnation and solidarity".
It said in a statement: "We need to confront this twisted evil ideology which distorts and lies about Islamic teachings.
"Firstly as a parent and human being my heart goes out to the victims, I cannot imagine their pain and anguish. Secondly as British Muslims we stand resolutely in support of our Police and Intelligence Agencies in confronting this evil."
A vigil will be held in the capital on Monday.
London Mayor Sadiq Khan invited Londoners and visitors to join him at Potters Fields Park at 6pm on Monday to honour the seven victims who lost their lives.
Khan will be joined by senior representatives of the Metropolitan Police, the British Transport Police, London Ambulance Service, London Fire Brigade and civic, faith and community leaders.
The vigil will include a minute's silence at 6.20pm, following a minute's silence held across the country at 11am on Monday.
A crowdfunding page has been set up to support the victims.
The British Red Cross launched a UK Solidarity Fund to help the victims of terrorism across the country – not just in recent London Bridge attack.
The fund will support those who have been injured, bereaved or traumatised in attacks to help reduce immediate suffering and ensure that victims and their families do not face short-term financial difficulties.