There's been a mass evacuation of people in the 'danger zone' around an erupting volcano on the Indonesian island of Bali, and thousands of travellers have been left stranded because the international airport has been forced to close.
What's happened?
A volcano in the east of the island, Mount Agung, has been hurling clouds of white and dark grey ash around 3,000m into the atmosphere and lava is welling up in the crater – which can be seen as a red-yellow glow in the ash plumes. Its explosions can be heard roughly 7.5 miles away, while volcanic debris known as lahar is almost moving down the volcano's slopes.
Agung's last major eruption was in 1963 and killed more than 1,000 people.
What are local authorities saying?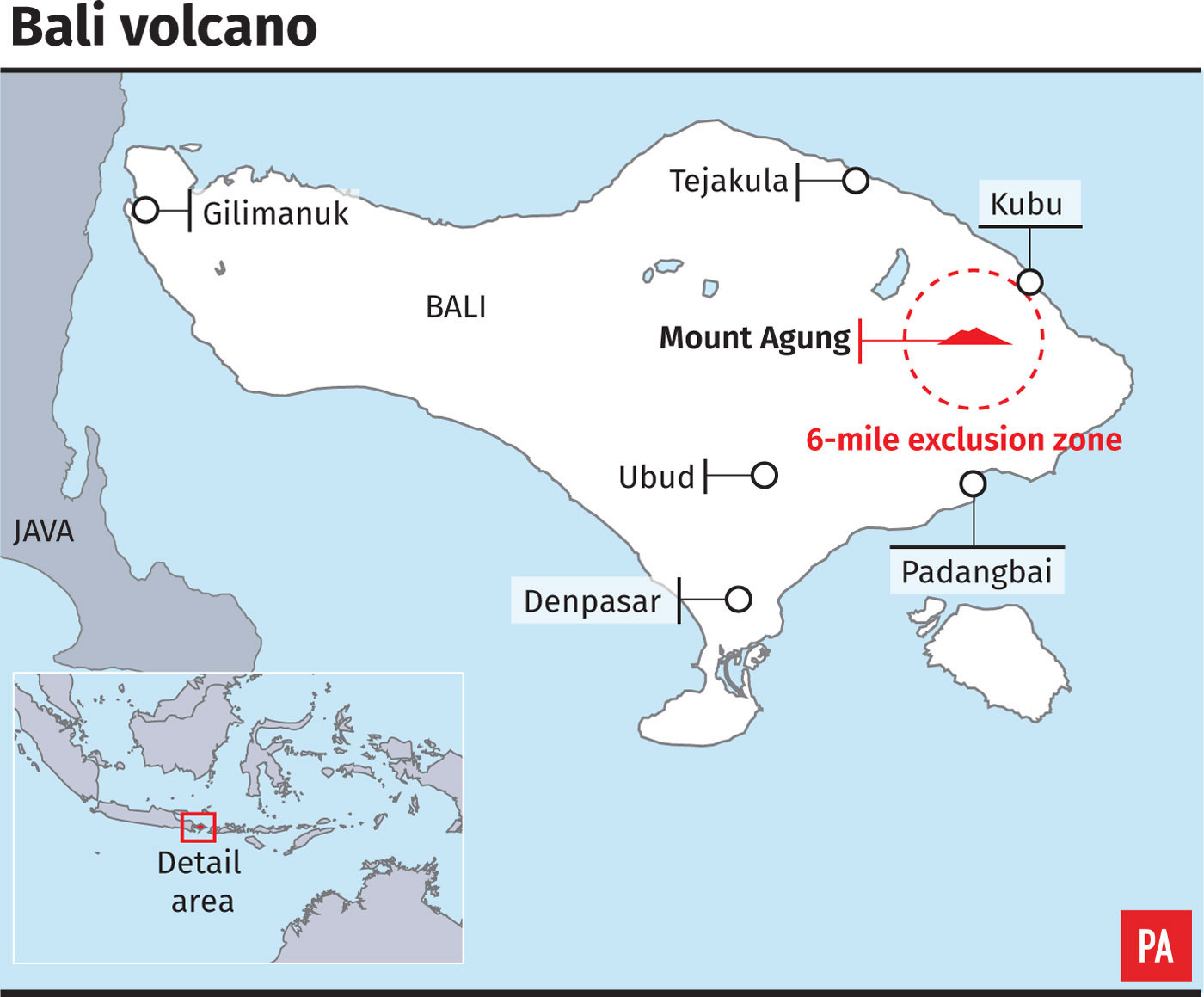 The National Disaster Mitigation Agency (NDMA) has raised the volcano's alert to the highest level and expanded the danger zone to six miles (previously 4.7 miles), so it's understood an eruption is possible.
NDMA spokesman Sutopo Purwo Nugroho explained at a news conference in Jakarta that the extension of the danger zone affects 22 villages and 90,000-100,000 people. He said some 40,000 have already been evacuated, but some didn't want to leave.
He said: "Authorities will comb the area to persuade them. If needed, we will forcibly evacuate them."
Authorities have also warned people to stay away from rivers because the risk of mudflows (a combination of water and volcanic debris) is high due to it currently being the wet season.
What's going on at the airport?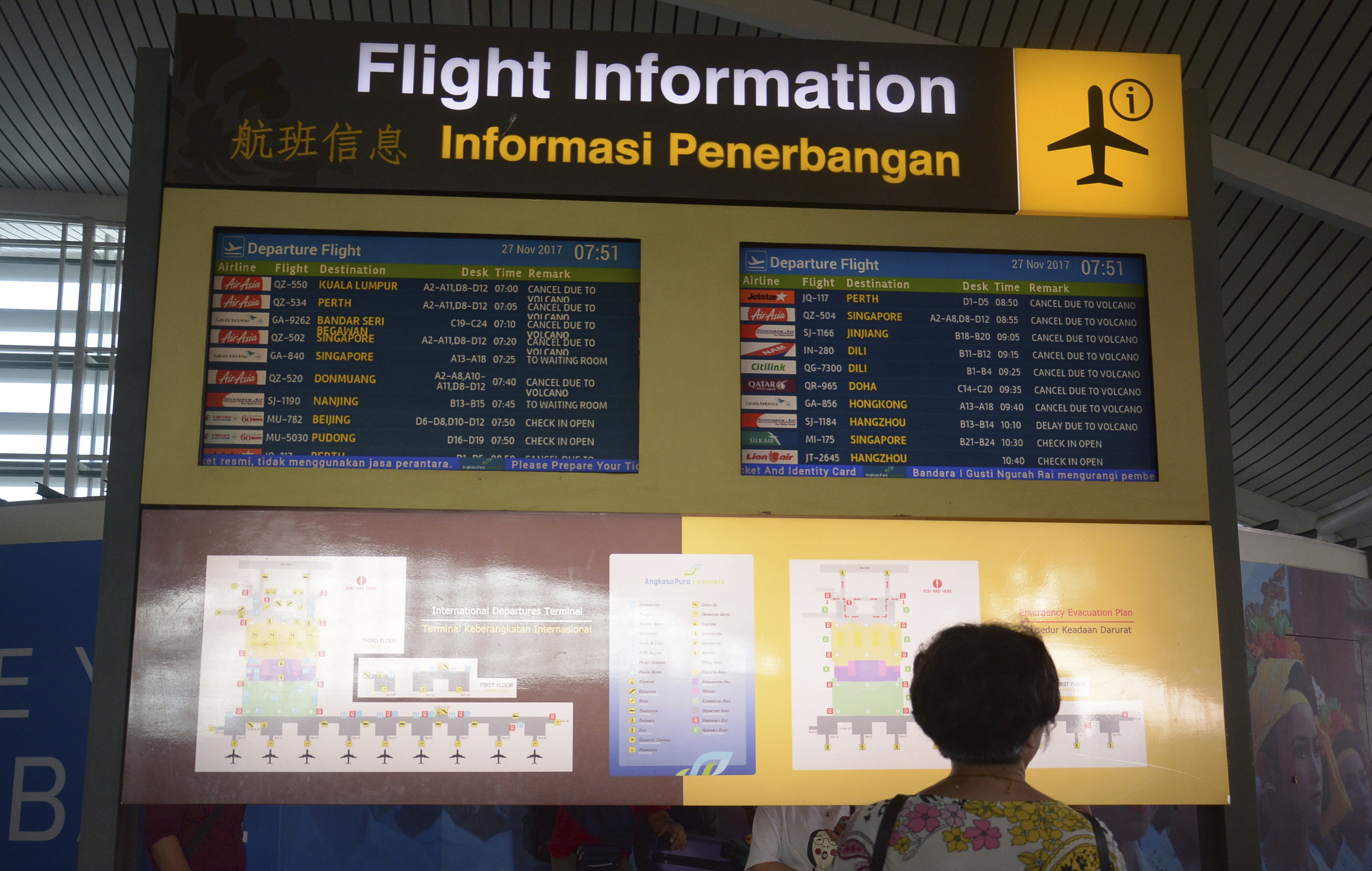 Ngurah Rai International Airport closed today after ash reached airspace. Thousands of tourists have arrived at the airport expecting to catch flights home, but flight information boards show rows of cancelled flights.
Airport spokesman Air Ahsanurrohim said 445 flights were cancelled, and nearly 60,000 travellers stranded.
Bali is Indonesia's top tourist destination, with its Hindu culture, surf beaches and lush green interior attracting around five million visitors a year. December through to the first week of January is one of the island's busy periods.
The airport's initial closure is for 24 hours, until early Tuesday, but there could be prolonged or repeated disruptions as the volcano may spew ash for weeks, or erupt further.
What should travellers do?
It's possible to leave the island by ferry from Gilimanuk port to Banyuwangi on Java to the west and then travelling by car, train or plane to the capital, Jakarta. Another possible route is a ferry to Lombok, followed by a flight to Java (although ash temporarily closed Lombok's airport on Sunday, so that might be risky).
The government says it has provided 100 buses to transport people from the international airport to ferry ports. Indonesia's tourism ministry says member hotels of the Indonesian Hotel & Restaurant Association will provide a night's free accommodation to guests affected by the airport closure.
If you're due to fly to Bali soon, it's not looking good. The Foreign Office travel advice page for Indonesia has been updated to say: "The authorities are monitoring the situation closely and airports in the region are likely to continue to be closed for periods of time. You should confirm your travel arrangements directly with your airline or travel agent before travelling to the airport.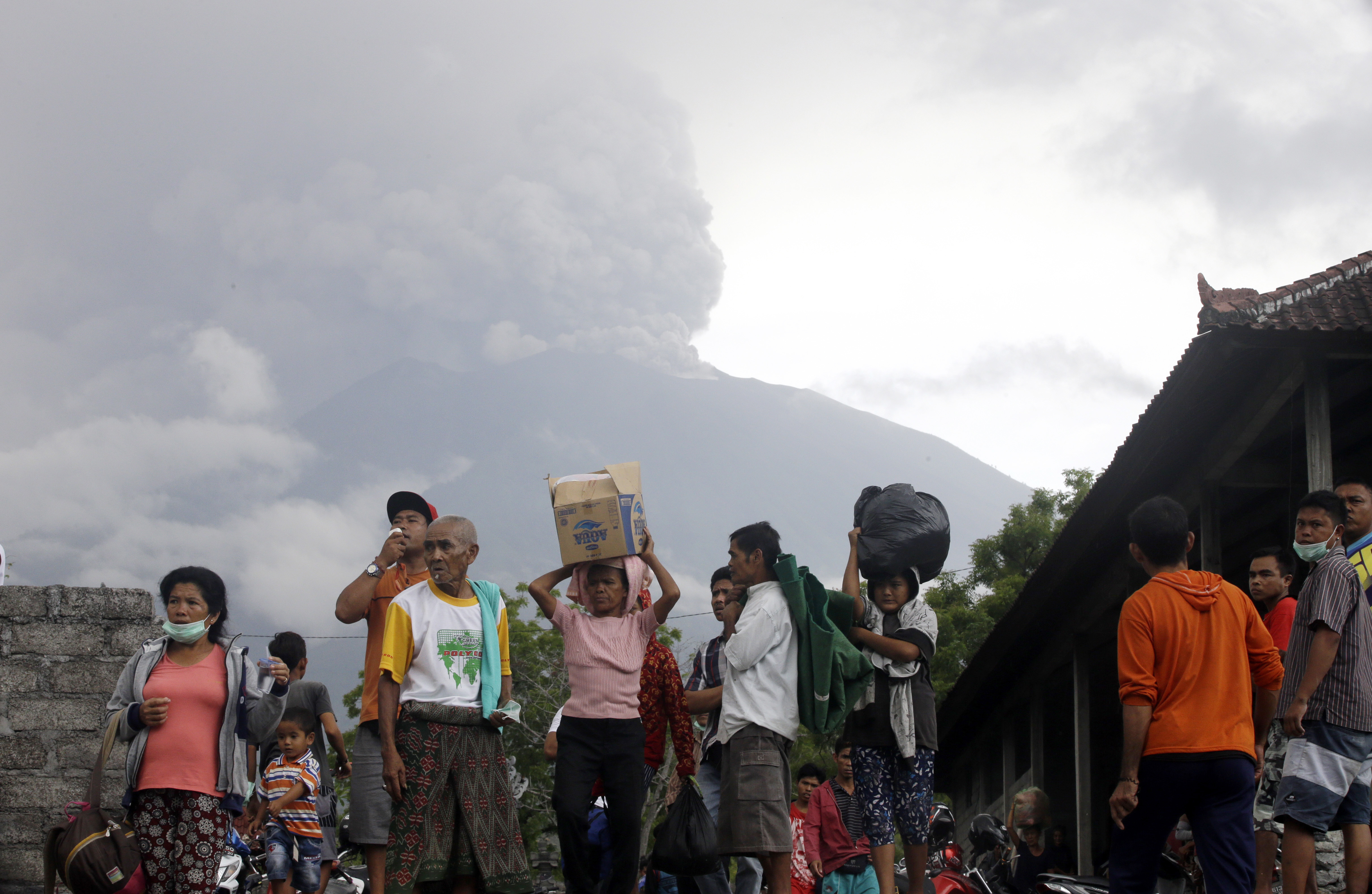 "You should monitor local media reports, follow the advice of the local authorities and stay outside the existing exclusion zone, which extends between eight and 10km from the crater. Volcanic activity may escalate. Volcanic ash clouds could continue to cause flight disruption and may result in further airport closures in the region."
Malaysia's foreign ministry said all but non-urgent travel should be delayed., while a spokesman for major Japanese travel bureau JTB Corp said all tours set to depart from Japan on Monday were cancelled because of the airport closure.
Indonesia sits along a volatile seismic strip called the 'Ring of Fire'. Volcanic eruptions and earthquakes occur regularly.