A visit to Saudi Arabia has kicked off Donald Trump's first foreign trip as president.
Trump was greeted at the airport in Riyadh by King Salman, which was notable given that the monarch did not show up last year to welcome President Barack Obama on his final visit to Saudi Arabia.
Later on Saturday, Trump was greeted by a traditional troupe of Saudi drummers and sword-waving dancers. Trump smirked and bopped to the beat as he made his way through the crowd.
Trump made no substantial remarks on his first day abroad and spent most of his time shuttling between opulent palace ballrooms with the king.
The two were overheard discussing natural resources and arms, with King Salman bemoaning the destruction caused by Syria's civil war.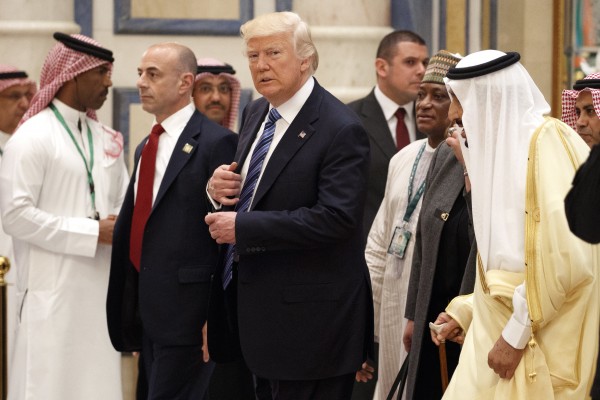 Next up on Trump's trip is joining more than 50 regional leaders for meetings focused on combating the Islamic State group and other extremists.
The president will also give the signature speech of his trip, an address that aides view as counter to Obama's 2009 speech in Egypt to the Muslim world. Trump has criticised Obama's remarks as too apologetic for US actions in the region.
According to a draft of the speech, Trump plans to urge unity in the fight against radicalism in the Muslim world, casting the challenge as a "battle between good and evil", and appealing to Arab leaders to "drive out the terrorists from your places of worship".