This Tory MP was heckled after saying she was 'pleased' to have food banks in her constituency
A Conservative candidate was booed at an election hustings after telling the audience she was "really pleased we have food banks".
Sheryll Murray, who has been MP for South East Cornwall since 2010, asked an aide to call police after being heckled at the event in Callington on Saturday.
Her team later claimed they feared for her safety following "sustained abuse" – including a woman waving pink underwear – from a group of supporters of Labour leader Jeremy Corbyn.
Ms Murray told the audience that people could require the help of food banks if their circumstances changed, such as moving house or benefits being delayed.
"I am really pleased that we have food banks in South East Cornwall," Ms Murray said.
Video of the event showed audience members loudly booing the comments, with one man shouting: "Society shouldn't need it."
Ms Murray gestured to a section of the audience and said "Let's ignore these", prompting gasps and one woman to stand up and say: "How dare you stand there and say that you can ignore me. I'm sitting down now but you are being rude."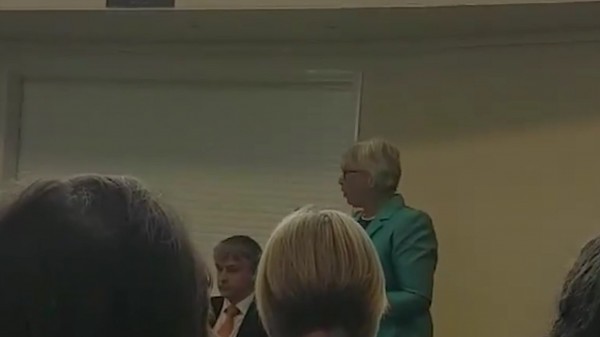 Ms Murray replied: "I think we should leave because obviously I am not being subjected to this.
"You've all witnessed this horrendous behaviour. I came here in good faith today."
She then suggested the woman who stood up should leave. The woman said: "If you want me to leave, you call the police."
Ms Murray turned to an aide and said: "Right Bob, would you like to go and try and do that please?"