Donald Trump is in Saudi Arabia, where he addressed the leaders of 50 Muslim-majority countries on the issue of terrorism.
But on his first day of his visit to the Kingdom Trump presided over a nearly $110 billion sale of military equipment – to some controversy.
Here's what you need to know.
Haven't a number of leaders sold arms to Saudi Arabia? Why the controversy?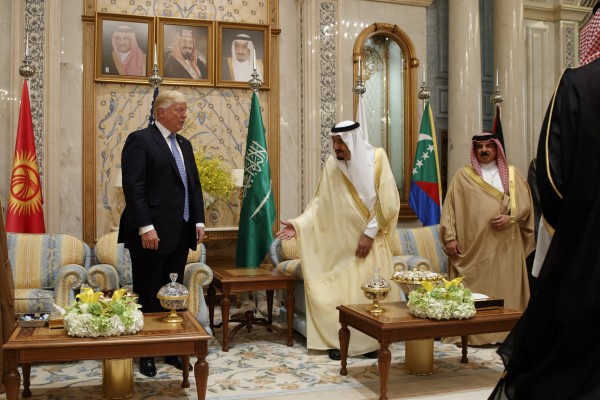 Barack Obama's administration offered over $115 billion worth of weapons to Saudi Arabia in 42 separate deals, more than any other US administration before him, according to a Centre for International Policy report.
That was over eight years, and Trump's deal could expand up to $350 billion over 10 – but the real controversy comes amid Saudi Arabia's war with Yemen.
Obama made deals with Saudi Arabia during the war but also pulled back sales of precision-guided munitions following a Saudi-led coalition bombing of a funeral hall in Yemen that killed more than 140 people. This deal appears to reverse that administration's decision.
The Trump administration's deal includes tanks, helicopters, combat ships, Patriot and THAAD missiles, radar and communications, and cybersecurity technology.
Is the war with Yemen ongoing?
Yes – and the conflict, which began in 2015, has already killed thousands of civilians and left almost 20 million Yemenis in need of humanitarian relief.
Over half of the country's population has been pushed into a state of poverty, hospitals have been overwhelmed, and millions are on the brink of famine.
Human Rights Watch has documented 81 apparently unlawful coalition attacks since the start of Saudi Arabia's war in Yemen. The rights group says it was able to identify American weapons had been used in many of those attacks.
Under Obama, Washington had backed Saudi Arabia with logistical support, including refuelling of coalition aircraft by the US military and intelligence sharing.
Amnesty International called on the US to "immediately halt all arms transfers" that could be used by members of the Saudi coalition in Yemen.
Why is there a war in Yemen?
In late 2014 a rebel group known as the Houthis overran Yemen's capital, Sanaa, and forced the Saudi-backed president into exile.

Saudi Arabia says it launched airstrikes against the Houthis, whose stronghold lies near Yemen's long border with Saudi Arabia, in self-defence.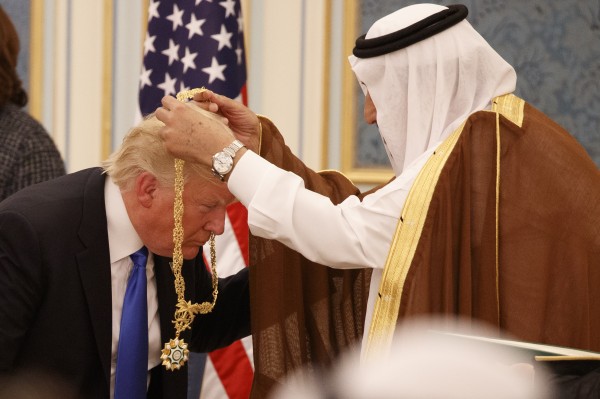 Saudi Arabia accuses its Shiite rival Iran of trying to turn the Houthis into a militant group similar to Lebanon's Hezbollah. Iran denies this and says it has only offered political support to the Houthis.
After the deal was inked, Saudi Foreign Minister Adel al-Jubeir and Secretary of State Rex Tillerson used a joint press conference in Riyadh to further castigate Iran, which was not invited to Sunday's summit.
Human Rights Watch described the Trump sale as rewarding "Saudi war crimes" with weapons, while Tillerson said Washington cannot always put conditions like human rights on others because it creates obstacles to advancing national security and economic interests.
He added that the package supports the kingdom "in the face of malign Iranian influence and Iranian-related threats which exist on Saudi Arabia's borders on all sides".
Didn't Trump previously have some controversial things to say about the Saudis?
Saudi Arabia has often been the subject of the president's tweets, and on the campaign trail he accused the Kingdom of being behind the terror attacks on 9/11 multiple times in one day.
But Trump made Saudi Arabia his first overseas stop and was given a royal welcome by the king.
Saudi Arabia is working hard to impress Trump during his two-day visit, including inviting dozens of heads of state to its capital, Riyadh, for a summit on Sunday to meet the US president.