Three men have been shot dead after killing six and injuring 48 more in a van and knife attack in London.
Here's what we know so far.
What happened on London Bridge?
Police were called at 10.08pm to reports of a vehicle striking pedestrians on London Bridge. Witnesses reported seeing a vehicle travelling at about 50mph strike people walking along the pavement.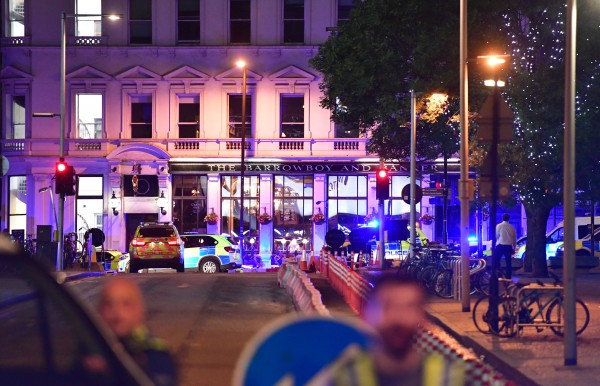 Holly Jones, a BBC reporter, who was at London Bridge, said: "A white van driver came speeding – probably about 50mph – veered off the road into the crowds of people who were walking along the pavement.
"He swerved right round me and then hit about five or six people. He hit about two people in front of me and then three behind."
What happened in Borough Market?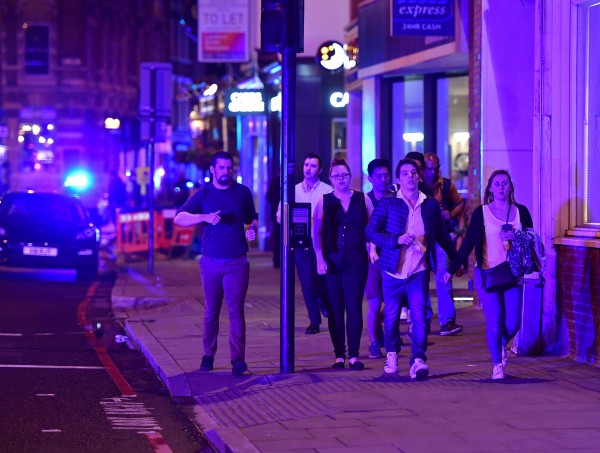 After mowing down pedestrians on the bridge, the white van then continued to drive to Borough Market, where three men left the vehicle and began to stab people, including a British Transport Police officer.
A witness named Eric told BBC Radio 5 Live he saw three people get out of the van and initially believed they were going to help those who had been injured.
He said: "The three people literally started kicking them, punching them, and took out knives. It was a rampage really."
The three men ran off towards the nearby bars and restaurants and there was a shout of "this is for Allah", he told the station.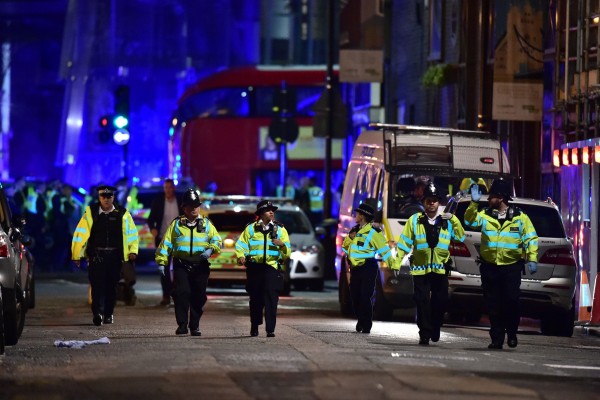 The suspects were confronted and shot by police at Borough Market within eight minutes of the first call being made.
At least 48 patients were taken to five hospitals, London Ambulance Service said, with more than 80 medics having been sent to the scene.
At 4am police confirmed six people had been killed in the rampage.
A separate stabbing incident in Vauxhall was found to be unrelated.
What are the police saying?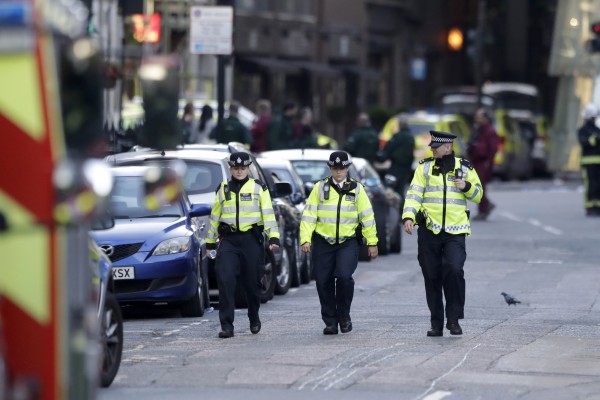 Shortly after the incident, the Metropolitan Police declared the two incidents as terror related.
Assistant Commissioner Mark Rowley of the Metropolitan Police said: "We believe three people were involved but we still have some more inquiries to be 100% confident on that."
He added officers were treating the incident as terrorism and additional police would be deployed in the capital.
Police have opened a casualty bureau line for people concerned about loved ones on 0800 0961 233.
They are also appealing to the public to submit pictures and video of the attack online.
How have politicians responded?
Mayor of London Sadiq Khan issued a statement in the early hours of Sunday morning calling the incident a "deliberate and cowardly attack on innocent Londoners" and thanking the "brave men and women of our emergency services" for their actions.
The Conservatives and Labour have suspended their national campaigning for the General Election in the wake of the attack.
Labour leader Jeremy Corbyn condemned the "brutal and shocking incidents" in London, adding: "My thoughts are with the victims and their families. Thank you to the emergency services."
Liberal Democrat leader Tim Farron said: "Tonight's horrific incidents in London remind us how much we owe our emergency services. My thoughts and prayers with everyone affected."
Scottish National Party leader Nicola Sturgeon said: "Dreadful news from London. My thoughts are with all those affected."
What happens next?
Prime Minister Theresa May is returning to Downing Street to receive further briefings from security officials. She will chair a meeting of the Government's Cobra emergency committee later today, which Sadiq Khan will also attend.