London has experienced a day of protest as hundreds marched on Whitehall to express anger over a number of issues – from a potential Conservative deal with the Democratic Unionist Party (DUP) to the Grenfell Tower disaster.
The hashtag #MayMustGo became the top trending topic on Twitter, as Theresa May was singled out for intense criticism.
It came as the British Prime Minister met victims of the blaze at Downing Street, and said afterwards "the support on the ground for families who needed help or basic information in the initial hours after this appalling disaster was not good enough".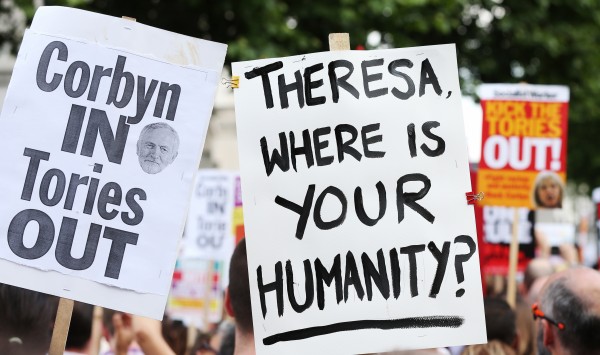 David, from London, took to Downing Street with a placard proclaiming this as our "summer of discontent".
He said: "The effects of austerity have had far-reaching and devastating consequences, and that's before you even get to a heartbreaking, catastrophic event like Grenfell Tower.
"Just as she is exercising her democratic right to form a minority government, so I am exercising my democratic right to protest against her attempt to scrape together enough votes to get her Queen's Speech through and to try and keep the Conservatives in power."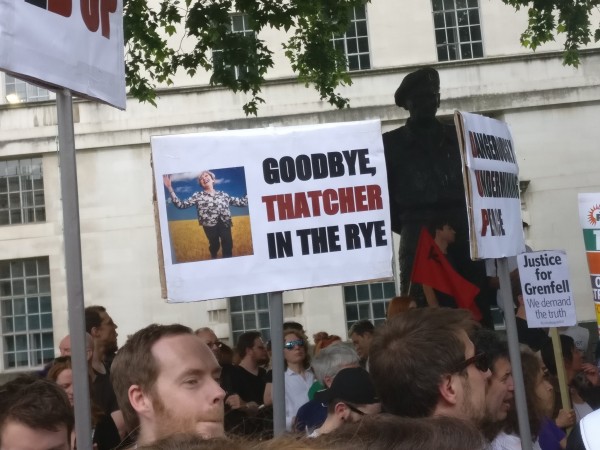 David's sign was a play on the opening of Shakespeare's Richard III, something he said was relevant due to the plot covering "a rise to power and its accompanying short reign".
"After Grenfell and the election result, there is a definite change in the air. Theresa and her party are in trouble. I sense a total summer of discontent and protests ahead."
The 36-year-old, who said he hasn't protested in a while but "enough is enough", added: "I am sure there are many more protests to come this summer."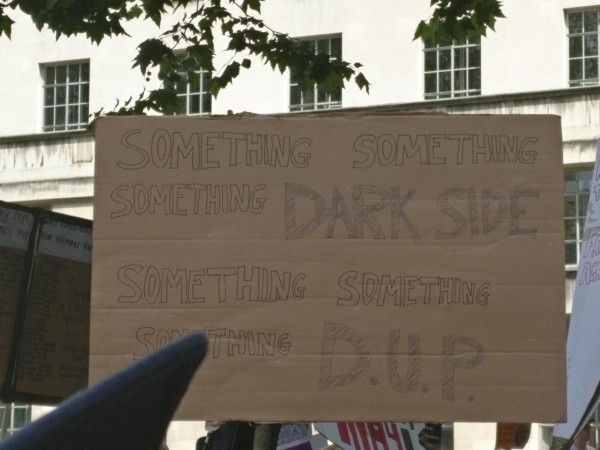 Masters student and freelance writer Franziska Tometschek also attended the protest, and said that as a woman and a "queer person" May's potential deal with the DUP was frightening.
"I went to protest against May because the cuts she and her party have made and are making are costing people's lives. I think it's despicable that she's desperately clinging on to power and wants to form a coalition with the DUP, which I find terrifying as a woman and queer person."
But that wasn't the 22-year-old's only reason for joining the protests.
"I also think it's important to turn up to these protests to give each other hope and solidarity and show each other that while the Tories don't care for us we care for each other."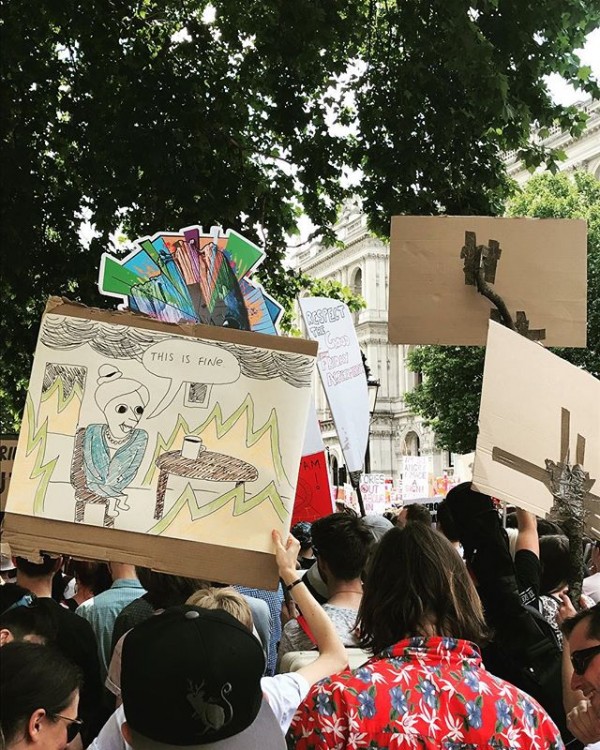 Paul Cooke also attended the protest out of concern for any potential deal between the Tories and the DUP.
He said: "I don't believe we should be led by a leader and party that will sacrifice moral standards just to stay in power."
Protesting isn't something he's done before but "the current state of things meant I couldn't sit and watch", he said.
Protests took place across London, including in Kensington, where friends and families of the Grenfell Tower victims told of their frustration.
Mirna Suleiman, 26, a family friend of the first named victim Mohammad Alhajali, said there appeared to be no centralised list of those missing, and that they were forced to continually visit or call the various rescue centres and hospitals that were dealing with those affected.
"I spoke to the casualty helpline and they didn't have any information… they didn't offer any help. I was expecting to hear lists of missing people, lists of people who had died, passed away. (But there was) nothing, they weren't collating these numbers."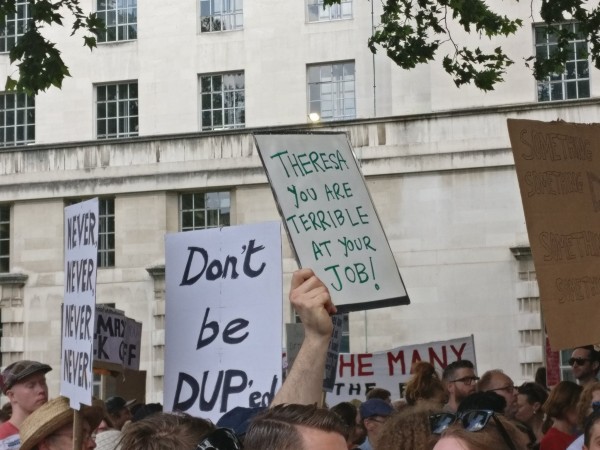 A bishop who sat with residents affected by the atrocity said they were passionate and angry during a lengthy exchange with the Prime Minister at Downing Street.
Sixteen "very ordinary people" sat in Downing Street to bring their concerns to Theresa May in an "unprecedented" meeting and finally felt they were listened to, the Bishop of Kensington, Dr Graham Tomlin said.
He is hopeful the two-and-a-half hour meeting, attended by victims, residents, community leaders and volunteers, was the starting point for a process of "lasting change".
Following the meeting May said she has ordered daily progress reports on housing for those affected, and vowed the public inquiry into the disaster will be "open and transparent".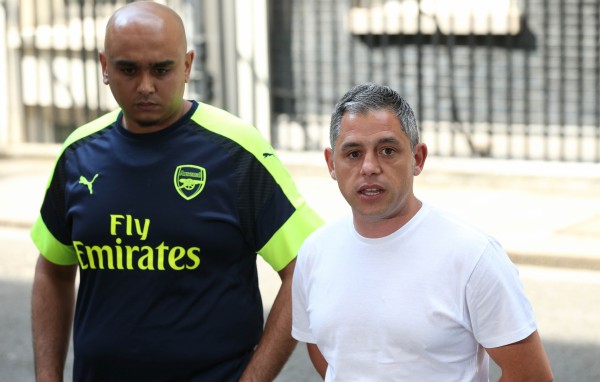 The Prime Minister said: "There have been huge frustrations that people do not know who to talk to, that they can't get through on the council hotlines.
"I have ordered that more staff be deployed across the area, wearing high visibility clothing, so they can easily be found, dispense advice and ensure the right support is provided. Phone lines will have more staff.
"Victims have concerns their voice will not be heard, that their many questions about this tragedy will not be answered.
"That is why I ordered a public inquiry, with the costs for providing victims with legal representation met by Government.
"The inquiry will be open and transparent. Government and ministers will cooperate fully. I anticipate the name of the judge will be announced within the next few days and that an open meeting will be held with residents to help shape the terms of reference.
"It has been decided today that the public inquiry will report back to me personally. As Prime Minister, I will be responsible for implementing its findings."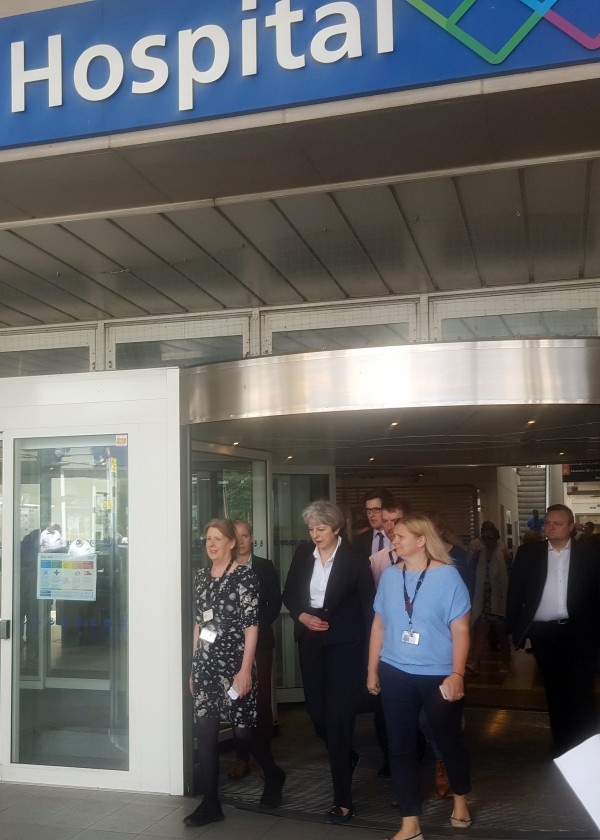 May said councils have been told to complete urgent safety checks on all high rise buildings, and further action "will be taken" if needed.
She added: "I can also announce that NHS London will provide specialist long-term bereavement support for the families who have lost loved ones, and immediate psychological support is being provided by Cruise and Red Cross."
May said the Grenfell Tower blaze "was an unimaginable tragedy for the community, and for our country".
She said: "My Government will do whatever it takes to help those affected, get justice and keep our people safe."