Brexit Secretary Dominic Raab has warned "carping" critics to come up with a credible alternative if they reject the exit blueprint he is unveiling later.
The Cabinet minister insisted the much-anticipated White Paper he is expected to publish early on Thursday afternoon should "reassure all of those with concerns about this".
Warning that it is time to "crack on" with the exit process, he said the Chequers plan was a "credible" proposal.
"It's bold, it's ambitious but it's also pragmatic," he told BBC Radio 4's Today programme.
"For those that are either criticising or carping or whatever else, they need to come back with credible alternatives."
Foreign Secretary Jeremy Hunt, attending the Nato summit in Brussels, acknowledged that the White Paper would be the subject of "fierce discussion".
"You are going to have very, very lively debates in a situation like this," he said.
"This is one of the biggest decisions that we have taken as a country in our political lifetimes, so there is going to be a pretty fierce discussion but the Prime Minister has found a way forward."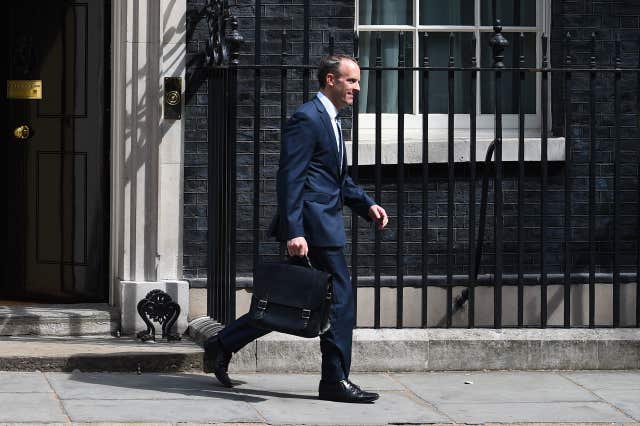 Mr Hunt said Brussels needed to recognise the importance of reaching an agreement that worked for both sides.
"What we say to the European Union is we're not the only ones who can't do the cherry-picking. If they want a deep and special partnership with Britain going forward, then we have to look at our relationship as a whole," he said.
"We are saying that we will defend Europe unconditionally – that is the big commitment that Theresa May has made. We need to find a way forward that works for both sides."
The White Paper will outline plans for how the UK can continue frictionless cross-border trade with the EU in goods while setting its own tariffs for dealings with the rest of the world.
The proposals, hammered out at a summit of ministers at the Prime Minister's country residence, Chequers, last Friday, have already caused outrage among many Leave supporters, and triggered the resignations of Mr Raab's predecessor as Brexit secretary, David Davis, and ex-foreign secretary Boris Johnson, from the Cabinet.
Mr Raab will speak to Michel Barnier, the EU's chief negotiator in the exit talks, on Thursday and then meet him in Brussels next week.
But Mr Barnier has warned that the proposals must conform to EU rules and not create extra costs as he told US business leaders to prepare for a no-deal scenario.
Mrs May wrote in the Sun that the plan was the only one which "truly respects the will of the British people".
Meanwhile, Tory MP Maria Caulfield, who resigned as a party vice chairperson in protest at Mrs May's withdrawal stance, said Brexiteers were being held in contempt by a "small cabal" in Downing Street.
Writing in the Daily Telegraph, she said Mrs May's plan was "catastrophically bad" and a "disaster for the Conservative Party".
Unrest among Brexiteers over the plan means the PM may have to rely on support from outside her party to push it through parliament.
Opposition MPs and peers were briefed last week on the agreement struck at Chequers by Mrs May's deputy, David Lidington.
But Yvette Cooper said Labour was unlikely to support the blueprint "as it stands".
- Press Association