There comes a time in August when you just know. The game is up. I mean, there might be another heatwave but it won't be the same. The summer has lost its foothold.
The evenings have that Electric Picnic evening feel to them. You half-expect balubas teens to stumble out of the darkness in Tipp GAA jerseys, looking for Madison and Jack. Maybe they're gone back to the tent. That was sooo going to happen. They were sexting all week.
The August milestones race by. All we are left with now is the Rose of Tralee and political think-ins where they eat steak and talk about climate change.
The other thing that's drumming the nails in the coffin of the summer is ALL THE RAIN. For the last couple of weeks, the rainfall radar has resembled a vomit pattern. Or the pattern on the seats of a public bus designed to make vomit stains less apparent. I should be annoyed but It all feels familiar, more comfortable.
Now, I swear I'm not one of those people. The people who don't know the difference between weather and climate. But even though Siberia is on fire and Monarch are thinking of doing charter flights for Indian-inked families to Arctic resorts, it's still a bit of a comfort to have business as usual. Disappointing weather. Watching tourists getting to use all the warm clothes they brought.
Expectations have been reset. But it doesn't mean you can't go to the beach. In fact it's a great time to go to the beach. For a start, there's no one else there. As the years have passed I have embraced one of the signs of male adulthood. An obsession with "where will we get parking?"
When the weather is crap, you can park on the mermaid's tail if you want. Even though there's nothing going on, on the beach on a day of scattered showers, the nothing is more interesting. On a summer's day the sky is blue which is sooo basic. There is no complexity.
The sky is blue and you can't look at it anyway. The sky is Matlock. Simple. Predictable. Formulaic and you can't watch it all day. The sky on a classic Irish day of scattered showers is a complex Netflix series with anti-heroes and good bad fellas. There may be no redemption at all for the family with young children who have just spilled out of a car, all excited. It's a brooding meditation on the futility of existence amid the power of elemental forces.
But once you know that and have brought raincoats you're grand.
You can see your weather come from a bit farther away on the beach. It's not like in town when you turn the corner or come out of Penneys.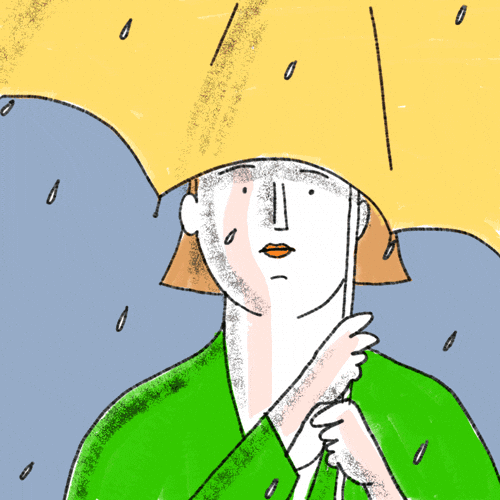 The first heavy shower soaks us. We run giggling back to the car. The children sense that they're in on the secret that, as parents, we aren't being sensible. But obviously sensible enough to have spare clothes for them. We don't want Tusla onto us.
There was an interlude before the next bit of rain. The sky was a palette of so many different greys, it looked like a brochure for design options for The Way All Pubs Are Now When They're Done Up. The wellies are gone. There is splashing up and down in muddy puddles. There's no time wasted on bathing or lolling. (The old style of lolling. We are laughing.)
Which is just as well because there's another shower. This time it's announced by about a minute of thunder. Which I thought was quite considerate of it. Like when a loved one pre-announces a fart. It gives you a bit of time to escape.
As the sky becomes wetter than the sea, we give up and head for that other Irish beach-side classic. Tea and chips in a pub. The last resort of the summer.