The silence of the Church was deafening as 230 beautiful, brave, and resilient Magdalene women came to town this past week, writes Joyce Fegan
DEAR Catholic Church, where were you this week?
Last week news broke that a priest had called for a no vote at a school graduation Mass on the eve of the abortion referendum. The previous week we heard from a bishop urging all yes voters to go to confession. And before that we had two priests saying couples who'd advocated for a yes vote should not marry in the Church.
This week though, when 230 Magdalene women walked through airports gates in Dublin and Cork, off train carriages at Heuston Station and up the steps of Áras an Uachtaráin, with their years of pain and trauma and abuse, where were you?
This week as their stories were broadcast and printed throughout the media where were you?
Angela Downey, 69, told us of how she was taught to strangle and pluck hens at the age of 12, while "in the care of the nuns". She was never taught to read or write. She had been conceived through rape and born into a mother and baby home.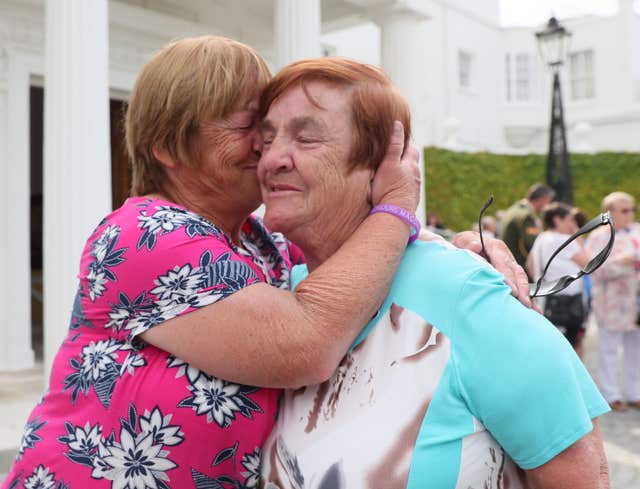 Gabrielle Mary O'Gorman, 72, showed us a long scar on her upper left thigh from the time she tried to escape over the high, glass-covered wall of a Magdalene laundry where she had been incarcerated at the age of 17, for breaking a curfew.
Marina Permaul, 73, told of us of how she was taken off the altar while watering the flowers, only to be put in a car headed for a laundry. Orphaned at eight years of age, she was "in the care of the nuns" and had been caught "having a laugh with a bloke".
Josie Keane, 68, told us how she was sent from an orphanage to a laundry and separated from her twin sister. When they tracked each other down years later, they were "pure strangers to one another".
This week, it was truly a spectacular sight to see these 230 women dressed in a Kaleidoscope of colours, some with feathered headpieces, walking up the steps of Áras an Uachtaráin to be rightfully honoured. The scene had all the makings of a glorious garden party.
The grass was freshly cut, the cobalt blue sky was blemish free and the President's Bernese mountain dog Bród greeted guests on the lawn. Inside in the marquee a piano played softly in the background as chocolate-covered strawberries and crustless salmon sandwiches were circulated on silver platters complete with harp-adorned napkins. The women took their seats at the roundtables.
It is also worth noting, just for the sake of painting an accurate picture, that only a handful of these Magdalene women knew each other. The majority, while having shared histories, were complete strangers to one another. Most had come with a partner or a relative and sat at tables making small talk about the music or the weather, while knowing what one another had been through.
RTÉ's Mary Kennedy introduced President Michael D Higgins and the speech began.
"Ireland failed you," he said.
"As a society, those with responsibility pretended not to know or chose not to know.
"You were apologised to by An Taoiseach Enda Kenny in the Dáil in 2013 but as President of Ireland, I want to acknowledge again the wrong that has been done to you, the pain that has been caused in your lives and the opportunities that have been lost to you as a result of your mistreatment. Today, here in Áras an Uachtaráin as President of Ireland, mar Uachtarán na hÉireann, I apologise to you — survivors of the Magdalene regime."
The President could not have apologised more clearly.
In 2013, then taoiseach Enda Kenny caught us all off-guard when he choked on his words in Dáil Éireann during his apology to these women.
"At the conclusion of my discussions with one group of the Magdalene women, one of those present sang 'Whispering Hope'. A line from that song stays in my mind — 'when the dark midnight is over, watch for the breaking of day'.
"Let me hope that this day and this debate, excuse me, heralds a new dawn for all those who feared that the dark midnight might never end," he said.
This week, Mr Higgins also spoke about the emergence of light following "the darkness of the past".
Any word from the Church whose members have been most vocal these past few months? No. There wasn't as much as a peep.
The silence of the Church was deafening as 230 beautiful, brave, and resilient women came to town. Nothing to see here.
But there was and there still is.
In 2013, after the release of the McAleese report which investigated four religious orders that operated the Magdalene laundries, only one, the Religious Sisters of Charity, offered an apology to the women.
The other three flim-flammed with "we wish it could have been different" and "we sincerely regret that women could have experienced hurt".
That word "could" always helps to cover up a multitude of sins, or in this instance, a multitude of potential court cases.
Dear Catholic Church and State, is anybody ever going to accept responsibility or legal liability for what went on here up until 1996?
When teaching children the difference between right and wrong, we often hear, "You can't just say you're sorry, you have to show you're sorry".
If this universally-accepted wisdom is the basic concept of contrition we teach our young, then why is it, as adults, we fail so regularly to practise what we preach?
The next time a priest seeks to morally reprimand an adult citizen of this independent State, for disagreeing with their religious teachings, please tend to your own affairs first.
Sorry, followed by some sort of restorative action, could be a good place to start.