After a day of unexpected highs in Nizhny Novgorod, it was time to chill out for England's players back at their base in Repino.
But, sadly, the popular unicorn inflatables of last week didn't get a look in this time around.
Jordan Pickford was perhaps so relaxed that he fell asleep on his phone. For England fans, there was only ever going to be one response.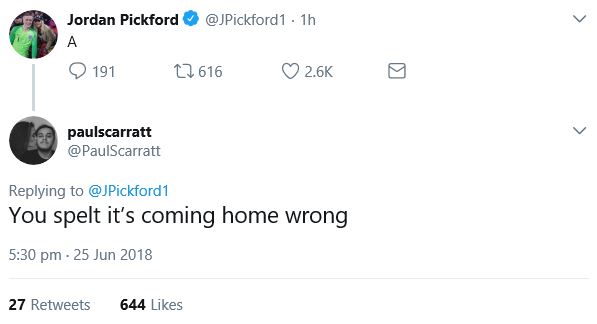 There was no day off for England kitman Pat Frost, who had the task of cleaning Harry Kane's boots…except they were "still too hot to hold".
Like England, Belgium had a great weekend with a 5-2 win over Tunisia, setting up a battle for top spot in Group G on Thursday.
Chelsea goalkeeper Thibaut Courtois took some time out to shoot a few hoops – and came up with this stunner of a half-court shot.
Things were a lot less restful for Portugal's players, with footage posted online showing Iran fans with vuvuzelas late in to the night ahead of their crunch final group game with Iran.
And finally, back on the football pitch, Australia's side could easily have been mistaken for Brazil after a dizzying training routine.
- Press Association