Arsene Wenger's hanging on to the Arsenal manager's job by a thread, with his team out of Europe, out of the title race, and generally under-performing all over the pitch.
So how does he win re-election? Well we've imagined how an email might go between a fictional campaign strategist and their team working towards Wenger 2017.
To: Wenger2017@Arsenal.com
Subject: Wenger in
From: WengerPR@Arsenal.com
Hi all, had a thought shower and thought I'd touch base with you. #WENGER IN. xoxo
1. A slogan to counter 'Wenger Out'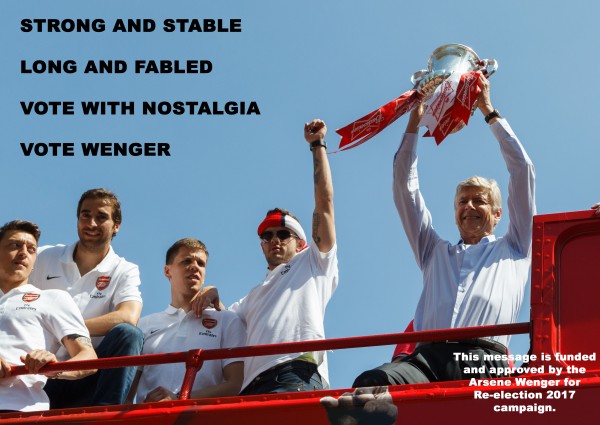 Wenger Out's done a lot of damage guys, there's no beans about it – we need something that reminds fans how good this guy is. And what's he good at? Winning things in the past, right?
So it's like, yes he never wins any more, but get over it, I am what I am. Thoughts?
2. A manifesto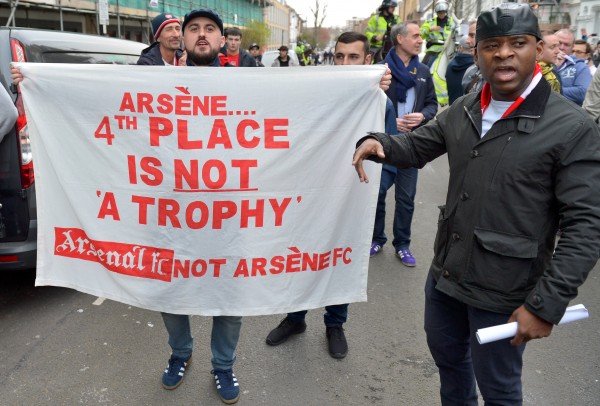 We need some promises that Arsene's going to come through on, yes? Right, so here are our key pledges.
- A white paper on the quality of coat zips at the club.
- A referendum on Europe. More specificially the Champions League last 16.
- Anything but fourth: Arsene promises to finish in any position in the Premier League except fourth. Too many jokes guys. Let's see them joke about sixth.
3. Appoint a spin doctor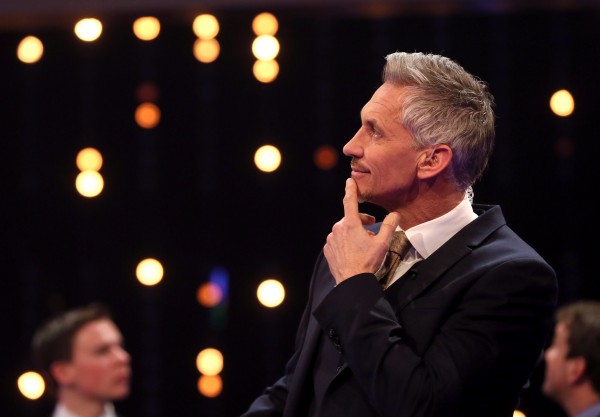 It's big, it's bold, it's Gary Lineker. Think about it – top spot on Match of the Day each week, a strong opponent of Piers Morgan of the Wenger-Out brigade, and a social media genius.
Plus crisps?
4. Photo opportunities
Piebury Corner is an Arsenal stronghold, starting out as it did by selling pies to fans on the way to the Emirates stadium. If we can get Wenger a table it's the perfect photo opportunity.
Pie on the plate, a big smile on his face, and some photographers at the window would be perfect. We can't risk any gravy though – not after Theresa May with the chips and Ed Miliband with the sandwich.
5. A carefully scripted Arsenal Fan TV appearance
Can we invite Arsenal Fan TV into Wenger's office? The boss is up for an appearance, but he wants to have like, some soft lighting too.
All questions are on the table. Except anything about fourth place. Or Alexis Sanchez. He will speak on the record on Sanchez's dogs however.
6. Join Twitter
Can we get Arsene on Twitter? The focus group agrees there's no room for Snapchat, but Instagram stories are negotiable territory.
7. Pictures with the kids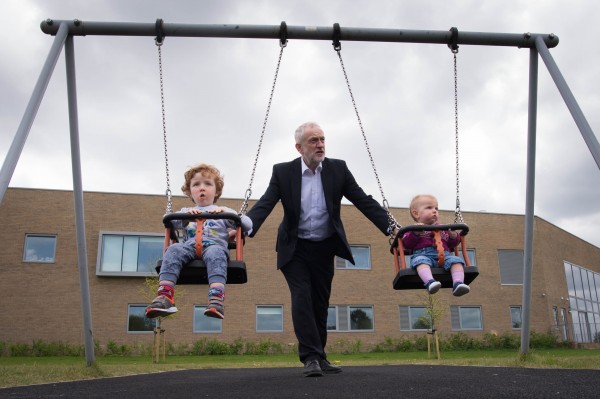 Guys. This is Jeremy Corbyn on the campaign trail, and it's pictures like these that win elections.
Let's get Arsene pictured with the kids – we have an academy don't we? – maybe pushing some of the under-21s on the swings, or reading them his biography.
Corbyn's an Arsenal fan apparently – let's get these two together.