In fantasy football, while it might seem tricky, it's actually possible to win the league without making a transfer or a substitution.

Last year's winner Ben Crabtree finished with 2,564 points, having made 62 transfers, but you could have beaten him if you had picked the right team at the start of the season.
The team in question would have cost you exactly £100 million – the limit in the official Fantasy Premier League – and here's how it lined up.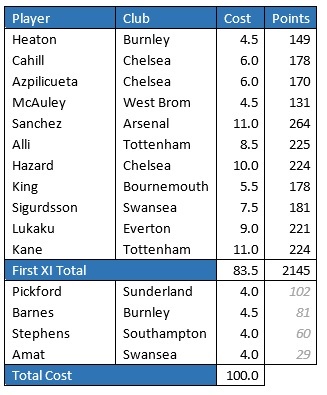 Without changing a thing, auto subs would have picked up another 48 points and setting Sanchez as captain would have fetched another 264, bringing your total to 2,457 points, good enough for 90th place overall (out of over four million entries).
Picking the right captain each week would have won you a further 292 points, giving you a total of 2,749 – that would have won you the league by a whopping 185 points without making any subs.
Furthermore, all of this is without the use of the Bench Boost, Triple Captain or All Out Attack chips.
With the Premier League's return just a month away and victory potentially decided in week one, perhaps it's time to start thinking about that team of yours…