Sport has the ability to bring people together, and nowhere is that more obvious than with the Deaf Rhinos football team.
As many as one in six people suffer from some form of hearing loss, and the Deaf Rhinos have helped provide some of them with a community in the UK.
"The confidence, the motivation, the self-esteem – all of a sudden for some of them it's like 'wow I'm not on my own, I've got a family'. It's a beautiful thing," said Dewan Choudhury, a football coach who set up the team.
One of Dewan's best friend's brothers was deaf growing up and used to accompany him to matches, but was rarely allowed to play – "kids can be very cruel", Dewan said.
"As we grew up he said 'you've set up able-bodied teams and you coach able-bodied players, why don't you do something for us deaf guys?'" he recalled.
What happened next was an eye-opening experience for Dewan, who works for Rochdale council as a day job. He was taken to deaf clubs, which are like community centres, something becoming increasingly rare due to a lack of funding, Dewan said.
"I went in there and I felt left out because I didn't understand what they were saying. All those years I was ignorant to what he was going through."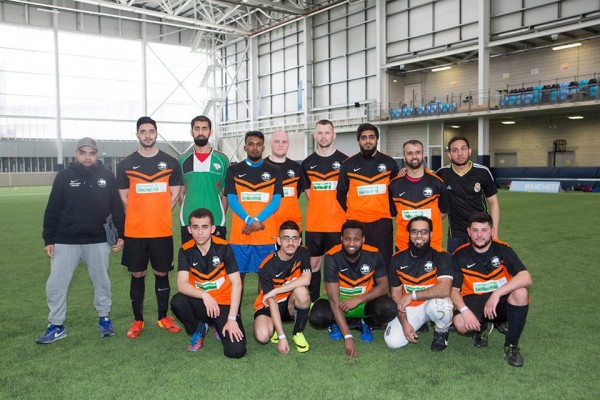 The team was initially set up as the Rochdale Rhinos Deaf Football Club, but as word spread they began to receive requests to play from across Manchester and Lancashire. Soon, they had upwards of 50 players, and a name change was in order. Deaf Rhinos was born.
Now they play in the Lancashire FA Ability Counts league, alongside teams of amputees and people with Asperger syndrome.
"In our very first season we won the Lancashire FA Cup. Every season we've finished second. We've not come first yet but it's a fantastic team," Dewan said.
The Rhinos have also competed in hearing leagues, where despite losing every match they won a trophy for team of the year.
Dewan said: "They see the effort they put in. Each time we scored, across the three pitches everyone cheered."
Their crowning moment came in the FA People's Cup, a five-a-side competition for male, female and disabled teams hosted by The FA and the BBC.
The Rhinos reached the semi-finals. "For us it was like the Champions League," Dewan said.
The coach hopes to reach as many deaf people as possible, having witnessed the effect playing for a team like the Rhinos can have on people's confidence – and he also wishes everyone could learn sign language.
"It's so useful and welcomes in a huge community that otherwise we sort of ignore without realising – but secondly it's really fun to learn," he said.
The Deaf Rhinos will feature in the FA People's Cup Finals: From 5-a-Side to Wembley programme at 14:05 on Saturday 27th May on BBC One. Gary Lineker alongside Alan Shearer, Ian Wright and Frank Lampard will then present live build-up of the FA Cup Final 2017 between Chelsea and Arsenal from 16:15 with kick-off at 17:30.