Kylian Mbappe is the hottest property this transfer window, with the 18-year-old's efforts helping Monaco win the league and reach the Champions League semi-finals, propelling him to stardom.
But just how much is the France striker worth? Exponentially more than at the start of the season, that's for sure – bids in the region of €100m are rumoured to have been deemed not enough.
And what does the player himself make of his value? Well, Mbappe's most recent Twitter banner picture suggests it could be near impossible to sign him.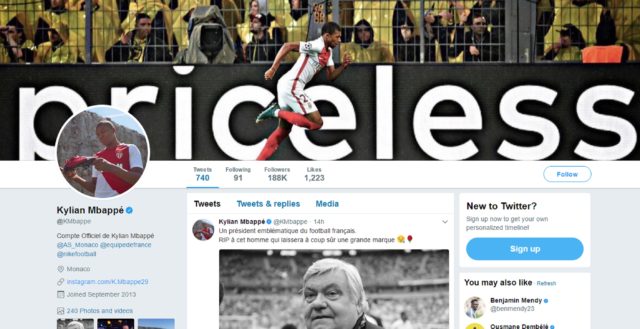 Priceless, eh? How many zeroes is that?
Mbappe scored 15 goals in 29 league appearances last season as Monaco won the league, notching a fair few assists as well.
But perhaps most impressively, the teenager scored six goals in the Champions League knockout stages, including a brace in what was a startlingly good game for a youngster, against Borussia Dortmund in the quarter-finals.
All that talent and an entire career ahead of him? Yeah, he's going to cost a fair few pennies.