Arsene Wenger earned his first Premier League win over Jose Mourinho when Arsenal beat Manchester United 2-0, but that didn't stop the United manager insisting the Frenchman's poor record against him is "not normal".
In his 13th game against a Mourinho side, Wenger's Arsenal scored twice in quick succession to keep their top four hopes alive.
Goals from Granit Xhaka and Danny Welbeck sealed the 2-0 win, but when asked about Arsenal finally tasting league victory against him, Mourinho said: "It's a big club. You think I enjoy a big club like Arsenal not winning big trophies? I am not enjoying that honestly."
Mourinho continued: "But today I tried to win. I didn't give them the match, I tried to win but we lost.
"Arsene Wenger is not a small manager, he is a big manager so to have that record of winning so many matches and losing so many matches is something that is not normal. That is not normal.
"Normal is win, lose, draw. It's not normal and I really don't care about it. Today no problem – we shook hands before the game, we shook hands after the game."
Mourinho continued: "And during the game I didn't like what I never like, he puts too much pressure on the fourth official all the time."
The United manager had a few words for Arsenal supporters as well.
Fans of the north London club taunted Mourinho in the latter stages of their victory, which puts the Gunners six points behind Manchester City with one game in hand, and seven back on Liverpool, having played two games fewer than the Reds.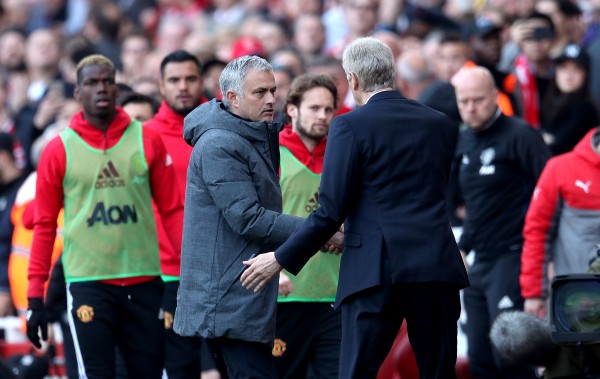 "The Arsenal fans, they are happy," Mourinho said.
"I am happy for them, it is the first time I leave Highbury or Emirates and they are happy. I left Highbury, they were crying, I left Emirates, they were crying.
"They were walking the streets with their heads low. So finally today they sing, they (swing) the scarves – it's nice for them."