Andre Ayew may have pulled off one of the missed chances of the season, as – lying on the floor – he struck the ball off the post twice in succession from only about two yards from the goal.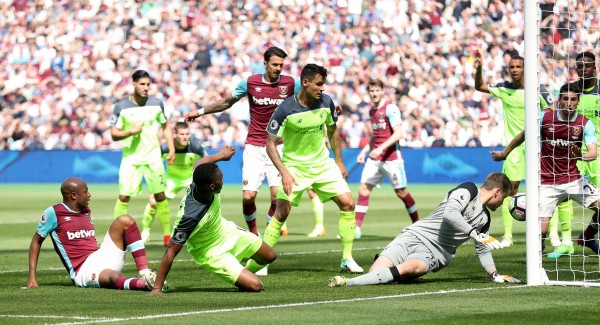 With a chance to equalise after Daniel Sturridge made it 1-0 to Liverpool, the double miss from Manuel Lanzini's corner was a once-in-a-career level missed chance for the West Ham striker. Cue the shocked fans…
Some savvy fans saw the miss as a golden opportunity for some puns too of course.
https://twitter.com/Sennesation/status/863756278362976257
Meanwhile, for fans of Liverpool – who are in search of a top four spot with two games to play and started the game a point ahead of fifth-placed Arsenal – the overwhelming feeling was relief…
Although one or two weren't happy with the way the corner was defended – pinning the blame on 27-year-old Reds defender Dejan Lovren.
While for Arsenal, hot on the heels of Liverpool – it's fair to say the fans and the manager will have been hurting after the missed chance.
Meanwhile, some seemed to feel Ayew had done it all deliberately…
Back in 2015 the Ghanaian international told Sky Sports he has been a Liverpool fan "all my life".
However, he has scored before against the Reds more than once as a Swansea player – and bearing in mind the effort taken to bounce the ball off the post that accurately – it would be some stretch of the imagination to say the 27-year-old deliberately missed.