Fans of the Premier League will know that Chelsea are the current Premier League champions, but do they know who comes out on top in three alternative PL tables?
To celebrate 25 years of the Premier League, here are three tables that produce three different winners based on goals, peak points, and sheer longevity.
At their peak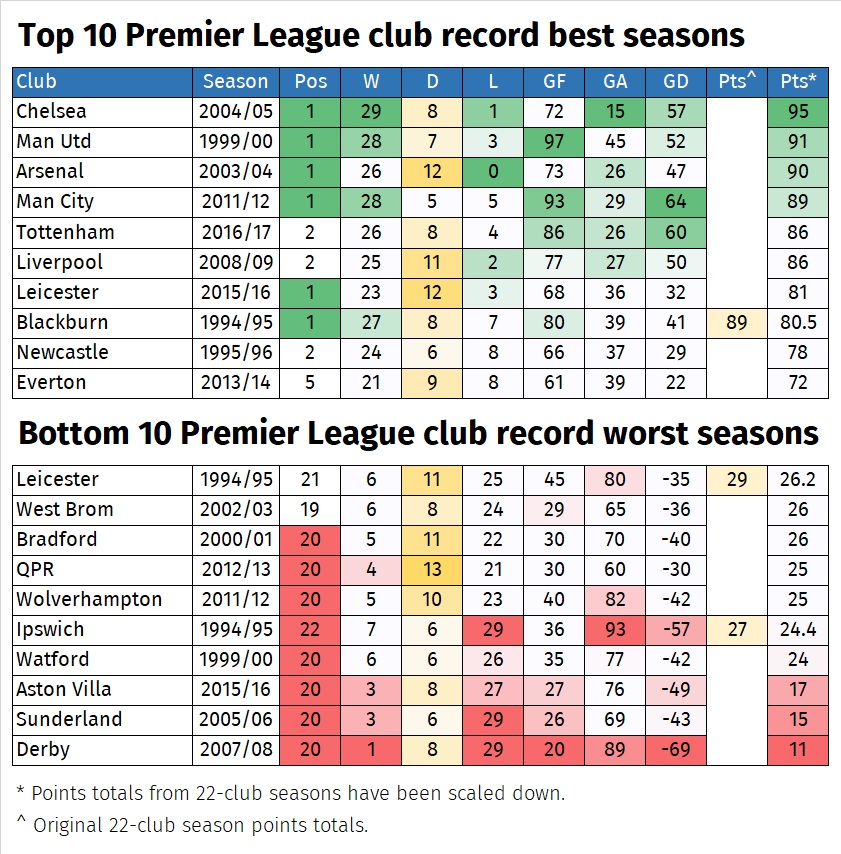 This table considers each team's very best season, and ranks them accordingly – Chelsea's 2004/05 season is by far and away (four points) the runaway winner, but looking further south unearths a brilliant find.
Derby County's dreadful 2007/08 season exactly mirrors Chelsea's best, with both teams drawing eight, Chelsea winning 29 to Derby's 29 defeats, and Derby winning one to Chelsea's one defeat.
Of further intrigue is that Leicester City are the only team to make it into both tables, while Arsenal squeeze into a Champions League spot with their 2003/04 Invincible season.
So consistent, that Arsene Wenger.
Star man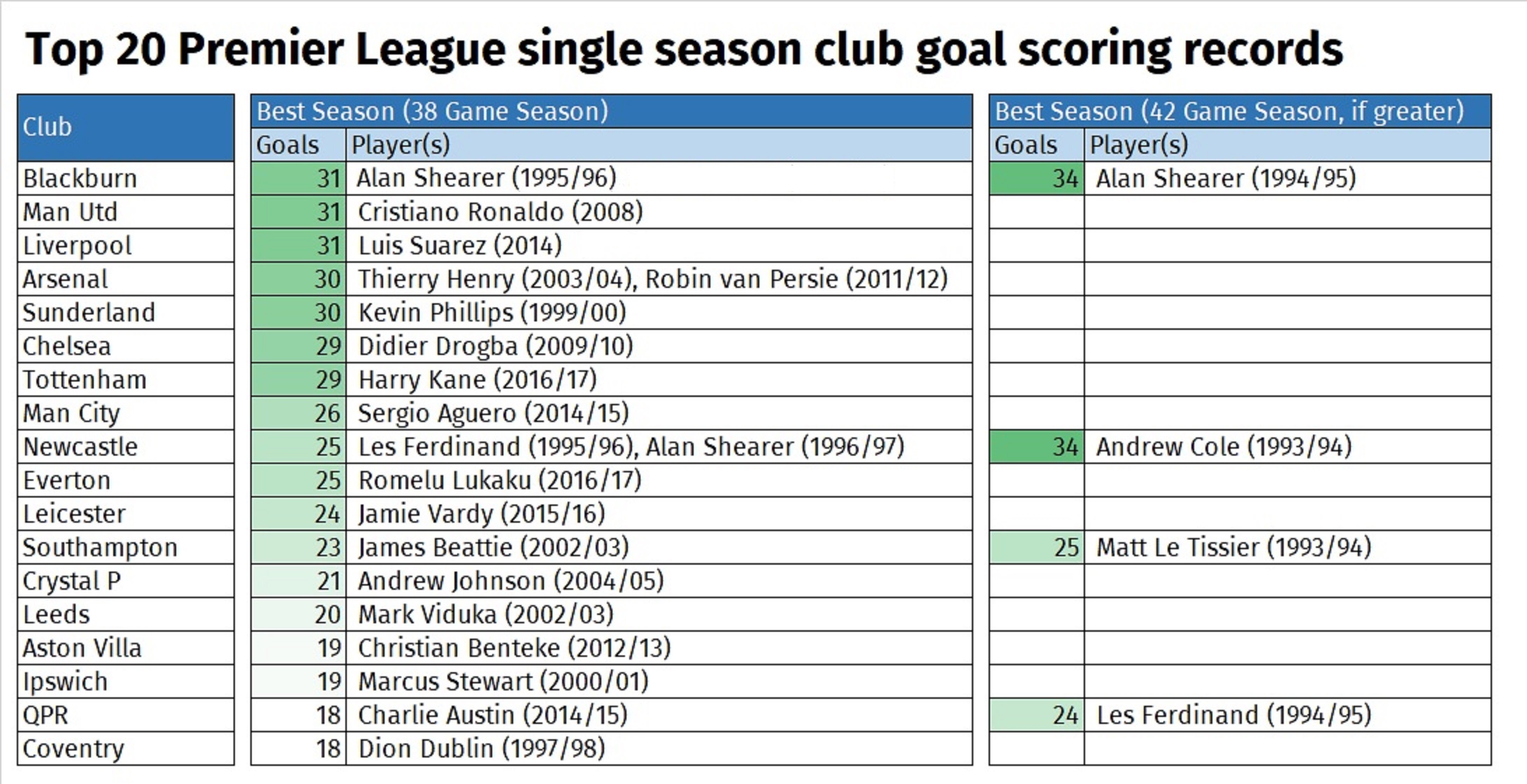 This table deals in goals and goals only – who comes out on top in a battle of the most prolific strikers?
It's a second Premier League title (not really) for 1994/95 champions Blackburn – Alan Shearer does the double here, finishing joint top in the 38-game and 42-game categories, with 31 and 34 goals respectively for Rovers in the 1994/95 and 1995/96 seasons.
Meanwhile Sunderland earn a Europa League place in this table of goals, goals and more goals thanks to Kevin Phillips' 30 goals in the 1999/00 season, while Chelsea, Tottenham and Manchester City languish in sixth, seventh and eighth despite boasting Didier Drogba, Harry Kane and Sergio Aguero up front.
All-time average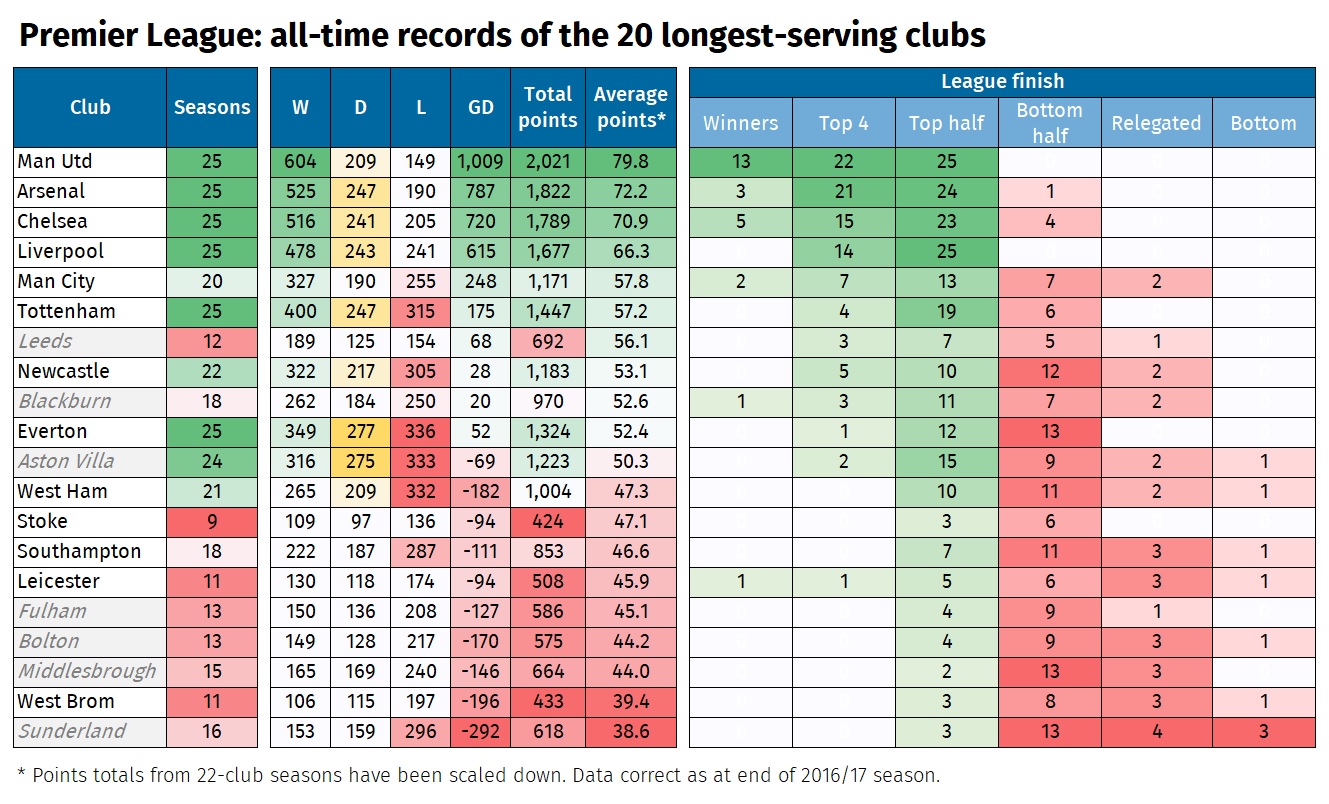 And last but by no means least, the big one – all-time average points for the 20 longest-serving Premier League clubs. And guess who wins?
You can't take it away from Manchester United, who have won the Premier League eight more times than any other club, boasting an average of just under 80 points a season and a goal difference of +1009.
Coming in at seventh for that final Europa League place is Leeds, who interestingly were only relegated once, but haven't bounced back since.
And to finish, the only team to place in all six categories, from winners to bottom? That would be Leicester City, who can proudly say they've been there (relegation), done that (top four) and got the T-shirt that reads: 2015/16 Premier League champions.