Floyd Mayweather Jr and Conor McGregor shared some strong words in front of a crowd of 20,000 in Los Angeles, California, last night – in their first promotional face-off prior to their August 26 super-fight.
The fight is one of the most hotly anticipated of modern times, so it's fair to say the promotion received a bit of attention – some of which has been rather humorous.
Such as this creation for those of you who are gaming fans…
It's funny because it's true.
McGregor, 28, crosses disciplines from mixed martial arts in the Ultimate Fighting Championship (UFC) to take on undefeated 40-year-old boxing legend Mayweather.
Although American Mayweather is the resounding bookies' favourite, some thought the Irishman got the upper hand at the press conference before it even started.
Mayweather was, apparently, on time. What a square – right?
Although he was later to the venue, McGregor did arrive on stage before Mayweather however – and UFC president Dana White had an impassioned introduction waiting for him.
Easy Dana.
The confidence shown by McGregor's team was nothing to what Mayweather would soon have to say though – as he went against previous claims and said he'd even fight in the UFC octagon under MMA rules.
"I don't care if it's a ring or it's an octagon, I will kick ass," he said. "I don't back down for anybody."
"You line them up and I will knock them down," added Mayweather. "On August 26, I'm gonna knock this b**** out too."
McGregor retorted: "You haven't knocked anyone out in about 20 years."
This reply of McGregor's was rather in keeping with the message he had written on his suit for Mayweather – which read "f*** you" in pinstripe lines across the material.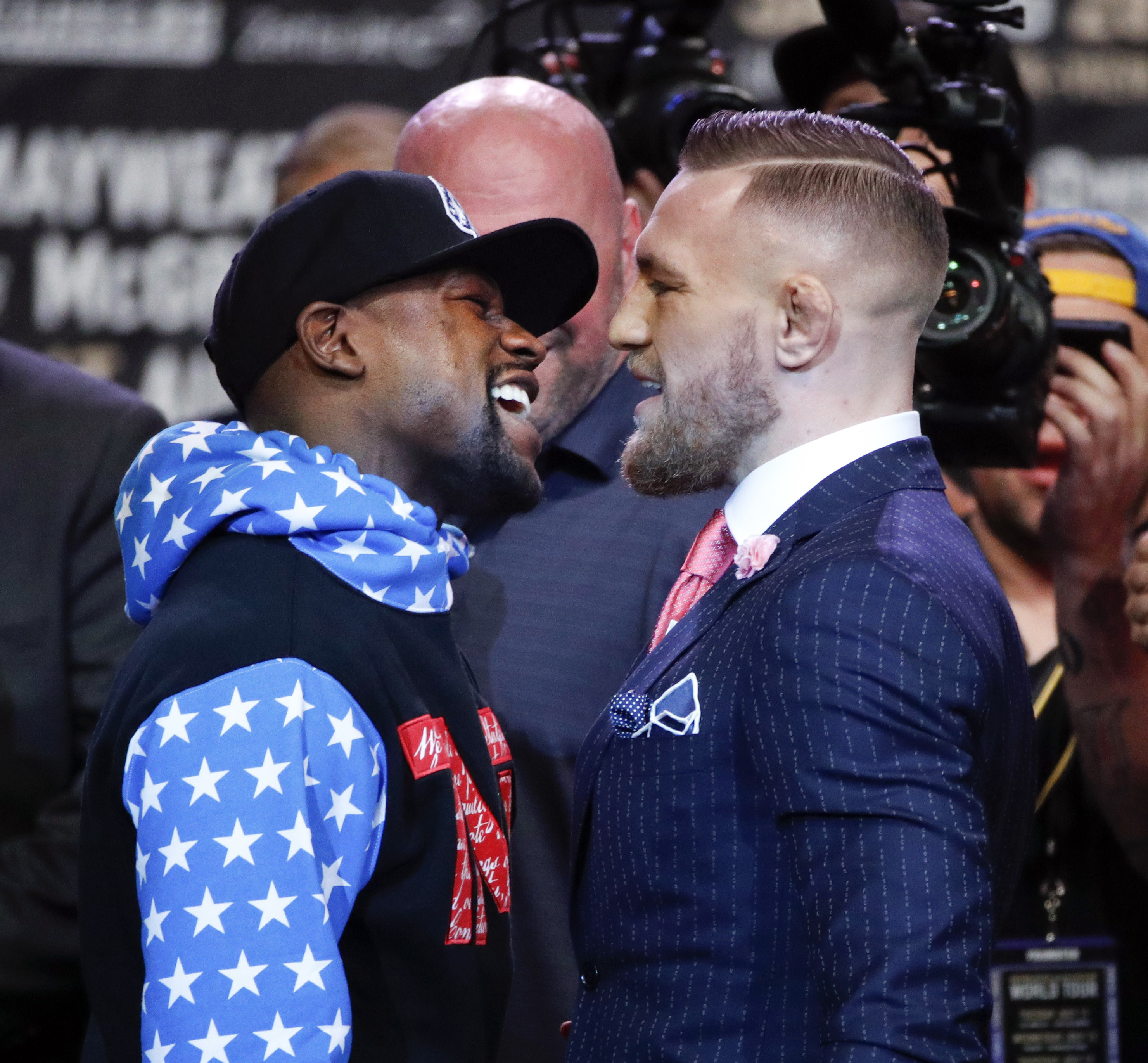 McGregor seemed to draw attention to his suit too – by pointing out Mayweather was in a tracksuit.
"He can't even afford a suit anymore," said McGregor. "The Rolls is a 2012 outside."
Perhaps one of Mayweather's biggest moments of the night came when he brandished what he said was a cheque for $100million – reportedly his fee for coming out of retirement.
However, according to a notice of a federal tax lien filed by the IRS in the US, the man nicknamed "Money" owes $22.2 million (£17.3 million) in taxes from the nine-figure sum he earned in his fight against Manny Pacquiao in 2015.
Unfortunately for Mayweather, it seems McGregor was aware of this.
The show from Mayweather didn't go unnoticed from fans either, who wondered if the IRS might be watching too…
A press conference is always going to be tough with McGregor's personality, and this promotion is the start of a four-city tour across the US – so some thought the American could be in for a long ride.
Given the money that's on offer in the fight though, some reckoned the pair had shared a moment of mutual happiness prior to the fight.
With all the drama on display at this first round of verbal jabs between the two fighters though – all some could do was shake their head…
The promotional tour will take in Toronto, New York and London over the coming days. Let's hope for more of the same.