The Champions League final is European football's showpiece event, and the kits worn in them become sewn into the collective footballing consciousness.
"The thing with Champions League finals is when a team wins, even if it's not a 'good shirt' it becomes a classic," says Douglas Brierton of Classic Football Shirts. "Because there's so much drama and passion and glory – there's nothing more memorable than your team winning the Champions League."
But since the competition started in 1992, which final kits stand out most? Well, here's what Doug thinks.
1. Ajax, 1995
Ajax 1-0 Inter Milan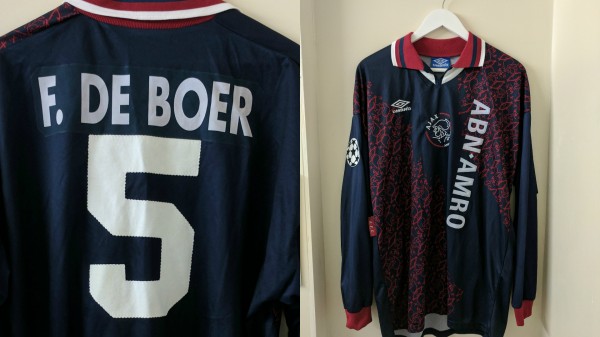 "It's got this great abstract club badge pattern in it," Doug said of this Ajax effort, where the club badge is repeated across the garment. "It's made by Umbro, which is fitting for the mid-1990s. It's a really interesting, unique design.
"It was only Ajax who had that design," he continued. "It was good work from Umbro at that time. In most cases, they gave people bespoke shirts – it wasn't like every Umbro team had the same away shirt.
"Interestingly, that's the fist time in a Champions League match that player names were worn on the back of the shirt. Also, it was the first game where the star ball was used as the sleeve patch. That was introduced just for the final, and when you think Champions League, you think of the theme music and that logo."
2. Juventus, 1996
Juventus 1-1 Ajax (Juventus won 4-2 on penalties)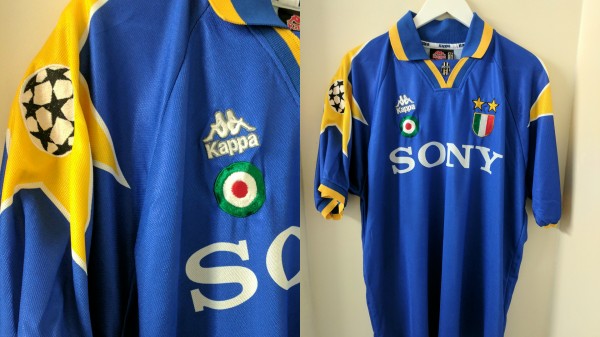 "You can't get better for 1990s kits than Kappa," Doug said. "Great designs. You've got the yellow star on the sleeves for example.
"I think they wear two stars on their chest to represent 20 Serie A titles, and it's like getting your medals out on your shirt. I really like that. You're imposing your trophy cabinet on your opposition.
"It's an all-time classic. These days the finals are literally Nike v Adidas, or Adidas v Adidas, but that's what's great about the 1990s – you've got finalists with kits made by Puma, Adidas, Lotto, Umbro, Kappa, Nike… the manufacturer changed every year like the teams. When will you next see a Kappa shirt worn in a Champions League final?"
3. Manchester United, 1999
Manchester United 2-1 Bayern Munich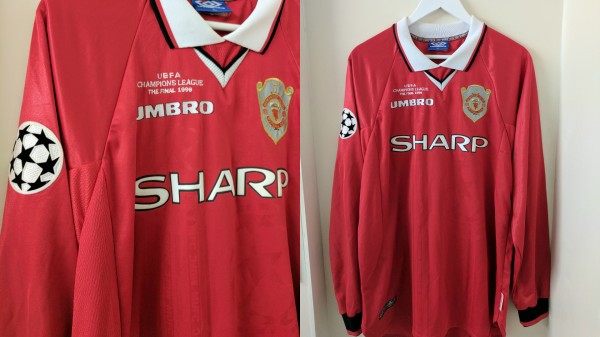 "You can't do a top five without Manchester United's shirt in 1999. That's probably the most dramatic end to a Champions League final in 90 minutes. Penalties are good, but in terms of drama over 90 minutes I don't think you'll ever beat that game," Doug said.
"That shirt was worn for three seasons and it's a special shirt that wasn't worn in the Premier League or the FA Cup. You look at that shirt and think Champions League, because there's no other memory that goes with it other than that tournament.
"Most Champions League finals take place near the summer, but when I think of that final I think of United players wearing long sleeves: David Beckham, taking the corner, Ole Gunnar Solskjaer and Teddy Sheringham for example."
4. Real Madrid, 2002
Real Madrid 2-1 Bayer Leverkusen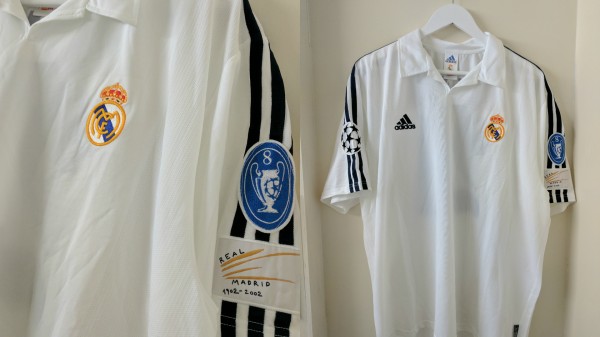 "There are a lot of Real Madrid shirts to choose from, but for the greatest goal scored in a Champions League final (Zinedine Zidane's volley against Bayer Leverkusen) I think you've got to do the shirt that was worn in that match," Doug said.
"It was the centenary shirt for Real Madrid as well, so if you look closely at the sleeve they're wearing an eight-times winners patch, but underneath that is a patch which has got 1902-2002 on it."
He added: "I love shirt sponsors but there's something about that shirt not having a sponsor that gives it a real touch of historical class. It's a real nod to the olden days when they won the European Cup so often in the 1950s. When you see that image of Zidane volleying the ball, I think the fact it's not clouded by a sponsor's logo makes it even more iconic."
5. Barcelona, 2011
Barcelona 3-1 Manchester United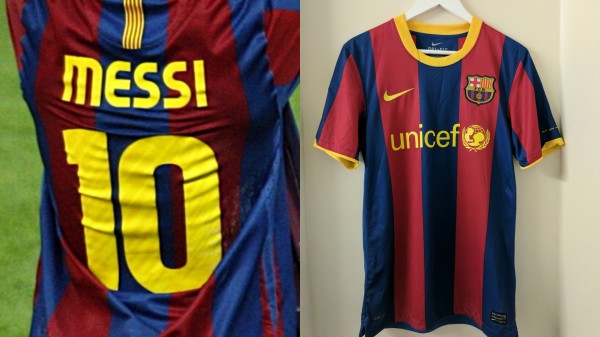 "In terms of how good they were, I think that 2010/11 is just peak Barcelona," Doug said. "They just destroyed Manchester United at Wembley.
"What I like about this shirt is the yellow collar, I think it's a nice touch. It does outsell the 2008/09 and 2005/06 shirts, I think because it is the climax of that Barcelona team. You've got Lionel Messi on fire, Andres Iniesta and David Villa – the team was just complete perfection.
"It's a very simple shirt really. It's a fitting shirt for how good they were."
Who knows, we might look back in a few years and – depending on Saturday's result and the quality of the winner's shirt – decide Juventus or Real Madrid deserve another spot on the list.