The wait is finally over for many Cork businesses forced to shut because of coronavirus restrictions. As they prepare to throw open their doors once again, focus now turns to their plans for customer safety as well as getting back to some kind of normality. 
Revamped SoHo ready to go
By Padraig Hoare
It was a disaster foisted upon them like most businesses across the country, but when the lockdown began, SoHo Bar and Restaurant decided to speed up its plans for revamp, refurbishment and improvement of its offerings.
While bars are permitted to open from Monday, many are waiting for the time to be exactly right for their customer base. SoHo is waiting until Thursday, July 2 for when they expect their customers to come flocking back to a new and improved bar and restaurant.
General manager Pádraig O'Donoghue said: "We've been flat out, all go, but it's great to be so busy." There were two sides to the reopening, he said.
"One was preparing for the health and safety guidelines, a lot of that training has been going on, while also making the premises Covid-19 compliant.
"The second is doing a mini-refurbishment, brightening up the place, getting it nice and fresh for when customers come in. It was easy to close down overnight, but it takes a lot longer to get it opened up again. We've been getting ready for five weeks." Being closed gave a lot of time to look at the business and how it could be improved, Mr O'Donoghue said.
"We've developed new food menus which will be ready for the reopening. We have new cocktail menus, while our restaurant area will look very different for customers, who we believe will be very nicely surprised. There is lots of new -- a new head chef, Alfonso, who has an excellent reputation.
"It is a great opportunity for him to showcase his new food. We've worked very hard with him to refine and improve our offering over the lockdown period. In this trade, you rarely get a minute to actually reflect and plan ahead. We've taken the opportunity to look at new dishes, new flavours, etc. It has been a great time for reflection." SoHo will open stronger than when it closed, according to Mr O'Donoghue.
"This is something we will stick to in the future. We're opening on a bright note, we can't wait to welcome customers and are excited about the future." Bookings are being taken online, but it has not been too much of a departure from the methods used pre-lockdown, he said.
"We are taking that bookings-led system for the restaurant into the ground floor main bar, you book with us and we have different time slots throughout the day. There are plenty of opportunities for people to book in. So far, the response has been huge. The first weekend back has been very encouraging, heading towards being booked out.
"We've very grateful for the support we have received over the last few weeks with the call-and-collect business. That loyalty translated into the booking system when we launched two weeks ago. Within two or three days, that was almost full. We still have plenty of space for the following weekends, so we hope to see many regular faces as well as new ones with us in the weeks to come," Mr O'Donoghue said.
Three-drink limit at Old Oak
By Eoin English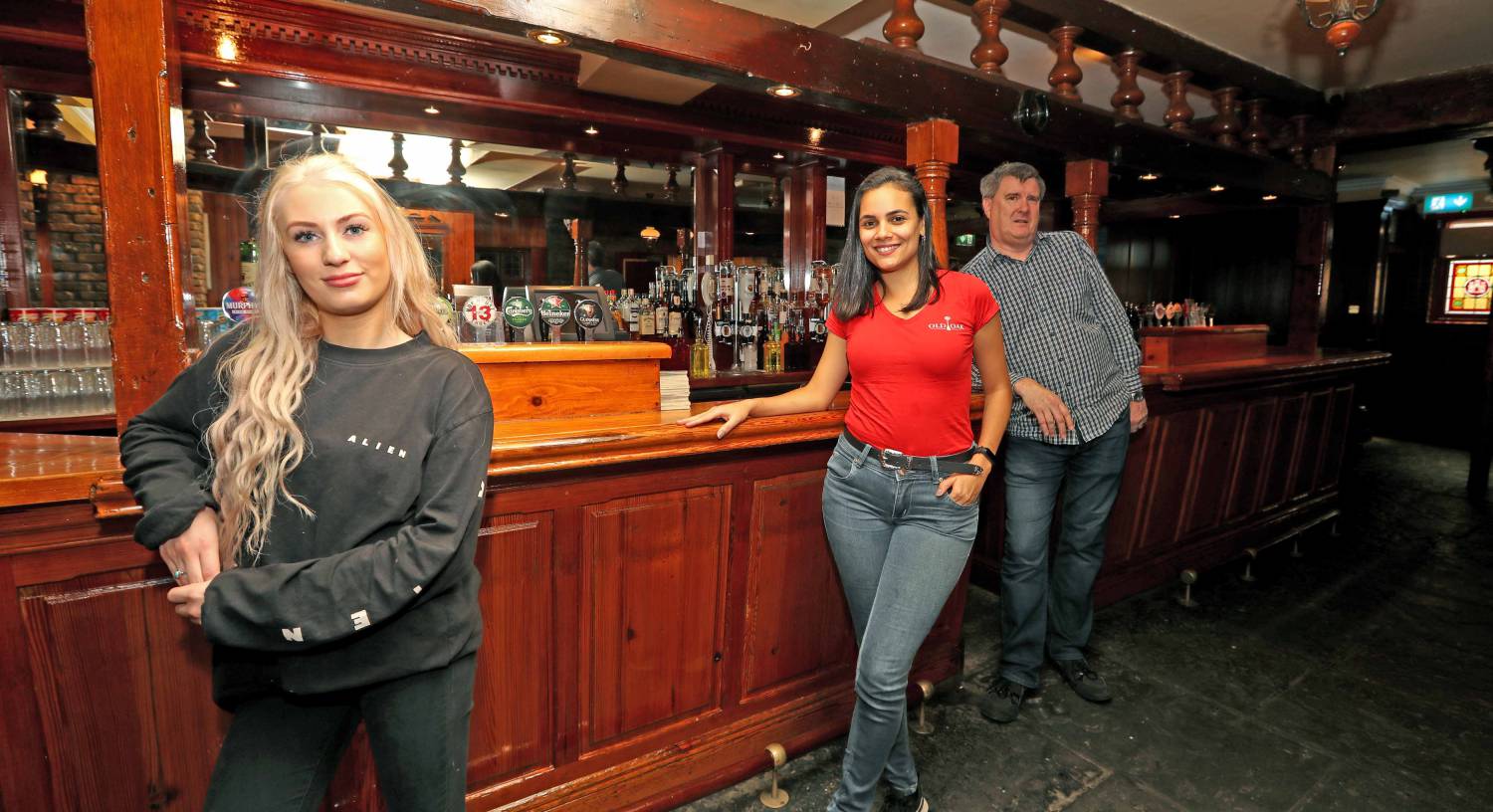 Publican Ger Kiely, who has run The Old Oak bar and Cyprus Avenue live music venue in Cork city centre for almost 31-years, plans to introduce a three-drink limit for customers when he reopens his complex on Monday. And he makes no apology for it.
"Everyone has their own opinion of the new guidelines and the two-hour limit seems to have upset some people," Mr Kiely said.
"But the guidelines as far as I'm concerned are fine. We're going to get on with it.
"In our view, safety is paramount in the current circumstances.
"And if you have too much to drink, your considerations for your safety sometimes can go out the window, and you're liable to do something you shouldn't, something that might not be in the interests of your own health.
"We don't want people trying to squeeze four or five pints into that allotted time, and getting messy, and risk a situation where they are not being responsible for their own health and safety.
"So what we've decided to do is have a three drink limit per person - that's three pints, or three shorts - whatever they want.
"And that's the policy we are going to adopt until there's a major change in the health of the nation in terms of Covid-19."
With its main bar entrance off busy Oliver Plunkett St, and another entrance off Caroline St, The Old Oak and Cyprus Avenue complex has a permitted capacity for 1,350 people, making it one of the biggest entertainment complexes of its kind in the city.
It's been a firm favourite with a mix of young and old for years. It's also popular with the city's growing population of international students and tech workers.
But the social distancing requirements have slashed its capacity to around 285-customers and forced the indefinite closure of the Cyprus Avenue live music venue.
Anyone visiting the pub from Monday will be seated at tables of four, with one-metre distance between each seat. There will be no service at the bar counter, with table service being introduced.
Once orders are ready, staff will deliver the food and drink to the tables on large trays to ensure there is minimal contact.
The pub will be open for the regular hours, 10.30am to 11.30pm Mondays to Thursdays, until 12.30pm on Fridays and Saturdays, and from 12.30pm to 11pm on Sundays.
Mr Kiely said they will take bookings by phone but he said walk-ins will be welcome too, tables are available.
But he stressed that people who just want to order a coffee, scones and minerals are also more than welcome to pop in.
"We will be learning as we go. It's going to be a difficult time for the industry, for everyone really, but if we in the sector can survive the next few months, I think we will be OK," he said.
Salt is preparing for open season
Cork tourist sites throw open their doors
By Kevin O'Neill
Some of Cork's best loved tourism amenities are putting the finishing touches in place ahead of planned reopenings on Monday after a lengthy break.
While there will be some changes - reduced capacity and one-way systems can be expected and face coverings are advised in many places - it is a much-needed boost for culture lovers, tourists and anyone looking for a return to some sense of normality.
The Crawford Art Gallery will reopen its doors at 10am on Monday after a 15-week closure. The gallery used its downtime to boost its social media presence and they hope to see this support translate into new visitors.
Director Mary McCarthy said there is no substitute for standing in front of a work of art, though.
"This building needs people. We have been rehanging exhibitions so visitors will have new encounters," she said.
"We also have new signage, both external and internal, in place to support our visitors throughout their visit."
There are some changes: enhanced cleaning procedures are in place, a new one-way system has been introduced, and reading materials have been removed or replaced. Face coverings are recommended, but the gallery remains free to open and has not introduced a booking system.
And, just a few minutes walk away, St Peters is also set to reopen on North Main Street on Monday. The gallery enjoyed a 38% spike in visitor numbers year-on-year before closing on March 13. Its anchor exhibition on Cork 100 years ago remains in place for those looking to learn more about a tumultuous year in the city, where two Lord Mayors died and martial law was imposed before the infamous Burning of Cork devastated the city.
Face coverings are advised and capacity has been reduced.
A little further afield is Spike Island, which has sadly had to write-off an expected influx of American tourists. Cork's Alcatraz is currently featured on the Discovery channel in the US.
John Crotty, Island manager, said 2020 is now a "reset year" and they have put some art exhibitions on hold but, he said, there are still 104 acres of nature and wildlife, scenic walking routes and, of course, the prison itself.
Spike Island has implemented significantly reduced capacity both on the island and the ferry over, as well as socially distant queues, a one-way system and face coverings for adults.
Lockdown a time to invest and improve
In a crisis time for the hotel industry, the Montenotte Hotel used the enforced Covid-19 closure to go for major investment.
General manager, Brian Bowler, said: "It's a case of putting our best foot forward at The Montenotte to ensure that we have something new for our returning guests to enjoy. As well as our refurbished terrace, we have continued our investment in our gardens and have the most amazing wild flower meadow which has just come in to bloom. We are also refurbishing our health club and locker rooms which will really add a sense of luxury in this part of the hotel for our guests and our health club members to enjoy when they start to return to the club. These are long-term investments in the property but we hope that now at such an uncertain time it will set The Montenotte apart and give our guests something different to look forward to this summer."
With outdoor space to be key for establishments across the country, The Montenotte said investment in a refurb of its famed terrace was one of its major ambitions. The luxury heated terrace, created by designer Jane Gilloway, has spectacular views that take advantage of Montenotte's elevation over the rest of the city.
Safety measures will be widespread, Mr Bowler said: "Our staff will be trained now in slightly different service standards than before — there won't be any condiments on the tables and our menus will be disposable. As much as it goes against the whole concept of great personalised customer service, our guests will have the option of contactless check-in and check-out if they wish to avail of it."
Millennials are a key demographic to engage as research shows that they are the most eager to get back out exploring, the hotel said, adding that it has put a heavy focus on photo spots throughout the hotel to attract this market and its Instagram potential.
The domestic tourism market will grow at a greater rate as international travel slows, Mr Bowler said: "This is a great opportunity to show our domestic market that Ireland is a great place to stay for your summer holidays and perhaps we can convert some of those that usually take a foreign trip at this time of year. They might just have an equally good if not better time at home. The standard and quality of hotels in Ireland is at a really high level now in comparison to some European destinations."
Wave of support from Erik's gym 'family'
The owner of JustFit Gym on Watercourse Road is adamant that when it comes to a symbiotic relationship between a business and its customers, you should look no further than the loyalty between a gym and its members.
JustFit Gym on Watercourse Road attracts members from all over the city, from all walks of life, who want to do what they love to do -- train their bodies in a friendly place, with good people and friends, and a team that knows what makes them tick.
Initially despondent but grudgingly accepting that the gym would have to close during the lockdown caused by the Covid-19, Erik Henry was worried about the future of the business when it had to close due to Covid-19 lockdown measures. That is, until the messages, calls, and mails came in from members all over the city, urging him to keep the head up and promising faithfully they would return when he got the nod from health chiefs to open again: "You cannot put into words just how important a loyal client base is. We call it the 'JustFit family', and the response from our members has shown it is not just a marketing buzzword. They felt the pain of closing as much as I did, and the encouragement and goodwill from them gave me a huge lift. That energy and community engagement is proof that Cork's northside and beyond is as loyal as anywhere in the country. We couldn't have asked for better members. The loyalty is astounding."
Mr Henry said safety will be paramount from when the doors open, as well as investment into new equipment: "We want to make your return to the gym not only enjoyable but safe. Floor numbers will not be allowed to exceed 25 people — take into consideration we never have more than 30 in pre-Covid times on our floor. We have introduced a 70-minute training restriction on peak times, from 5.30am to 8.30am and 4.30pm to 7.30pm. This will be reviewed weekly."
Members will stay at one machine at a time and respect social distancing, with cleaning of equipment after use and sanitising of hands frequently at stations. Masks are not compulsory but are encouraged, Mr Henry said.
The gym setup from inception was conducive to social distancing in any case, with vast room on the floor to optimise personal space. A key addition will be new equipment.
"Members love new 'toys' to play with more than anything, and we are confident they will be delighted with new equipment additions to the gym. We're raring to go now, and Monday cannot come soon enough."