There is consensus in the scientific community that there is minimal risk of catching Covid-19 from cash, yet its usage has declined dramatically, writes Kevin O'Neill
Cash is king - or is it?
Since the general shutdown of retail in March, many of us have abandoned coins and notes and have embraced contactless payments.
Cash withdrawals have more than halved and more than 90% of adults have now used contactless payments at least once, while almost half of us are using our phone to pay.
The trends have been evident for a few years now, but cash is becoming less and less central to the way we shop, spend and splurge. For many, tapping is second nature and carrying cash is alien.
This varies in different countries. Scandinavia, as ever, is ahead of the curve, with two-thirds of transactions in Denmark done with cards and cash not accepted in many businesses in cities and large towns. In the United States, on the other hand, people were notoriously slow to move to cards, favouring cash until quite recently.
To suggest the Covid-19 pandemic has caused an about-turn for many on the cash versus card debate isn't entirely true, though there is certainly evidence to suggest the virus and associated fears accelerated the move.
The World Health Organisation (WHO) sparked some concern earlier this year about physical money potentially transmitting the virus.
A WHO representative told the UK's Telegraph newspaper that people should "wash their hands after handling banknotes and avoid touching their face". 
The logic behind the remark was that coins and notes can change hands frequently and pick up bacteria and viruses.
The WHO didn't explicitly say that money would spread the virus, but suggested that contactless payments could reduce the risk of transmission.
It has since clarified that the original article "misrepresented" the comments made. Fadela Chaib, a WHO spokeswoman, said their advice was that people should "wash your hands after handling money, especially if handling or eating food" as doing so is "good hygiene practice".
"Who did NOT say banknotes would transmit Covid-19, nor have we issued any warnings or statements about this," Ms Chaib said.
The capitalised 'NOT' was in their original statement, such was their frustration that the Telegraph had misrepresented their views. But, essentially, handling money poses no greater risk than touching many other surfaces where the virus may live, and the advice to wash hands regularly is valid in numerous other instances too.
However, it has long been accepted that coins and notes are not clean. Money changes hands more rapidly than almost anything else we come into contact with so it stands to reason that it may pick up bacteria and other materials. As such, it is no surprise whatsoever to see many people and businesses looking to reduce the volume of cash passing hands.
A spokesperson for the European Centre for Disease Prevention and Control (ECDC) said: "It is possible that SARS-CoV-2 (the strain of virus that causes Covid-19) survives on banknotes and coins, depending on the material properties and environmental conditions, contamination may persist for a variable period of time. Thorough hand washing with soap and water or the use of alcohol-based sanitisers - especially before eating, drinking or smoking - and avoidance of touching the face, eyes and mouth is recommended after physical contact with frequently touched objects, including banknotes and coins."
There has been little scientific research into the role played by coins or notes in spreading the virus. Even some of the studies into the virus surviving on materials such as cardboard or banknotes have been conducted in controlled environments and, therefore, should be interpreted with caution in real-life environments.
There is a general acceptance in the scientific community that using physical money poses minimal risk, in particular if people are practising good hand hygiene.
However, many businesses in their efforts to reopen or remain open have prioritised contactless payments. The logic in these instances is, often, to minimise the level of interaction between people and, therefore, minimise the risk of spread.
And, it would appear that this has fast-tracked the shift from cash to digital payments.
Figures released by the Banking & Payments Federation (BPFI), the banking sector lobby group in Ireland, show that cash withdrawals are down 56% since the outbreak of the pandemic.
Some 76% of consumers are now using contactless payments at least once a week, and many are doing it far more frequently.
The research focuses on the end of April, during the lockdown period, and shows that the pandemic is "undoubtedly fuelling a change in consumer's behaviour towards digital payments", according to Brian Hayes, the chief executive of the BPFI.
The study showed that 92% of adults have now used contactless payments, and 76% do so weekly.
Payments through smartphones and smart devices, using Apple Pay or Google Pay, are on the rise, too, with younger shoppers favouring these.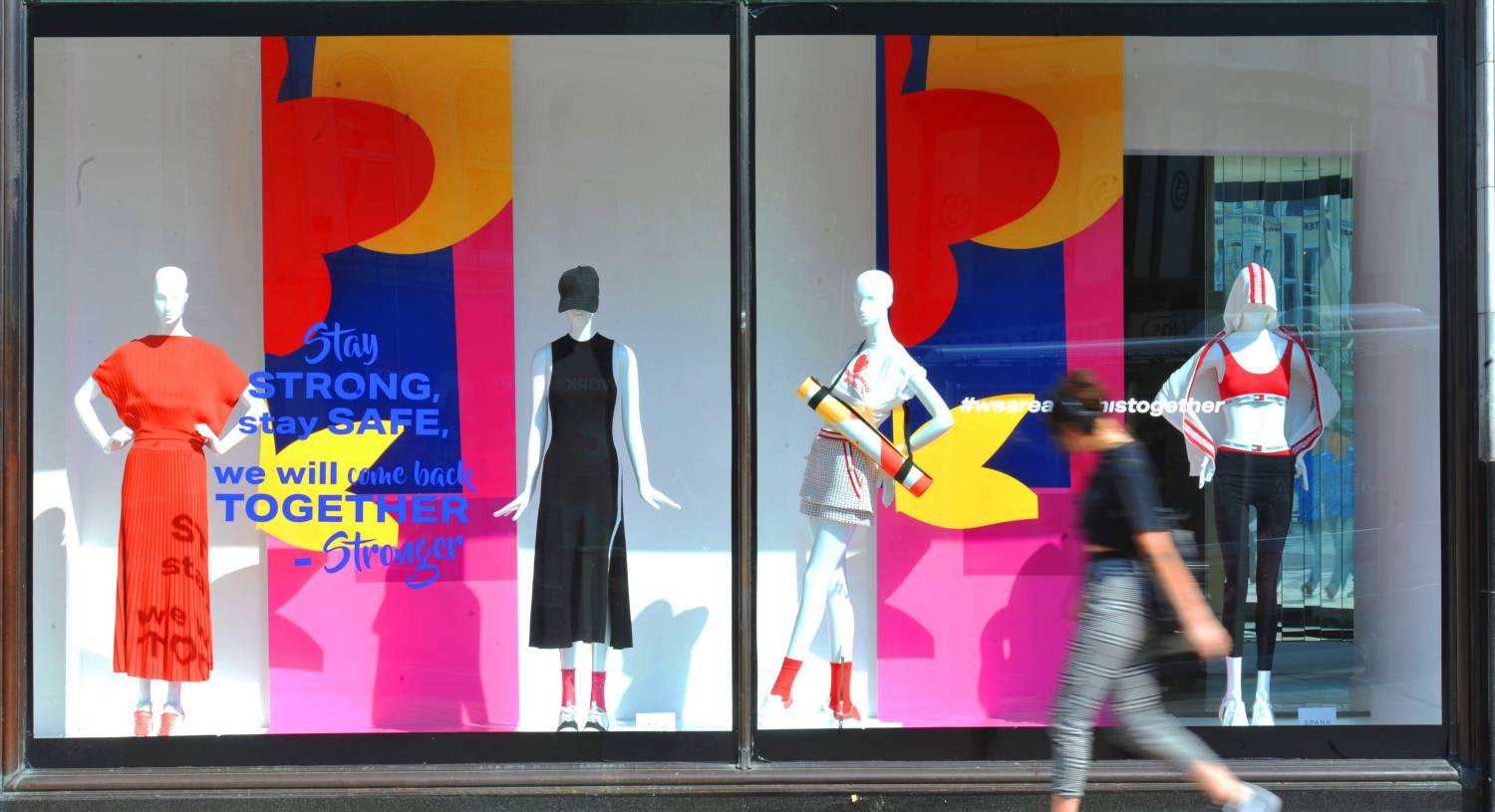 Cillian Wright, managing director of PaymentPlus, which provides card payment services to 5,000 businesses in Ireland and the UK, said cash use has declined partly due to the pandemic, but also partly due to the closure of businesses where cash is king, such as hospitality businesses, like pubs and restaurants.
"Some 31% of our customers closed their doors on March 24 and many of these won't reopen until June 8," Mr Wright said.
"For those businesses that are trading, 60% of consumers are paying by contactless when using their card in-store and more consumers are shifting to digital wallets such as Apple Pay or Google Pay. Businesses are adapting and consumer behaviour has changed; we have seen a 210% increase in online and over-the-phone payments since February. Pharmacy, takeaway, charity, hardware and garden centre sectors saw the biggest increases in online and over-the-phone payments."
In addition to many cash-heavy businesses not currently operating, the business environment has been moving towards cards or digital alternatives for several years now.
Handling and depositing cash is both costly and time-consuming, in particular for smaller businesses.
Neil McDonnell, chief executive of the Irish SME Association -ISME-, said banks are "actively discouraging" the use of cash. Charges for cash lodgements can be as high as 2% or 3%, working out at €20 or €30 per €1,000 lodged.
This compares with the typical cost of debit card transactions being between €0.20 and €0.01, he said.
"For businesses currently handling a significant part of their turnover in cash, the impact on profit is very significant," he said.
"And that is before the ancillary costs of cash handling are counted, such as staff time, extra security measures, and business to bank travel. Businesses going cashless experience an immediate improvement in cash flow, increase in profitability, and decrease in crime.
"It is essential for business prosperity that all enterprises move as much of their cash flow to contactless and electronic as quickly as they can."
Earlier this year, before the outbreak of Covid-19 in Ireland, One4All published the results of a survey on how people's spending habits were changing.
It found nearly two-thirds of Irish adults were using digital payments multiple times per week, as many as one-quarter of them were using their phone to do so and almost half of respondents said cash was on the way out.
However, at the same time, just one-in-ten of the respondents said they never carry cash, with the average adult still keeping approximately €30 on them when out and about.
These figures showed a very clear movement towards digital and contactless payments, with more than two-thirds of people expecting all retailers and bars to accept contactless payments.
And while the majority of people were happy to use their cards or phones for the majority of their spending, there was still the nagging feeling that it couldn't be entirely relied on and people still kept a small amount of cash on hand, for emergencies.
That research was conducted in February, just weeks before the Covid-19 lockdown.
By the end of summer, most businesses will hopefully be in a position to have reopened in some shape or form. While customers may be keen to renew some of those old habits, it stands to reason that many of their new ones will stick around too.
There may be some disruption to the trends when cash-heavy businesses, like bars, reopen but, by-and-large, it had only been going in one direction and it looks unlikely that many who have embraced the tap-and-go alternative would simply abandon this to start carrying cash once again.
Google Pay, Apple Pay, Garmin Pay, Fitbit Pay...
The way we bank has changed and continues to do so.
Banking customers are flocking in their droves away from traditional banks in favour of digital alternatives.
The best known of these is Revolut, the London-based app, which has one million customers in Ireland. This number has doubled since November 2019.
It is a remarkable share of the market for the digital bank, which was established in 2015.
But, for those who may be unfamiliar with Revolut, what is it?
Revolut is a digital bank: all its services are carried out through its app and there are no physical branches, cash or cheques.
By-and-large, it is free. There are premium versions but there are no maintenance fees, no charge for transactions, direct debits or foreign exchange.
Users can withdraw cash free of charge up to a limit of €200 per month. After that, it costs 2% per transaction which can add up over the course of a month but Revolut very much favours the all-online model.
Unlike the large banks operating here, Revolut is not regulated by the Central Bank of Ireland. Instead, it has a banking licence in Lithuania. Under EU passporting rules, a bank licenced in one country can transfer that licence to another country without requiring regulatory approval.
Revolut, in particular, has won over many people for its app, which is renowned for its ease of use. Splitting a bill or transferring money to other Revolut users is as simple as the touch of a button.
The app was initially a huge hit with Millennials and Generation Z but it has moved beyond that core group now.
And, in terms of digital banking, they are not alone in the market. N26, a German alternative, is also gaining traction in the Irish market.
It operates in 20 countries in Europe and has more than five million customers, including 500,000 in the United States. It is licenced by the German Central Bank and operates here on a similar passport-basis to Revolut.
Similar to Revolut, once you open your account, you will get an IBAN and BIC, so you can use it the same as you would an Irish bank account.
Again, like Revolut, N26 skips over the bulk of the fees associated with bricks-and-mortar banks and, again, it is only on ATM withdrawals where customers could be hit. N26 customers get five free withdrawals per month.
After that, it is a hefty €2 per transaction. That compares to 25c to 35c for the more well-known Irish banks, for example.
On foreign exchange, N26 and Revolut could save people hundreds of euro. All traditional banks will charge somewhere between 1.75% and 3% foreign exchange fees for purchases made with your debit card outside the Eurozone. Over the course of a few weeks' holiday, it is a hefty bill to face.
N26, in comparison, charges nothing, while Revolut charges nothing up to a €6,000 limit, after which time there is a 0.5% fee. Similarly competitive rates are offered when it comes to converting spend back to euro, both charging far less than banking competitors.
But, what is the verdict?
Comparison site Bonkers.ie has written extensively about the likes of Revolut and N26 and they will freely admit to being big fans of the digital banks.
"There is very little to fault with the fintech and I'm not surprised at all to see it continue to go from strength to strength," said Daragh Cassidy of Bonkers.ie.
"[Revolut] offers largely fee-free banking with no charges for contactless transactions, direct debits or chip and pin.
"Push notifications, excellent security controls and detailed analytics on your spending help give the app a huge edge over anything the main Irish banks currently offer, although KBC and AIB have worked hard to improve their apps in recent times.
"N26, Revolut's main competitor, is almost equally as impressive and has the benefit of a full banking licence in Germany which it has passported to here."
There is one issue emerging but it is hard to lay the blame at the doors of the fintech operators.
"Some businesses and utility companies still won't accept a 'foreign' Revolut or N26 IBAN meaning you could have trouble fully switching over your account," Mr Cassidy explained.
"These companies are falling foul of EU legislation and really the CCPC and the Government need to take firmer action."
In short, Mr Cassidy said, people have options.
"There are now 10 current account providers in Ireland so there has never been more choice," he said.
Safer than cash but shoppers still need to be careful about protecting their information
Contactless and card payments are safer than cash "in many ways", a leading cybersecurity expert has said - but shoppers still need to be careful about protecting their information.
Shoppers who are duped when it comes to using cash often have no recourse, whereas many card providers offer an extra layer of security, according to Raluca Saceanu, general manager of Smarttech247, a Cork-based cybersecurity company.
However, she said fraudsters will always try to find new ways to trick shoppers, whether they are using cash or cards.
Contactless payments and mobile payments come with added layers of security, including encryption and tokenization, which hides account numbers.
"Contactless payments in particular were introduced with the mindset of never sacrificing on security while working towards the goal of improving convenience," Ms Saceanu said.
"When dealing with cash, the user has no recourse and so you have no way of dealing with a product or service that was not delivered or that couldn't be used.
"Most credit and debit card companies heavily invest in leading security technology each year and their interests lie with protecting the customer.
"You can also protect yourself from theft better than when you're using cash. As an example, for your mobile phone, you should always have a two-factor authentication in place to unlock it. This would ideally be a PIN, as well as a biometric method such as facial recognition or a fingerprint scan."
As online shopping surges, fraudsters are trying to find new ways to target unsuspecting customers. Ultimately, it is no more risky than losing your wallet but Ms Saceanu said customers should take precautions when shopping online, just as you would in bricks and mortar shops.
"It is most important that when you are shopping online that you use well known, trusted sites. It is common for many hackers to try and lead you astray and lead you to unsafe sites."
Simple things like double-checking the website URL can make a difference, she said, with fraudulent versions of sites often having spelling errors in their title or being listed as a '.net' instead of a '.com'.
"Also, watch out for fake shopping apps," she added.
"Only download shopping apps from reliable sources like the Apple App Store or Google Play Store."
Some shoppers have noted concerns that with more online activity, companies have more information about them.
Much of this is meant to be used for marketing and retargeting, Ms Saceanu explained, but not all websites are abiding by strict EU GDPR rules.
"We have seen cases of numerous websites tracking a large amount of data that is then used for data mining or even worse - user spying," she said.
"It is always good practice to verify the privacy and cookie policies on the website you are shopping online and if you are unsure about the privacy or security settings, never proceed with the transaction."
Simple tips to keep yourself safe online include using different passwords for different accounts and not saving your details on shopping sites.
Card costs - what am I paying?
As the banking market expands, rates should be getting better, right?
That's the theory, anyway.
Including digital banks N26 and Revolut, there are now 10 current account options in the Irish market. Most offer some way to avoid paying fees for day-to-day payments but these are not always an option.
Irish people are notoriously slow to switch their bank accounts. Most of us remain with the same bank our entire lives and this is often the one where our very first account was set up for us as a child.
But, given that our spending habits are changing, it would be wise for everyone to take a look at the range of options out there.
Here is what you are paying for when it comes to card transactions with the options in the Irish market.
AIB 
AIB hit headlines in March with a series of planned new transaction charges for customers. The bank opted to delay the introduction of these due to the Covid-19 pandemic, but banking chiefs have communicated to investors that they are likely to be on the table later this year.
The charges included a 1c charge for using contactless cards and a 39c over-the-counter transaction charge. Most banks allow customers to avoid such fees if they keep a minimum balance in their current account, though this would not apply to the transaction fee.
"Given the unprecedented challenges the country, customers and the bank is facing, it is imperative that the bank keeps all its fees and charges under review," an AIB spokesman said.
Currently, AIB customers pay 35c for an ATM withdrawal, 20c for chip-and-pin transactions, 20c for online banking transactions, and 1c for contactless transactions.
Bank of Ireland 
BOI customers pay 25c for ATM withdrawals, 10c for chip-and-pin, 10c for online banking and 1c for contactless. If they maintain a balance of €3,000, they avoid these fees.
KBC 
KBC customers avoid all fees - if they lodge €2,000 per month.
PTSB 
PTSB customers avoid all these fees too, though they pay the highest maintenance fee per annum, by some margin, at €72. An Post's €60 per annum fee is the second highest for comparison, and BOI and AIB customers pay €20 and €18, respectively.
Ulster Bank 
Ulster customers pay 35c for ATM withdrawals, 20c for chip-and-pin, 20c for online banking, and 1c for contactless. Like BOI, they can avoid these by maintaining a balance of €3,000.
The others 
Credit Unions don't charge fees, but are restrictive when it comes to ATM withdrawals, while EBS offers a very basic banking package that avoids many of the above fees, too. An Post customers pay 60c for an ATM withdrawal - the highest in the country - but avoid other card charges.
N26 and Revolut, the digital alternatives, offer fee-free banking, though customers can be hit with costly ATM withdrawal fees if they go above some modest limits.