At a time when calling to a neighbour's house for a cup of tea is inconceivable, it's tricky to get to grips with the "business as usual" approach on many of our building sites.
Even with on-site protocols on social distancing and sanitation, it's hard to fathom how the two-metre rule can be maintained where hundreds of workers gather when public gatherings cannot include groups of more than four, as the country battles to contain the spread of Covid-19.
The Construction Industry Federation (CIF) argues that the sector it represents "is vital for the continuation of the economy" and without doubt, it contributes greatly to the prosperity of our nation. It provides critical infrastructure in health, transport, housing and education, employing close to 150,000 and contributing about 8% to GDP.
However the question right now is are we putting construction workers' health and lives at risk if sites continue to operate?
Are we ratcheting up the chances of increased transmission at a time when health chiefs warn of dire consequences should our creaking health system become overwhelmed?.
The CIF says it ain't so. Speaking on RTÉ radio, CIF director general Tom Parlon said the CIF had followed the public health advice "to a T", with sites implementing staggered starts, social distancing in canteens and providing adequate toilet and sanitation facilities.
On the same day, the CIF and the Irish Congress of Trade Unions (ICTU) issued a joint statement urging construction industry companies and their employees to ensure compliance with HSE guidance to protect themselves from the virus.
The CIF followed this up yesterday with a national alert to members to double up on efforts to protect workers by adhering to social distancing.
The statement went on to say they are in discussions with Government "to secure a commitment that contracting authorities will not penalise contractors" arising from delays as a result of following essential safety guidelines.
As CIF regional director southern region Conor O'Connell points out, it will be easy to spot construction workers who are not complying with social distancing "as it's a highly visible sector, where everyone is wearing yellow vests in the open and are easily identified".
Like Mr Parlon, Mr O'Connell points out the essential nature of much of the construction industry's business, looking after critical infrastructure, as well as work currently underway for the HSE, readying buildings to provide additional healthcare facilities should Covid-19 go on the rampage.
However assistant professor at University College Dublin School of Architecture Órla Hegarty said while no-one was disputing that urgent construction work in the health service should continue, she believed other sites should close.
On the same RTÉ programme as Mr Parlon, Ms Hegarty questioned why it was necessary to continue working on "offices, houses, hotels, for which there may not be a market".
She had anecdotal evidence of construction workers sharing toilets, entering and leaving sites through the same gate, and not adhering to the 2m rule.
"The risk is too high on sites," she said.
Sites in Cork, where about 20,000 people work in the construction sector, are engaged in risk mitigation.
A spokesperson for O Callaghan Properties (OCP), the developers of Navigation Square in Cork city docklands, said they "will not be scheduling further construction work, ie Block C at Navigation Square, until the Covid-19 crisis passes, at which point the timing of the recommencement of work on site will be decided upon".
Moreover, the proposed construction of 88 apartments at Lancaster Gate, "is currently under review".
The spokesperson said the only work on-site at present at Navigation Square is demolition of some outbuildings.
"This involves two people working heavy machinery separately, so Covid-19 distancing protocols is not a difficulty and can be easily adhered to."
The spokesperson said: "As is standard on all major development sites, the Navigation Square site is managed by the principal builder, in this case, BAM, as per the contract between OCP and that company.
"It should be said that it is our experience of BAM that it operates a very stringent health and safety policy with comprehensive facilities."
BAM, which along with Clarendon Properties, is developing the six-acre Horgan's Quay site adjacent to Kent Railway Station, were staying schtum on what measures they were taking.
So too were John Cleary Developments (JCD), developers of a 1.8-acre site at Penrose Quay.
Asked what mitigating measures were being taken to reduce risk of Covid-19 at its sites, JCD said no spokesperson was available but that "JCD is acutely aware of its responsibilities when it comes to the health and safety of people on site, particularly relating to the strict enforcement of HSE guidelines with regard to Covid-19".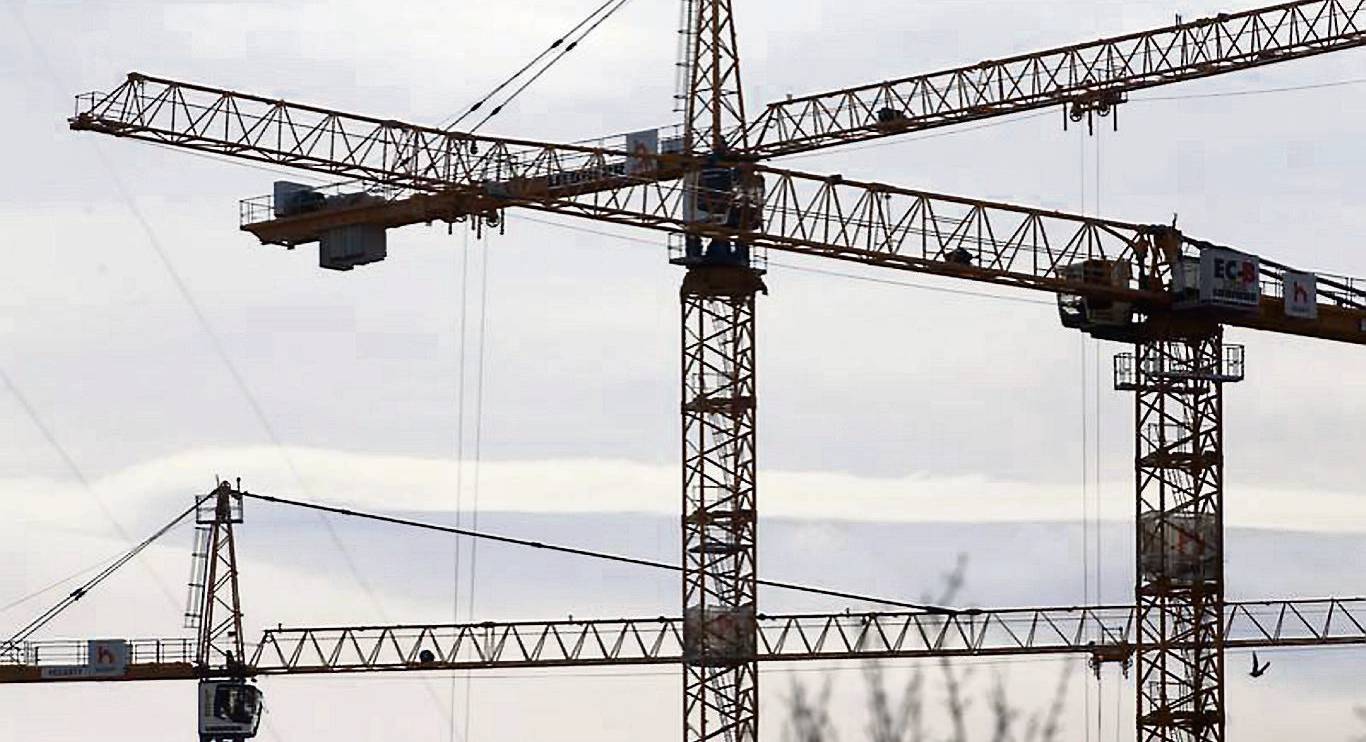 Developer Michael O'Flynn of O'Flynn Construction told RTÉ radio during the week that the industry was adhering to the Government's public health guidelines in "a careful and managed way". Mr O'Flynn said he was not aware of anyone testing positive for the coronavirus on any building site.
If a construction worker did test positive it could mean the closure of the site on which they were working, he said.
For now, social distancing and sanitisers notwithstanding, it's business as usual as sites remain open, and fingers crossed, that the construction industry can keep Covid-19 at bay.