The England team, manager Gareth Southgate and pretty much his entire nation suffered a pretty big loss when Croatia scored in extra time to knock their opponents out of the World Cup – and it became clear football wasn't, in fact, coming home.
As the players head back, they can hold their heads high after the most successful England World Cup bid in almost two decades, but they'll be going through an intense range of emotions regardless. So how can they (and the rest of us) deal with failure well?
"People that we view as 'good losers' generally have a high level of emotional intelligence," explains Jo Maddocks, chief psychologist at JCA Global. "They manage their attitudes, thoughts, feelings and behaviours to be both personally and interpersonally effective."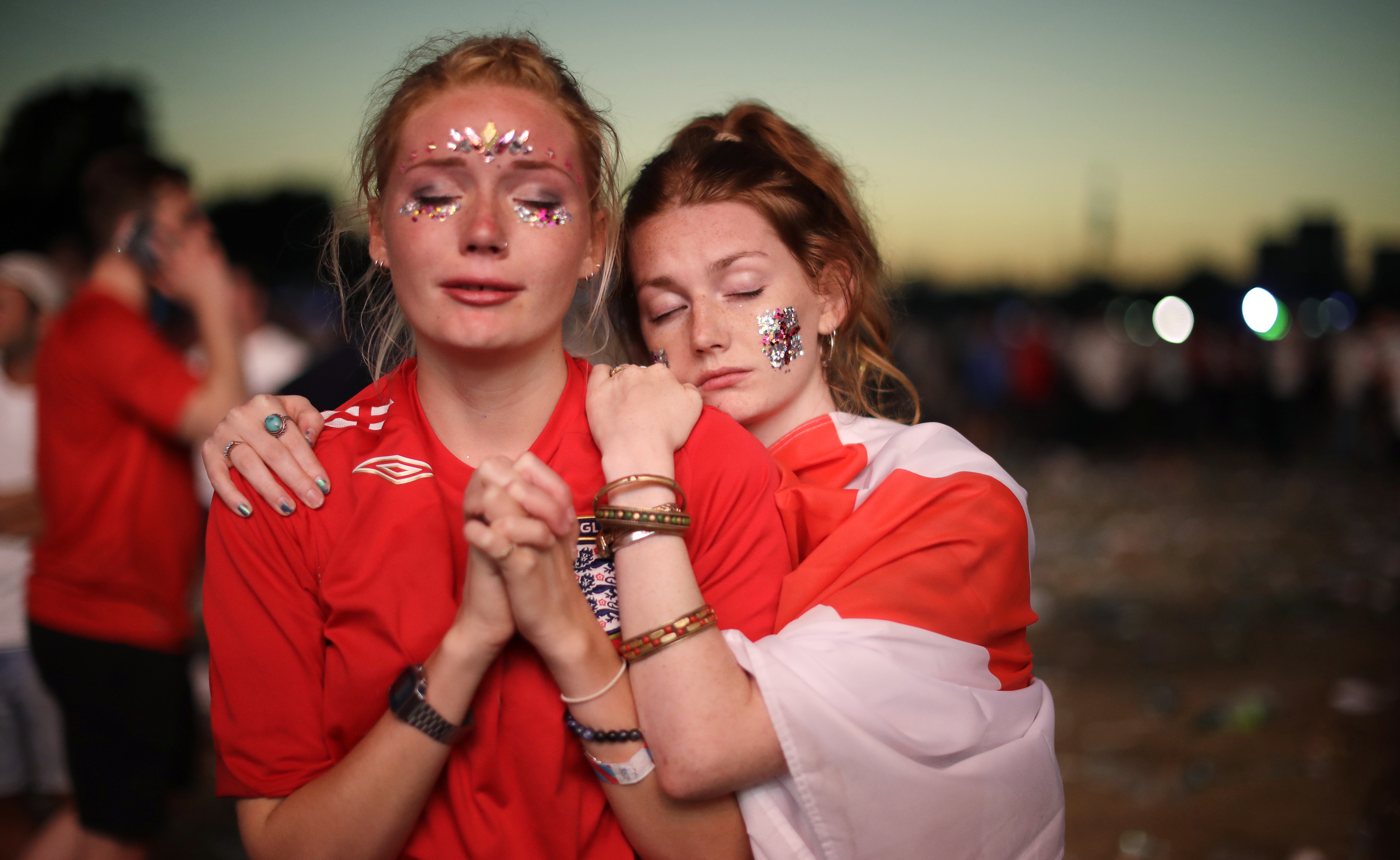 While psychotherapist Rebecca McCann adds: "When people are deemed to be bad losers, this is generally because they have placed a judgement on themselves, their team, the situation, that they or the people around them didn't do their best."
Here's how to get through it and move on, according to the experts.
Let yourself feel the unpleasant emotions
"Defeat leads to experiencing intense unpleasant emotions, such as anger ('Why we did we lose? Could we have tried harder?'), depression ('We needed to win, we are nothing!'), self-blame ('We didn't do enough'). These are normal responses to a defeat however intense, and always unpleasant," says professor Andy Lane, a sports psychologist from the University of Wolverhampton.
"We should not try to quash this emotional reaction – [those emotions] serve to tell us that the goal we were trying to achieve was important. It's better to listen to them, wallow in them a while and let them pass."
If you feel angry, don't displace it onto something else
McCann, from clickfortherapy.com, says: "If we lose a game, or don't get a job, or feel as though we have lost in any way, feeling the feelings enables us to process them and move on. It also gives us choices about our behaviour, i.e. do we feel angry and try to hide this by displacing it onto something or someone else?Or do we feel angry and let ourselves feel anger? Notice how difficult this feels, how out of control you feel and do something to soothe yourself."
Own your personal responsibility
Whether it's losing a World Cup semi final, or facing adversity in our personal lives or at work, Maddocks says it's important to have 'personal power' when dealing with setbacks.
"Personal power is defined as the degree to which a person believes they are in charge of and responsible for their outcomes, rather than viewing themselves as the victim of circumstance, fate, luck, or placing the blame on others," she says. "The England team have demonstrated high personal power throughout the World Cup – they were self determined, focused and channelled their energy into the areas they could control or influence."
Recognise that resilience is a winning skill to have
"Resilience is a word that has been used repeatedly to describe both Gareth Southgate and his team, and it's a key part of what makes a 'good loser'. The ability to recover from a negative experience and then come out even stronger is the essence of resilience," says consultant occupational psychologist Dan Hughes.
"Children model this very well for us," says Harley Street psychotherapist Christopher Johnson. "A young child will experience a fairly trivial loss with an outburst of emotion followed usually by rational thinking (helped by a caregiver) which helps to cement the learning."
Try to find the positives
Niels Eék, psychologist and co-founder of mental wellbeing platform, Remente, says finding the positives can "turn a losing situation into a learning curve."
He says: "For example, if your boss has been very harsh in their feedback to you and it has made you lose confidence in your ability, you learnt the importance of speaking with kindness and compassion to those that you are in charge of.
"Once you have calmed down and got your immediate feelings under control, channel your energy into something else. Whenever we feel that something has not gone our way, it can be hugely empowering to take charge of something that is entirely under your control."
- Press Association