You can't move for salted caramel ice cream options. Sweet, salty and creamy – it's delicious stuff, but have you ever tried soy sauce ice cream?
MasterChef champion 2014, Ping Coombes has devised one that takes the salty Chinese condiment and whips it into a frozen caramel custard.
So what's it like?
Our verdict: I was concerned it'd be like eating a spoonful of Mr Whippy laced with table salt – I was wrong. In fact, on the first bite, the soy is barely detectable; it's only after a couple of spoonfuls that a pleasant umami savouriness creeps in. One colleague said, had she not known there was soy sauce in it, she'd have assumed it was your standard salted caramel ice cream. My tastebuds thought it lacked the sugary sweetness of salted caramel, but that's no bad thing – it can be too sickly – whereas I could work my way through a whole tub of this quite happily, especially if it had been stirred through with pecans.
If you can't get down to Taste of London, June 13-17, this week to try Coombes' version (being served at the Lee Kum Kee stand), here's how to make it at home…
Ingredients: (Serves 4)
For the soy caramel:
180g caster sugar
310ml cream
25ml Lee Kum Kee Premium Light Soy Sauce
5ml vanilla extract
For the custard:
400ml full fat milk
100ml cream
40g caster sugar
3 large eggs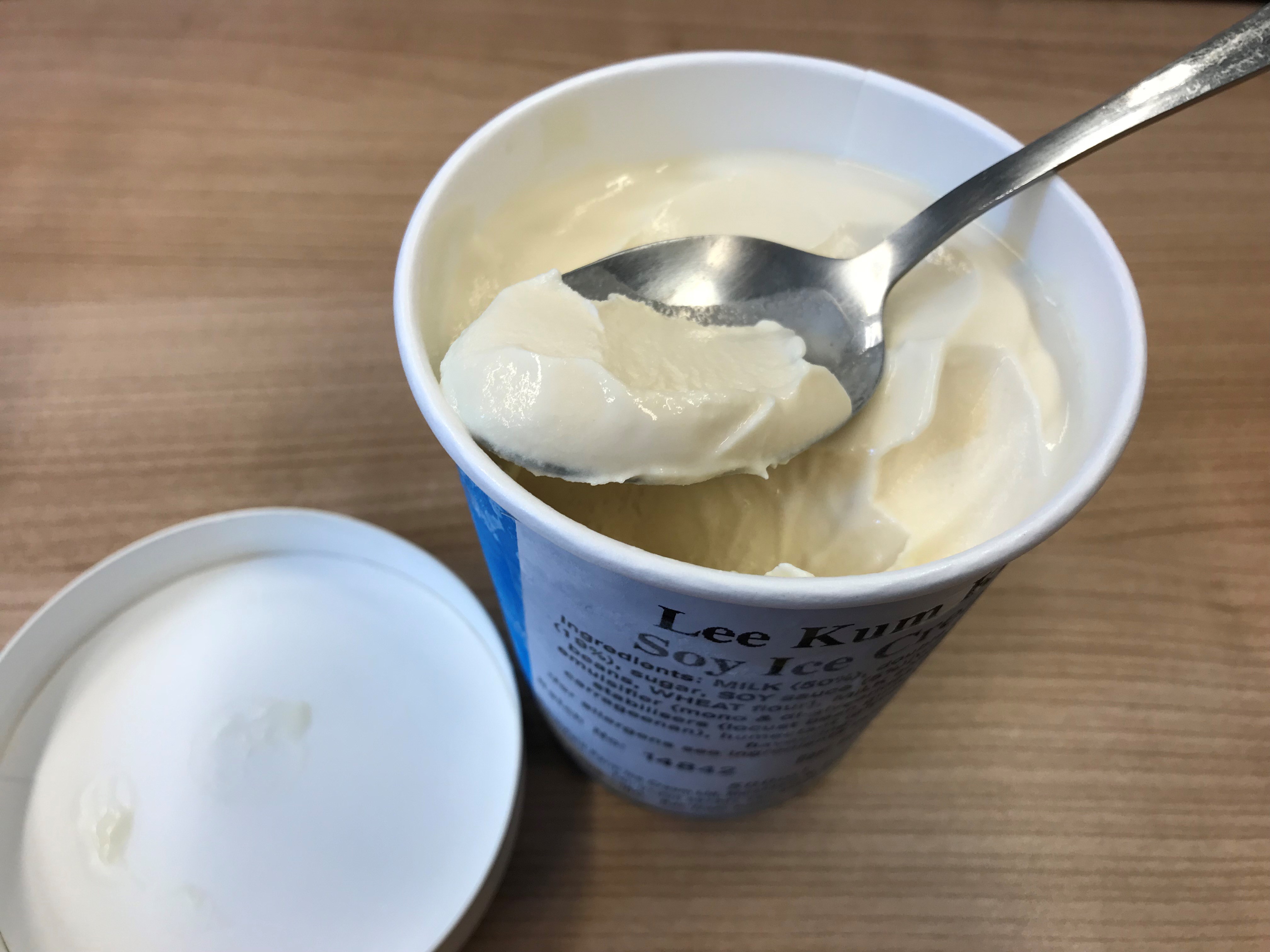 Method:
1. First make the soy caramel by putting the caster sugar in a stainless steel pan. Give the pan a little shake to make sure the sugar is evenly distributed, and heat on a medium heat. The sugar will start to melt and caramelise. Swirl the pan so the sugar melts evenly. It will be ready once it reaches an amber brown colour.
2. Pour in the cream. It will splutter and the sugar will solidify, but continue to stir until all the sugars are melted into the cream creating a creamy brown liquid.
3. Remove from the heat and sieve into a mixing bowl. Stir in the soy sauce and vanilla extract. Leave to cool completely.
4. To make the custard, heat the milk and cream in a pan on low heat until just boiling. In the meantime, lightly whisk the eggs and sugar in a mixing bowl until combined.
5. Pour the warm milk mixture at a height bit by bit into the egg mixture and whisk constantly. Pour the mixture back into the pan over a medium heat. Stir constantly with a wooden spoon until the mixture thickens and coats the back of a spoon. Do not let the mixture boil.
6. Sieve the custard into a bowl and mix in the soy caramel, cool and chill for three to six hours. Using a mixer or stirring vigorously, churn the ice cream, transfer to a container and freeze overnight to firm up. Then eat!
- Press Association