Art draws the masses. Consider a town's tourism fortunes and we often think of a stellar food scene, an epic museum or a transformative greenway, but we can dismiss the power of an unsung attraction hero: art. In recent years with the rise of Instagram, it's no coincidence that there's been an ascending appreciation of murals and street art, as travellers go in search of that ultimate urban aesthetic.
From art districts, like Hosier Lane in Melbourne, to trending one-off works like Nashville's interactive Wings mural, public art is becoming a key player for tourists to woo over — and more importantly — share. Make no mistake, art is putting towns on the map.
Last month, I travelled through Arkansas — a US state perhaps most renowned for tornadoes and Bill Clinton. But its little known city of Fort Smith has been airbrushed from a quiet frontier town to America's most unlikely street art Mecca. Travel & Leisure magazine recently lauded its top-tier installations while AFAR magazine has ranked it as one of the best street art destinations in the world.
It all aptly started with The Unexpected - an urban art festival which invites some of the world's best muralists (including Dublin's Maser) to paint its scapes. From stunning portraits on the city's grain mills, a pop-art gas station and a townhouse transformed into a kaleidoscopic rainbow installation, Fort Smith has up-cycled its walls from the mundane to the fantastical.
Here in Ireland, street art holds a heritage far beyond the hashtag. Derry's a prime example of a city which is an urban beacon of political murals. But nowadays, the ink movement has moved islandwide. The Walls Project is a Waterford-based creative agency which delivers public art commissions across the country (like Curtis Hylton's exquisite Kingfisher mural in Cork City), while its successful Waterford Walls festival has been big-talked by the likes of Lonely Planet.
You can't just give any Joe Graffiti a tin of Fleetwood, however. "The secret to great street art is curation and organisation," explains The Walls Project founder, Ellen Tobin.
In fact, of the 200 pieces currently in Waterford, not one has been defaced. "The potential for street art tourism is massive," adds Tobin. I wonder which Irish town will start imaging next?
Oh, Mayson
If you like to bring your aesthetic from the outdoors, indoors, feast your eyes on the new Mayson hotel in Dublin's Docklands.
From the people who brought you the trendy Dean across the Liffey, the Mayson features 94 deliciously design-led rooms which bring a mix of 70's luxe and industrial edge to the party.
Touches include rotary telephones, Marshall amps and Smeg fridges, while five penthouse suites are trademarked by copper tubs overlooking the city. ([https://www.themayson.ie]themayson.ie[/url]; rooms from €107)
South Africa
Anytime I'm asked for my number one travel recommendation, South Africa is my reply. And this month, a new survey released by Travel Counsellors has revealed that the Rainbow Nation is the fastest growing long haul destination for Irish clients.
From sunsets in Kruger to sundowners in Cape Town, South Africa's highlights are myriad — but a weakening Rand gives the country extra bang-for-your-Springbok appeal right now.
Lounge Upgrade
46,000 guests availed of Cork Airport's Aspire lounge in 2019. But that's less that 1 in 50 airport passengers, leaving the question whether our lounges remain the demesne of the biz class?
I often avail of a lounge if I arrive early, fancy some calm and am feeling peckish; rates range from €21.99 (corkairport.com) to €25 ([url=https://www.dublinairport.com) which represents decent value compared to what you might fork-out in a terminal restaurant.
Just remember the ground rules: alcoholic drinks are limited to three, no sports jerseys are allowed and you must always remain fit-to-fly.
Train-bragging
You've heard of flygskam, now comes the latest buzzword from the Scandi glossary: tagskryt or train-bragging.
Train-bragging has become such an increasingly popular movement a new Facebook group in Sweden boasts over 100,000 members posting photos of their eco-friendlier train wanderings. To hop on the rail-wagon, consider a train Interrail getaway this year with 4 day European passes from €185 (interrail.eu).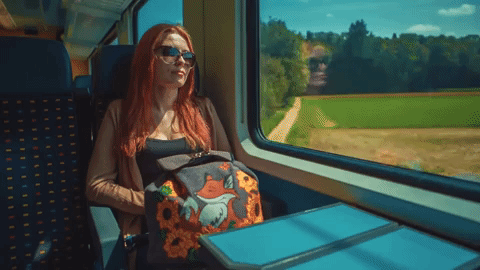 A tip? Always compare deals with your destination's own rail company fares to ensure the best value.Keep discovering with staycations more en trend than ever and tourist industry efforts to soften any Brexit bumps, Discover Ireland have just launched their latest getaway campaign: Keep Discovering.
The promo aims to boost the Irish holiday market by highlighting a fresh wave of Ireland bucket-list items, from exploring Cape Clear and Fastnet Lighthouse, to overnighting in a medieval Ringfort in the National Heritage Park or soaking up the dark skies of Wild Nephin Ballycroy National Park in Mayo.
http://www.discoverireland.ie #keepdiscovering