Kya de Longchamps has advice on giving your house a fresh coat for spring.
PAINTING your house's exterior is a fast, deeply satisfying way to smarten it up for spring, but it doesn't end there. The business of putting on those new coats, gives us a chance to assess the condition of the entire envelope along the way — vital for weather and damp protection and to keep those pricey kWs of heat inside.
DOES IT NEED IT?
Every year you should reassess the paintwork on walls, windows and any exterior woodwork of the house. It's the sort of thing to ask your rudest cousin about when they visit at Easter. We can be blind to the truth.
The aspect and climactic conditions in which you live (by the coast for instance), the quality of any protective coating, and the attention given to the application of the previous finish will all have a big influence onthe coating's condition and survival.
The south elevation of any house will get hotter, dryer and without screening, the windward side will take more of a physical battering. Suburban houses have more settling pollution on their surfaces — some of which can just be regularly washed off. If a close neighbour does a paint job — it will often shame the surrounding owners into at least a wash down.
WHAT TO LOOK FOR
Tired, typical masonry paint will have a flat, thin, flaking appearance.
Coverage may be failing, bubbling in parts and in paler colours, mould may have gone under the top coat and settled, greening the surface. UV exposure and tree cover will have changed the tint and texture of older paint — probably unevenly across the aspects of the house. Wood surfacing with an exhausted smothering, solvent recipe will be rubbed out, flaking and peeling.
Traditional lime paint can have a unique, mottled, matt shifting finish even when properly bonded to the render and wicking damp away successfully — many cottage traditionalists actually prefer this imperfect look. Take advice from a lime specialist before interfering with it.
FIRST THINGS FIRST
Reinstating paintwork should be secondary to ensuring there is no creeping damage to a wall's surfacing or your rain-water system.
Check for signs of leaks from gutters, down-pipes, staining plumes from exterior vents and flues, and note movement and changes to cracks over 3mm wide that may need an engineer's eye. How are the windows, their frames and seals? What cleaning and repair is needed before you start. Don't skip or go cheap on the preparation work.
SURFACES
Properly applied with the right ratio of cement, sand, lime and water — standard cement-based render is tough, moderately insulating and actually already waterproof — wetting and drying with the sun and wind. It can like brick, be finished with a waterproofing solution.
Standard paint for cement render on block-work should make it through 5-10 years, sloughing off hail, rail and snow with the odd wash down to cheer its colour. Lime mortar will require a moisture-permeable lime wash, which will be refreshed every few years as needed, or a mineral-based, porous paint that chemically bonds to the lime render (a silicate).
Fibre cement panels should need no attention for up to 50 years. Any surfacing may suffer colour fading over time — check the UV resistance when you order.
However, with non-standard surfaces consider that there are highly architectural, somewhat nude renders, that don't require painting. These include concrete render with a final thin protective coat with acrylic elements and European style, flexible, self-coloured 'monocouche' which is sprayed onto the house in a thin layer(expensive: be warned).
So-called forever thick plasticised systems like Evertex should need no more than a wash down over 15 years or more — a real Marmite, loved or loathed.
Wood cladding in a panel or profile board will need a protective, tinting coat about every five years, unless you prefer naked, naturally silvering hardwood or tough dense naked larch.
The best and only environmental choice for wood, is no coat or a rub of linseed oil. Living in an all-wood house last painted eight years ago, it's clear that a pricey, solvent-based finish like Sadolin Classic Extra, protected by wide eaves can really last the course on pressure-treated softwood. Wood, unlike render, must be allowed to flex and move to survive.
WHICH PAINT?
We have a superb range of choices in pigment-rich, water-based exterior paint in Ireland.
Researching and sampling is just as important outside as in. In terms of aesthetics, it's colour and texture first. Any reputable paint like Dulux Weathershield, Leyland, Sandtex, Crown Weathercoat, and Fleetwood Weatherclad - will have a tough acrylic character, dirt resistance, and will be breathable and waterproof — with fungicides, algicides and UV resistance to protect against flaking, peeling and fading for up to 10 years.
Metres to litres? Try this useful calculator — spandex.ie/ paint-calculator, including two coats for most projects. Gloss and satin paints for woodwork will require just a few litres but come at a premium.
Examine the coverage for your chosen product and remember the rougher the surface (pebble-dash for example) the more paint it will devour.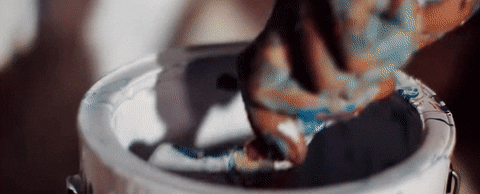 COLOUR AND TEXTURE
We celebrate the whitewashed cottage as fully as the multicoloured harbour terrace— but your neighbourhood will provide a lead to a calming, complimenting choice. Many new colours have been developed to sing with the quality of Irish light and to reflect vernacular choices from down the centuries.
Glossy finishes can look extremely awkward andunduly shiny, where a flatter, lightly textured paint is gentler but this is all highly subjective. Textured paint like Sandex Fine Textured Paint uses micro-seal technology to seal small cracks in the render, useful for minute imperfections. See our guide to colour.
DIY OR DON'T?
Now, the question is can you do the job yourself? Swinging around on a ladder with paint pails is a physically demanding, dangerous job at any height.
It requires some skills, dexterity and surprising focus. Think about doing the whole thing twice — that's right — twice. Even a one- storey house will be challenging and can deliver a serious fall. If you're a confident DIY warrior — at least, don't climb any ladder without someone on the ground at all times. Stable, movable painting platforms are available to lease — useful for larger projects.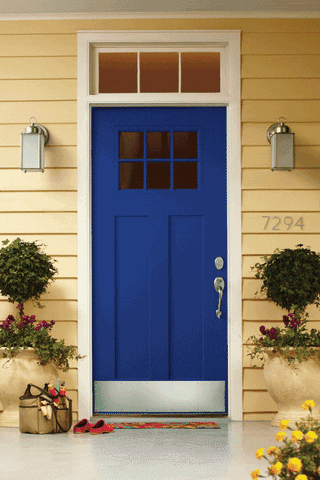 PROFESSIONAL LOOK
Fresh render and large houses are best handled by experienced trades after there has been sufficient time for the water content of the mortar to evaporate fully. They will seal cracks, remove 'snots of render' and float out any imperfections, priming and stabilising.
Prices for a three-beddetached house with walls in reasonable condition, will start in the area of €1,000 without the paint supplied (€400 to €600 depending on brand and coats required).
Ask if they intend to spray or brush and avoid 'while you're up there, could you' temptations unless you're prepared to pay for extra repairs and window treatment. Don't choose the cheapest, choose the best person or firm, based on VAT-registered, fully-insured credentials, references and local examples of recent contracts.