Jennifer Lopez and Alex Rodriguez might be a world-class performer and ex-baseball player respectively, but even they can find healthy eating challenges tough.
The celebrity couple are halfway through a new challenge – going sugar and carb-free for 10 days. It's not been easy – in one Instagram post A-Rod writes: "Are we starting to lose our minds? Maybe…just a little" and on her stories JLo says: "So it turns out, when you don't have sugar and you don't have carbs, you're really really hungry all the time."
However, by day four JLo writes she's feeling "a lil better" and has been sharing snaps of her meals – including a colourful bowl of tuna poke, cauliflower fried rice, peppers and Brussels sprouts.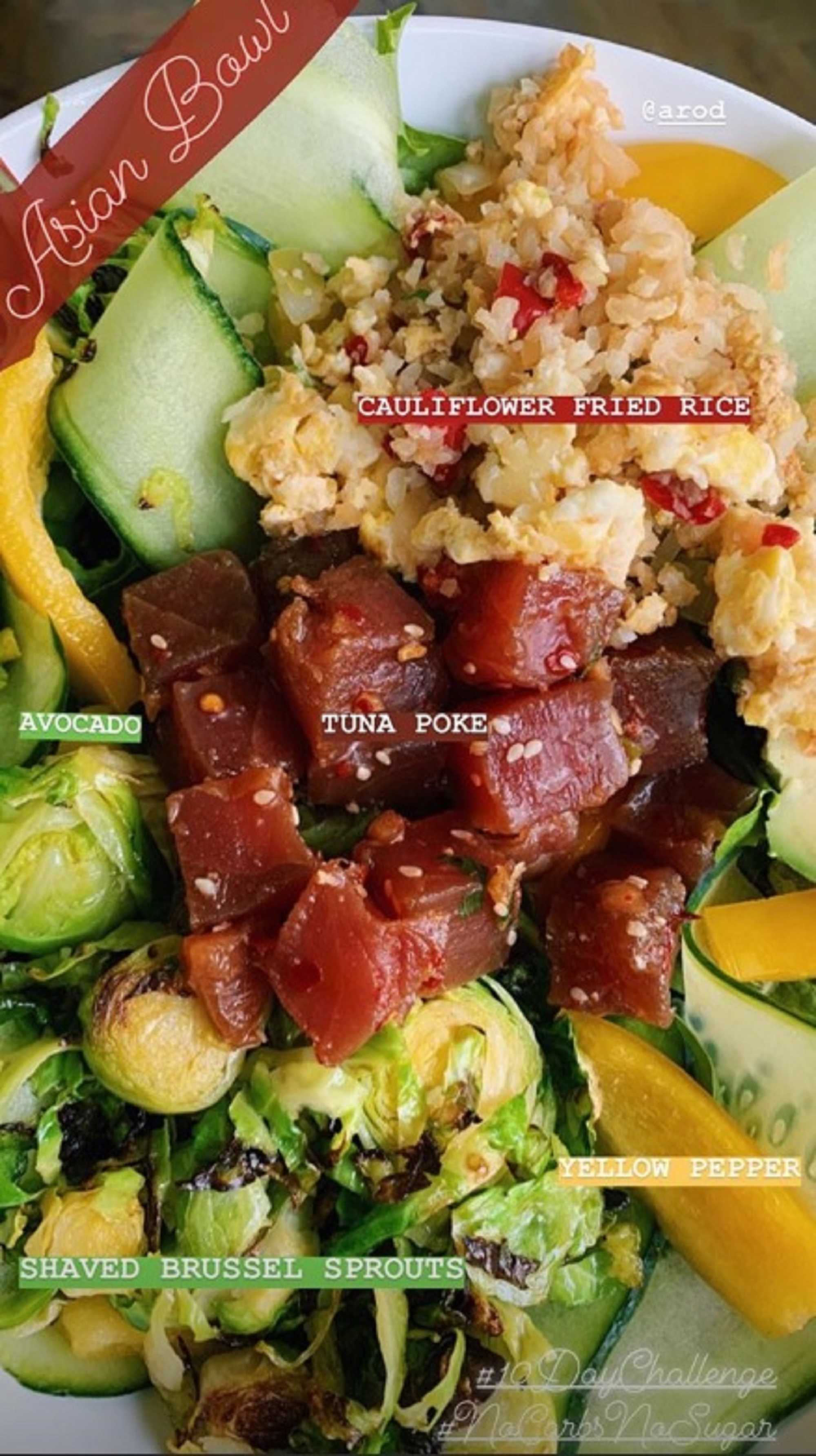 Cutting out all kinds of carbs and sugar can't be an easy feat, even for people who undoubtedly have iron willpower – you don't get to the professional levels of this celeb couple without a whole lot of drive.
The question is: Other than weightloss, what else can you expect from a challenge like this? We spoke to some medical experts to get the low-down on the potential side-effects of a no-sugar and no-carb diet.
Constipation
Healthspan medical director Dr Sarah Brewer says: "It is vital to include vegetables in a low carb diet and to not just focus on proteins and fats, or constipation is likely."
You have to be extra cautious with your veggie intake, and Brewer recommends taking a fibre-supplement if necessary as well as making sure you drink plenty of water to avoid constipation.
Bad breath
Luckily, there's another quick fix for potential bad breath that comes with this kind of diet. "Drinking two to three litres of water per day will help to avoid this," Brewer recommends. "If you do experience bad breath, use a mouth freshener spray, chew gum sweetened with xylitol or drink mint tea."
Withdrawal symptoms
The first few days of this kind of diet can potentially be quite rough – which is what JLo and A-Rod seem to have been experiencing.
"Some people get withdrawal symptoms when cutting back on sugar, wheat and other carbohydrate-rich foods. This can lead to fatigue, faintness or headache. These symptoms usually disappear within three days," Brewer explains.
Once again, the best way to minimise these symptoms is by drinking plenty of fluids.
Leg cramps
Such a diet is on the extreme side, so you will probably start losing weight on it. "Leg cramps can occur due to loss of minerals as you lose fluid when the weight starts coming off," explains Brewer.
Her advice? "Take supplements containing potassium, magnesium and calcium in addition to the recommended multivitamin." And yes, you guessed it – drink lots of water. Notice a trend here?
The bottom line
These are just potential symptoms you should be aware of – they won't definitely happen to you if you do a similar challenge to JLo and A-Rod.
Registered nutritionist at Healthspan Rob Hobson thinks this kind of eating plan is basically like the keto diet, which "can be a useful and effective short-term solution to shifting the pounds".
He continues: "It could be a good kick-start, to follow with a healthy and more balanced eating plan" – which seems to be what Lopez and Rodriguez are doing with their 10 day challenge.
However, this is probably not an advisable long-term diet and Hobson says: "In the long term, it's not clear how safe this way of eating is, and you are likely to experience nutrient deficiencies."
- Press Association