Halloween has become a consumer fest in recent years but there are a number of ways to reduce costs and waste — and make it a more sustainable event, writes Hannah Byrne.
Halloween is meant to be scary — witches, zombies, and ghosts are all part of the holiday. What can be even scarier is the amount of waste you're left to deal with when it's all over.
Fortunately, with a little effort, you can keep things sustainable and cut back on waste. Take a look at the list below — you might not be able to do everything, but just a few small changes can help you make a difference this Halloween.
Costumes
For kids and some adults, dressing up is the best part of Halloween. Try these sustainable alternatives to buying new costumes online or in pop-up Halloween stores.
Do a costume swap: Don't want to dress up in last year's costume? Fine, but this doesn't mean it won't be of use to anyone. Get in touch with friends and organise a costume swap. Even if you didn't keep yours, they might be glad to offload theirs onto you. A few adjustments and you're sorted.
Hit the charity shops: Most people no longer need their Halloween costumes after one wear, and some, at least, will have donated them to charity, so now is the time to hit the charity shops to see if they've got what you're looking for. Keep an open mind, because you may not find an exact match, but with luck you'll find something close enough. After Halloween, find a way to re-use the costume, give it to a friend, or donate it back to the charity shop.
Get creative: Often we have exactly what we need for our Halloween costume at home, it just requires a bit of creativity. If you were ever sent off trick-or-treating dressed head to toe in black bin bags, then your parents had the right idea — but these days it's probably best to avoid the plastic.
Have a look through your wardrobe, get the sewing kit out, use cardboard and paint and glue, and see what you can put together. You'll find lots of DIY costume tutorials online, and it's a great way to get kids involved in something creative.
Decorations
Making your own decorations is a fun and creative way to embrace the season while avoiding cheap plastic products that won't last.
DIY decorating: Try making Halloween bunting by picking up some fabric at the charity shop and getting to work with the sewing kit. Make ghosts out of tissue paper, or use scissors, black paint and string to turn egg cartons into hanging bats. There are lots of easy Halloween DIY ideas online to try out.
Pumpkins
Pumpkin carving is a classic Halloween tradition and it's entirely possible to make your pumpkin sustainable.
Visit a pumpkin patch: Lots of pumpkin patches sell directly to the consumer and with a little help from Google you'll find one near you. Visit a local pumpkin patch to pick out your own pumpkin, support a local farm and reduce your carbon footprint by buying a pumpkin grown nearby. This is also a really great day out for kids, and some pumpkin patches have fun activities for visitors, such as carving demonstrations, face painting or corn field mazes.
Use all of your pumpkin: To cut back on waste, try to use as much of your pumpkin as you can. After you scoop out the insides, rinse and dry the seeds, spread them on a baking sheet and sprinkle with some salt, chilli flakes, or whatever else you like. Toast in the oven for 25-30 minutes at 190C, stirring a few times, until golden brown. Then eat.
If you're up for it, you can turn the stringy innards and any other parts of the pumpkin into pumpkin purée and bake into pumpkin bread or muffins.
Compost: Once your carved pumpkin starts to look a bit sad and droopy and you know it's time to say goodbye, make sure to put it in the brown bin or the garden compost instead of the general waste bin.
When food breaks down in landfill it releases a greenhouse gas called methane into the atmosphere, which is up to 30 times stronger than carbon dioxide. Keep your pumpkin sustainable by composting instead.
Food and treats
The highlight of Halloween for a lot of kids (and adults) is all that swag — the sweets that pile up after a successful evening of trick-or-treating. This can also mean a blizzard of plastic wrappers that end up in the bin. Here are some ways to cut back on some of that waste.
Buy sweets in bulk: If you have the time, you can buy big bags of sweets in bulk that are not individually wrapped, and divide them into paper bags yourself. You might get these in a party shop or perhaps a local supermarket sells them. Just make sure you have enough paper bags for the number of trick-or-treaters you're expecting.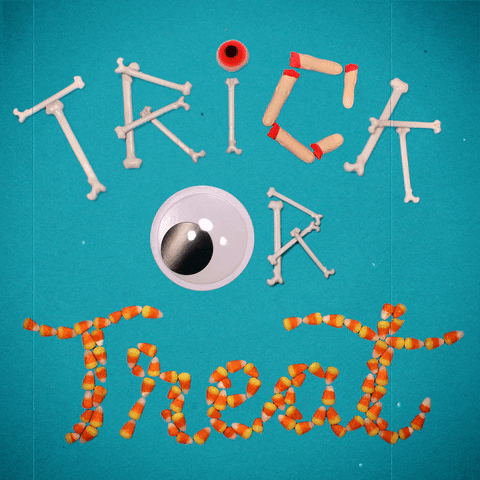 Do some Halloween baking: If you're having a Halloween party or just want to do something fun with kids, try some easy Halloween bakes. Make green rice krispie monsters by mixing together rice krispies, melted marshmallow, and green food colouring, and use some black food colouring or chocolate for the eyes. If you're feeling creative, use cookie cutters to bake Halloween-themed cookies and decorate with icing.
Just trying one or two of these things can help you to reduce your environmental impact while making the most of the spooky season.
Happy sustainable Halloween.