It is cosy to send an afternoon in a warm kitchen surrounded by the smells of baking. Cinnamon is one ingredient whose smell carries throughout the house, a warming winter aroma that is excellent in savoury as well as sweet cooking. It has put its stamp on many different cuisines around the world. Can you imagine Spanish churros, Moroccan tagines or even Christmas cakes without its fragrant taste?
Cinnamon is the light reddish brown inner bark of some varieties of evergreen trees that belong to the genus Cinnamomum. When the cinnamon is dried, it naturally curls up into 'quills' which look like tightly rolled, fragrant scrolls. It can be added whole to casseroles or mulled wine, soaked in a cup of herbal tea or powdered and beaten into butter with a little honey and spread on toast.
Its source was kept as a mystery in Europe for centuries by those traversing the spice routes, they wanted to protect their monopoly, so rumours became rife on the whereabouts of its origins. The different varieties of trees are native to Sri Lanka and the Indian region. Today they are mostly grown in China or Indonesia.
The versatile quills also have many uses around the house; they work as a winter air freshener, and apparently moths do not like the smell, so it can be dotted in wardrobes to keep them at bay.
Cinnamon buns are a classic. As with any dough using yeast it takes a little time to prepare and be allowed to rise. I added pecan nuts to this recipe and left out the drizzle of icing, as I find it too sweet. But you can add icing if you wish to have a more traditional Scandinavian bun.
Apple and cinnamon cake
Ingredients:
225g of soft butter
215g of brown sugar
3 eggs
100g of chopped almonds
100g of golden raisins
225g of self-raising flour
2 level tsp of baking powder
400g of grated cooking apple, after the apples have been peeled and cored
2 tsp of ground cinnamon
Method:
Preheat oven to 180C and line a 9-inch round spring-form tin with parchment.
Keep aside a handful of chopped almonds and brown sugar to top the cake.
Mix everything except the apples and cinnamon in a mixer at low speed or with a wooden spoon.
Spread just over half the cake mixture into the base of the tin. You may need to dip a fork or knife into warm water to help spread the mixture as it is quite sticky.
On top of this spread the grated apple (do not press it into the cake mixture), dust it with the cinnamon, then top with the rest of the mixture.
Scatter the rest of the chopped almonds and brown sugar on top of the cake. You can sprinkle a little more cinnamon too if you like a stronger flavour.
Bake for an hour to an hour and 10 minutes or until a skewer comes out clean. Allow to cool in the tin until cool enough to handle, then transfer onto a wire rack.
Cinnamon buns
Ingredients:
200 mls of milk, warm
100g of butter, melted
150g of plain flour
100g of wholemeal flour
250g of strong white flour 1½ tsp of fast acting yeast
4 tsp of golden caster sugar
2 eggs, lightly beaten
A dash of sunflower oil
For the filling:
75g of butter
30g of golden caster sugar
30g of muscovado sugar
100g of pecan nuts, finely chopped
To decorate:
1 egg, lightly beaten
1 tsp of ground cinnamon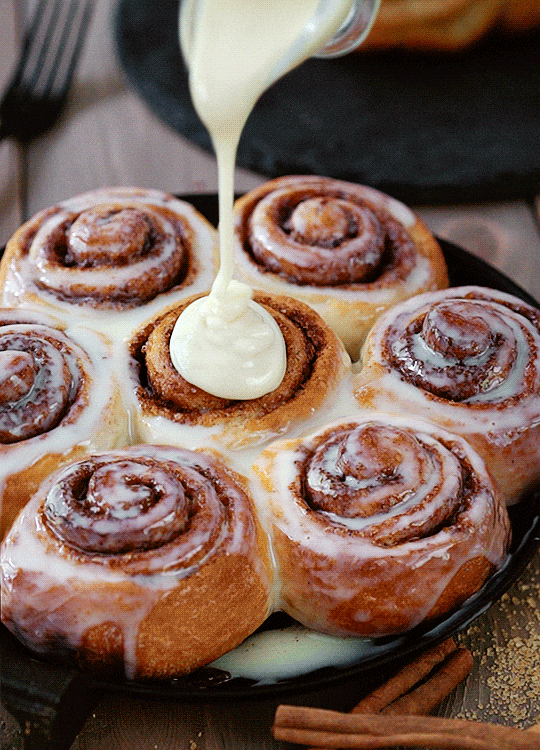 Method:
Stir the melted butter into the warm milk and set aside.
Stir the flours, yeast and caster sugar together until combined. Make a well in the centre and add in the eggs and milk mixture. Bring the dry ingredients into the well and stir everything untilcombined and a sticky dough has formed.
Lightly oil a clean surface. Tip your dough onto the oiled surface and knead until the dough becomes less sticky and smooth.
Place into an oiled bowl and cover the top. Keep in a warm place for about an hour until it doubles in size.
While your dough is rising you can make the filling by mixing all of the ingredients together. Grease a baking tin or dish with deep sides.
Knock back or roughly knead the dough to take out the largest of the bubbles and then gently shape it into a flat rectangle. Spread the filling on top. With the longest edge closest to you, roll the dough into a cylinder. Cut cylinder into about 12 even slices. Fit the slices into the greased tin and cover with a damp tea towel. Set aside to allow them to rise again for about half an hour. Preheat your oven to 200 degrees.
Brush the top of the buns with the beaten egg and bake for about15 minutes until the buns have risen and are golden on top. Dust lightly with the ground cinnamon while still warm.
Cinnamonseed biscuits
Ingredients:
250g of soft butter
50g of golden caster sugar
80g of muscovado sugar
150g of self-raising flour
225g of porridge oats
50g of poppyseeds
50g of sunflower seeds
50g of pumpkin seeds
50g of finely chopped hazelnuts
3 tsp of ground cinnamon
Method:
Heat the oven to 180C and line two flat baking trays with parchment.
Beat butter and sugars until light and fluffy. Stir in flour and oats and mix well. Add the seeds, nuts and cinnamon and combine completely.
Roll the dough into a log, wrap it in parchment and refrigerate. The logcan be sliced with a warm knife to the size you want, you should get 10 large biscuits or twice as many small ones. Place the biscuits onto lined baking trays with a few centimetres between each one.
Bake for 15 to 20 minutes (depending on the size you cut the dough) until they are turning golden. Cool on a wire rack.